Encore Resort at Reunion
Encore Resort at Reunion is the perfect place for family reunions! Gather the family together in one of our 4 to 13 bedroom homes and celebrate. We have hospitality teams available to provide activities and great food and drinks so your focus can be on family!
The Ultimate Orlando Resort Vacation Experience
Whether you are a group of friends meeting up after a long time, work colleagues on a team-building mission or a family looking to spend quality time together, Encore Resort in Reunion, FL is the perfect home away from home for your fun get together. With elegant vacation homes located in a private gated resort community, the 24 x 7 resort service team and abundant amenities at Encore Resort will make you not want to leave this slice of sunny paradise.
Promising all the frills and thrills to make your reunion an unforgettable one, accommodation at Encore Resort spans exclusive luxury homes, each of which have between five and thirteen bedrooms. With all the comforts, ample space and privacy, the homes are ideal for groups ranging from 10 to up to 26 people. As a special treat, guests can choose to rent out the home of NFL legend Dan Marino.
Each home affords the finest details, contemporary furnishings and includes downstairs master suites, en-suite washrooms and fully-equipped kitchens. An attractive feature of the homes is that each comes with its own private, heated swimming pool and a Jacuzzi. Complimentary Wi-Fi, home theaters, washers and dryers, housekeeping services on request, furnished patios and complimentary car parking are other inclusive highlights of the homes at Encore Resort.
A Resort for All Occassions
Encore Resort at Reunion is the first of its kind in vacation home rentals
Guests are guaranteed to have fun at Encore Resort. The recreational amenities offered are top-notch and include something for all ages. Unwind at the Encore Club, have fun at the AquaPark with plenty of rides and slides like WaveRacer and Stormchaser, relax in private poolside cabanas, play video games at Encore Arcade and engage in interactive activities for the entire family at Hang 10 Hideaway.
Other guest conveniences at Encore Resort are a fitness center, spa services, sports facilities that include multiple tennis courts, basketball courts, volleyball courts and a full soccer field, bicycle rentals, two restaurants – Finn's Restaurant and The Bis Grill, the Shark Lounge bar and a Grab 'n' Go marketplace. There is also a complimentary shuttle service between Encore Resort and the Walt Disney World Resort, Universal Studios Florida and SeaWorld Orlando.
Another definite added advantage of staying at Encore Resort is that it enjoys easily accessibility to all things that make Orlando so great. The heart and soul of the city, Walt Disney World Resort, is about five miles away for Encore Resort. Encore Resort is also in close proximity to popular restaurants, shopping and entertainment venues in the surrounding area, while the Orlando International Airport is about 25 miles away.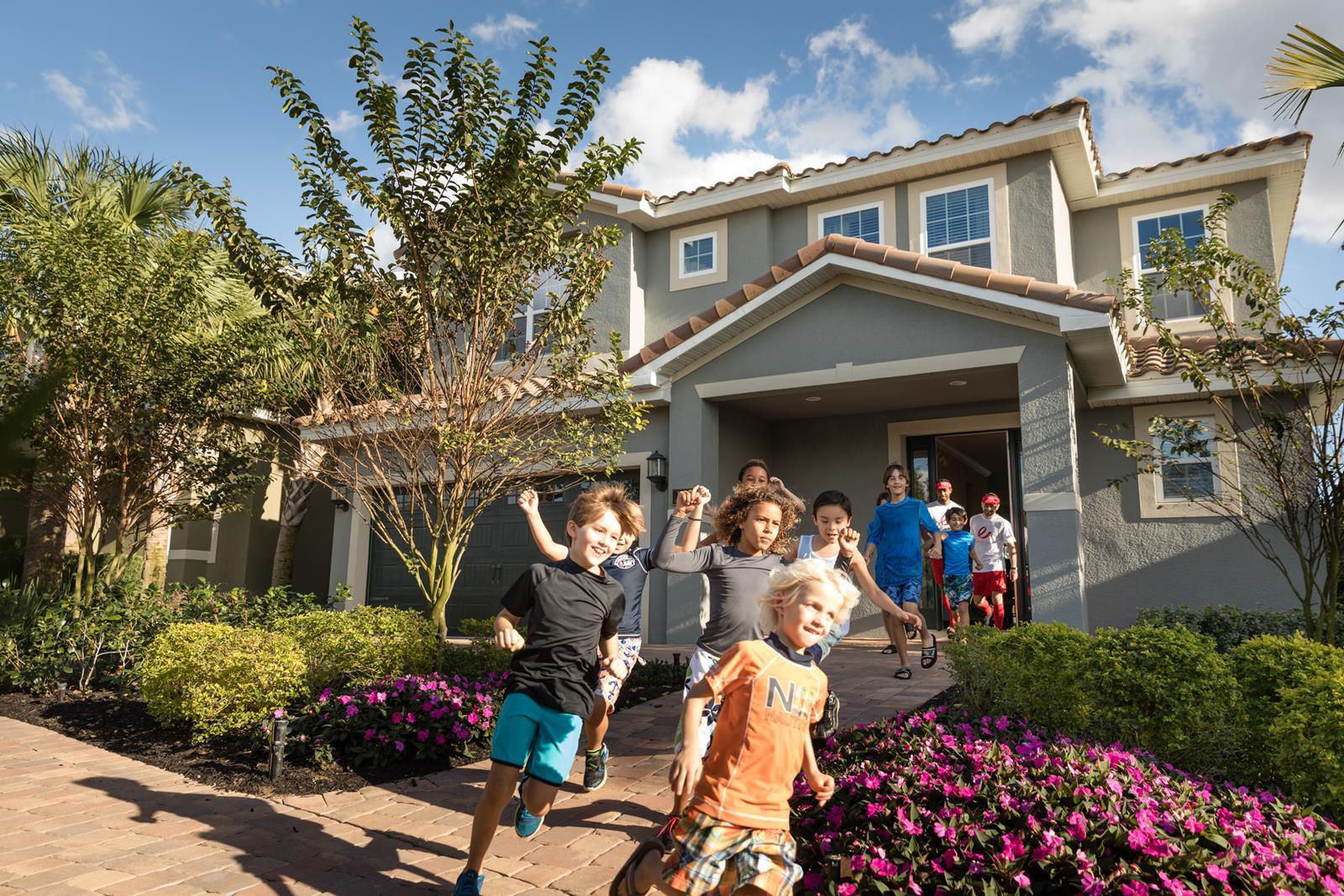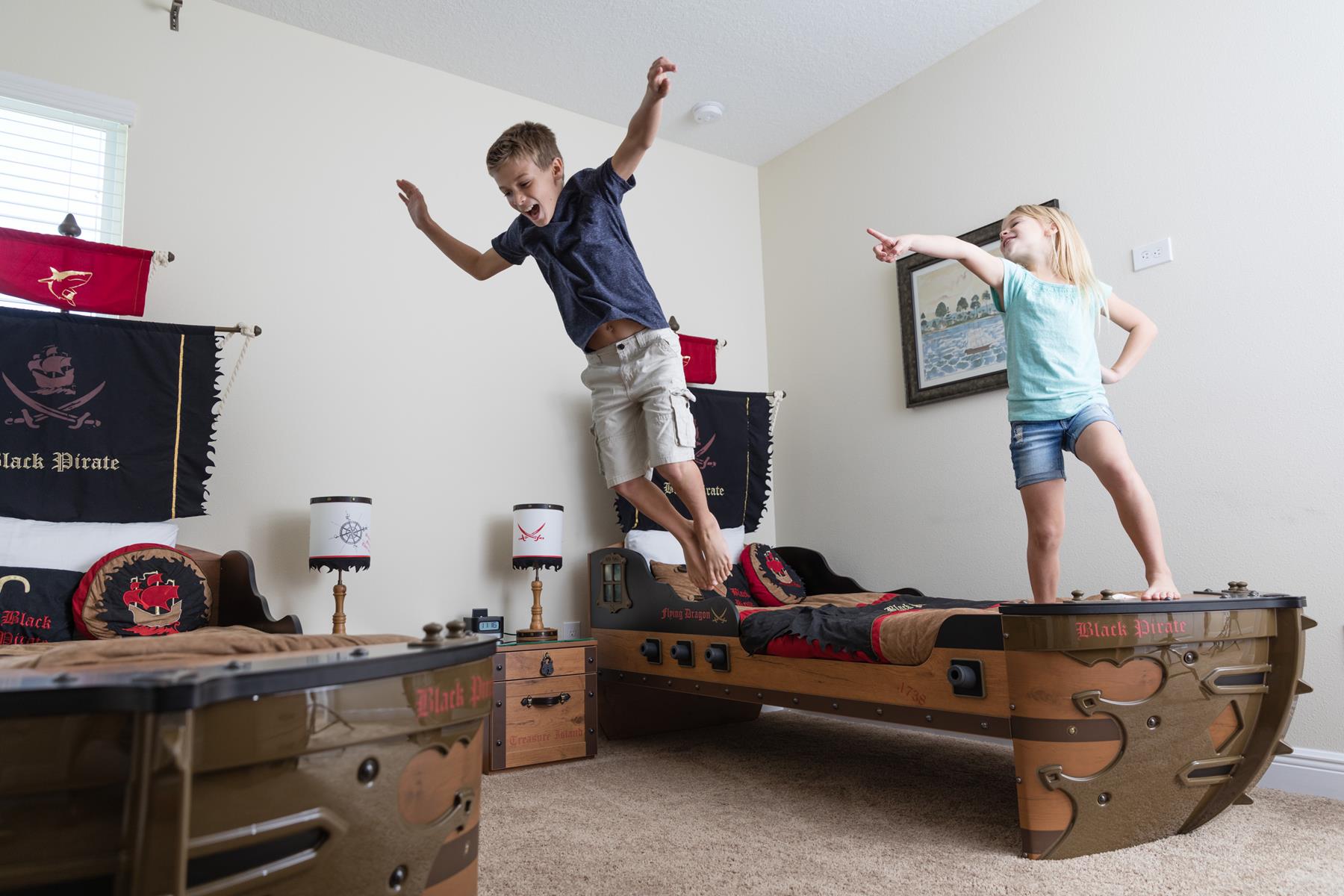 We just visited Encore this past Labor Day weekend for a family reunion of 45 people. It was by far the best place to stay. We have been planning this for a couple months and Luis, the group sales manager, helped us with all our needs and wants. The resort is down the street from a Walmart, Publix and about a 15-minute drive from a Sams Club. It is at a great location and the theme parks are just a short drive away. Check in was super easy and the houses were super clean and fully stocked. If you need anything, it is just a phone call away.
– Family Reunion Attendee
Lodging Inventory
Variety of 3-13 bedroom homes
Group Perks
Dedicated group of specialist
Private meeting rooms, catering, and transportation
Family gatherings and reunions
Corporate travel
Sports groups
Encore Club's full service restaurant and bar, fitness room, Kid's Room, basketball, volleyball and tennis courts, soccer field, and our fantastic AquaPark
Religious/other groups
Also have experience with military, fraternities/sororities
Weddings
Catering
Top Attractions
Spa
Bike rentals
Camp encore
Encore mermaid & swim classes
Changing monthly activities
Dining options