Branson, MO
Where should you have your next reunion? Make great memories in Branson, Missouri, where nonstop outdoor adventure and live entertainment will impress everyone who attends
Request Info
No matter how you love to reunion, Branson offers something for everyone
Surrounded by the Ozark Mountains, Branson is spectacularly scenic and packs a host of things to see and do for both young and old. You can have an adventure outdoors or indoors and be entertained endlessly with world-class shows. Fun, festivities and food … Branson makes it memorable.
For an adrenaline-pumping adventure for the entire family, FlyRide is the newest in Techno-tainment. Experience the thrill of this amazing sensory exhibit inside Beyond the Lens. See 22 U.S. landmarks on your fully immersive ride. It is an amazing sensory experience with full motion seats that dip, turn and soar. You will feel wind, mist, smell the ocean and other amazing effects. Everyone from grade school to old school will enjoy this trip! Another exciting and energizing activity is at The Track Family Fun Parks Track 3 where on the Skyscraper, riders can experience the G-force effect at 60 miles per hour, similar to what a pilot feels flying a fighter jet. At WonderWorks, you can let your imagination run wild at this science-focused indoor amusement park with over 100 hands-on interactive exhibits.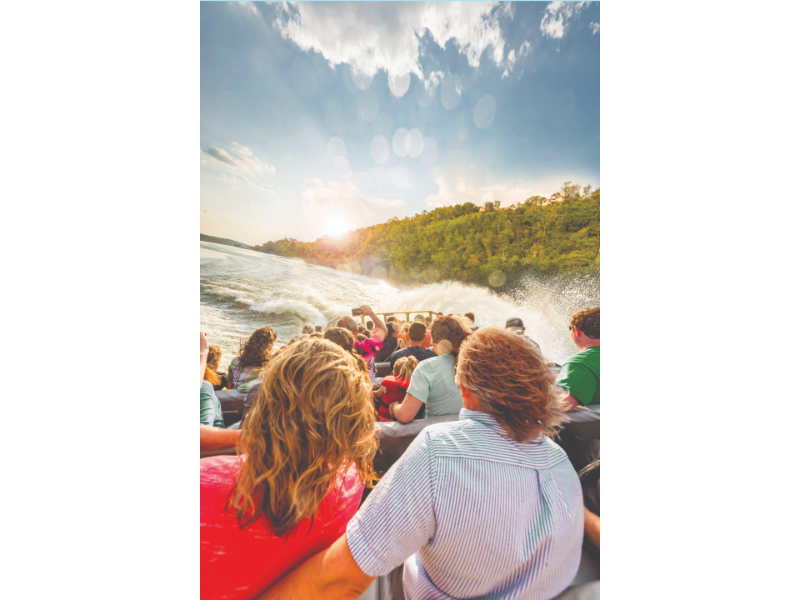 Morning, afternoon and night, Branson offers a variety of entertainment options for every member of the family
The show always goes on in Branson, where summer concerts, festivals and live entertainment offer plenty of excitement. Laugh out loud and shake a leg when great entertainers such as the Oak Ridge Boys, Dailey & Vincent, Liverpool Legends, Neal McCoy, Rhonda Vincent, and more come to theatres in Branson. Summer season include local favorite families the Haygoods, the Duttons, Hughes Music Show, SIX and Clay Cooper Country Express. These productions promise to wow audiences of all ages with music, humor and elaborate stage sets.
From comfort food to high cuisine, Branson satisfies and delights the taste buds
Treat your taste buds to new celebrity dining experiences at Branson Landing where Paula Deen's Family Kitchen serves up family-style fare along with classic Southern hospitality. Have a feast at Guy Fieri's Bar & Grill where Flavortown lives and his exciting menu adds to the lively ambience. Live it up at Andy B's Bowl Social where you can enjoy modern American food, craft brews and beverages, boutique bowling, classic table games, karaoke and escape rooms.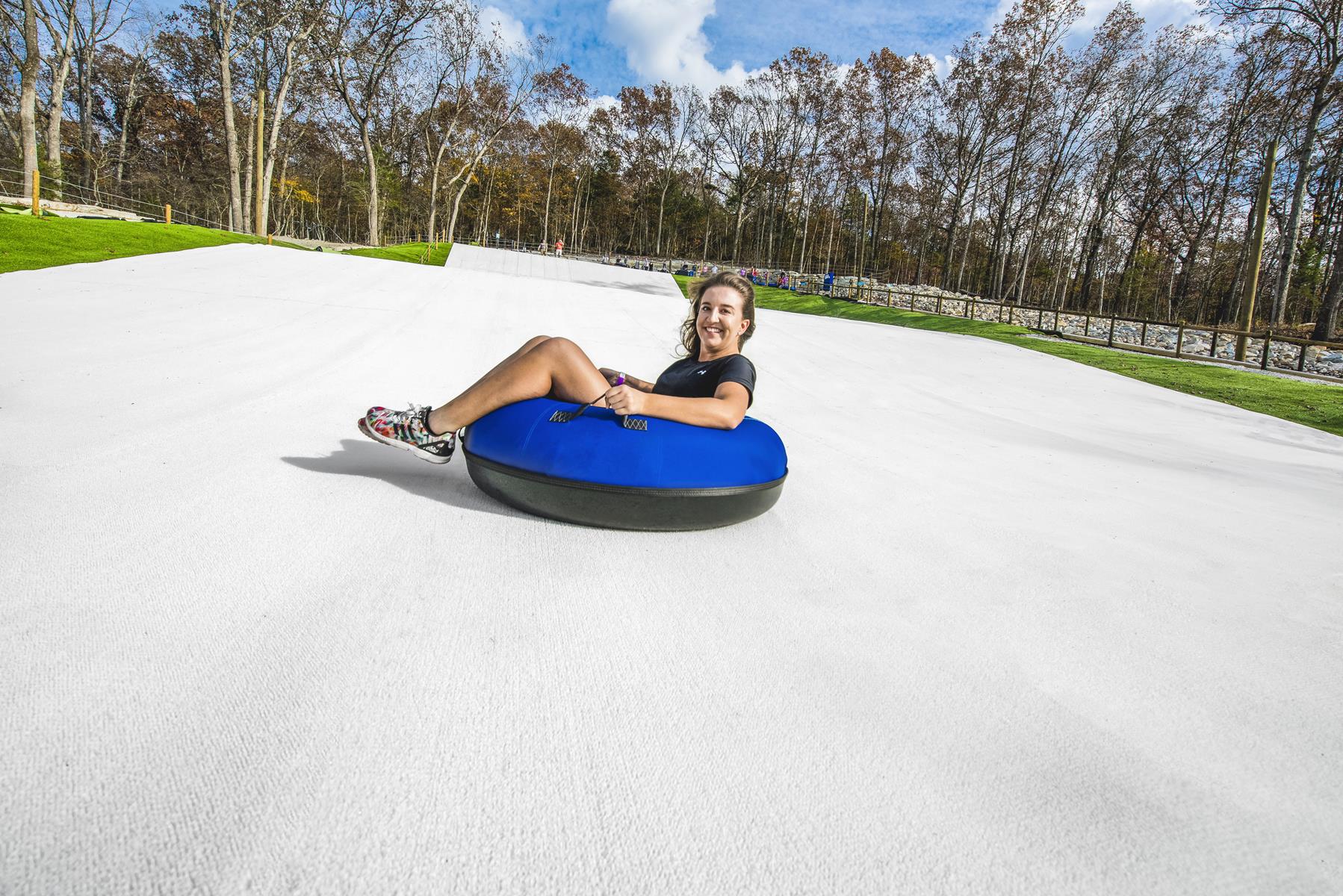 "From the entertainment venues to the "old town" train ride, food, parks, and most importantly the friendly people—we were all pleasantly surprised at how much there is to do and see in the area."
– Jeff Western, Military Reunion Planner
Browse below for some family-friendly additions to your itinerary
Why Reunite in the Branson Area
Highlights
800 miles of shoreline on Table Rock Lake and Lake Taneycomo: Beautiful pristine lakes for fishing, playing and cruising

10 area golf courses, including four of the top-rated courses in the state of Missouri

18 city parks for picnics, two of which are settings for disc golf

Family-friendly attractions include Silver Dollar City theme park, Fritz's Adventure, WonderWorks, Promised Land Zoo, Aquarium at the Boardwalk, and Track Family Fun Parks

More than 80 reunion lodge homes, 825 cabin units, 14,000 hotel & motel units and 5,200 condo units

We provide reunion planner kits, request for proposal services, assistance with site inspections, and welcome packets for attendees
Family-Friendly Dining Experiences in the Branson Area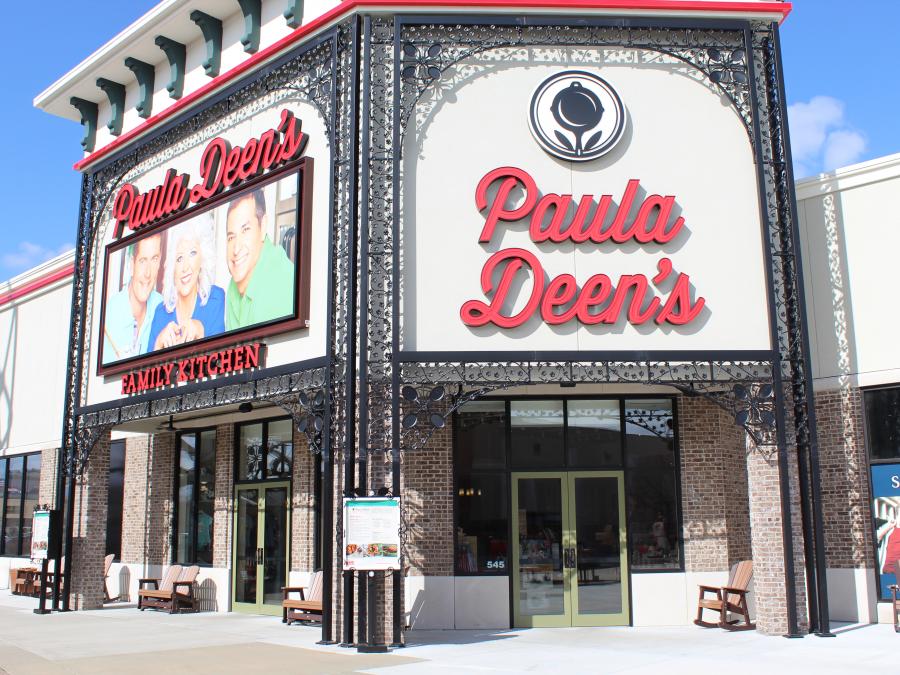 Paula Deen's Family Kitchen
Guests will enjoy classic Paula Deen recipes in a unique family-style setting. They serves endless portions of Southern-style entrees and side dishes, and every visitor ends their meal with a dessert of their choice.
Website: www.pauladeensfamilykitchen.com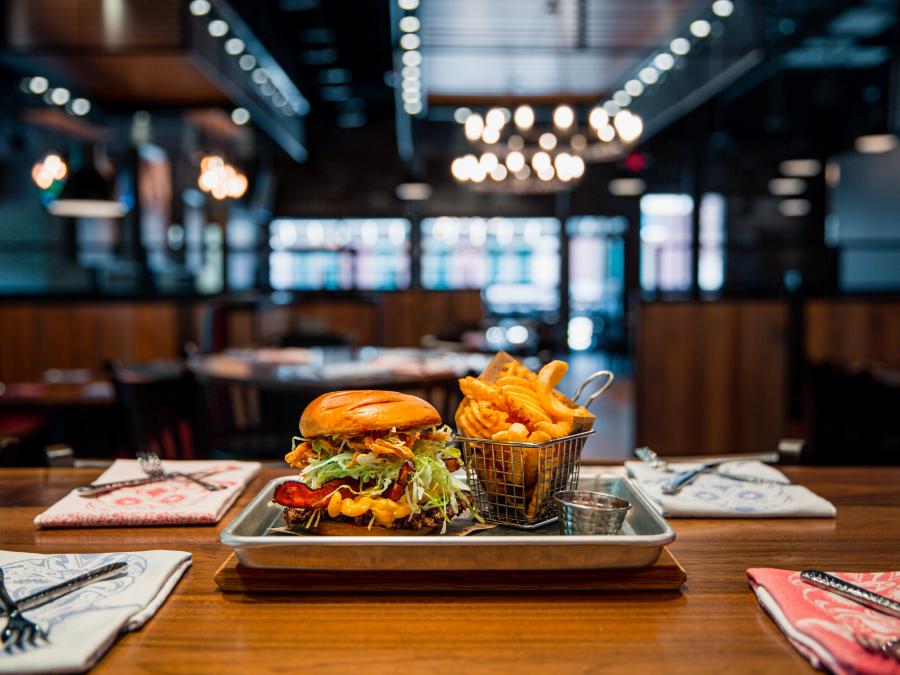 Guy Fieri's Branson Kitchen + Bar
Famed chef Guy Fieri had introduced a new kitchen and bar at the Branson Landing. Chef Fieri's one-of-a-kind, bold flavors are showcased through a variety of signature sandwiches, scratch-made entrees, house-smoked meats, and mouthwatering desserts. A 52-person private dining space is available upon request and includes custom menus, a la carte or family style dining options, waterfront views of Lake Taneycomo, and eight TV's with AV capabilities.
Website: www.guysbranson.com
Pasghetti's
Branson's Pasghetti's features a variety of delicious Italian favorites, including the signature Pasghetti & Meatball plate, a large wine cellar, seven themed "Days Gone By" dining rooms throughout the restaurant and a fun, family-friendly environment. Also, check out the ferris wheel located in the restaurant, as well as a game room for the kids.
Website: www.pasghettis.com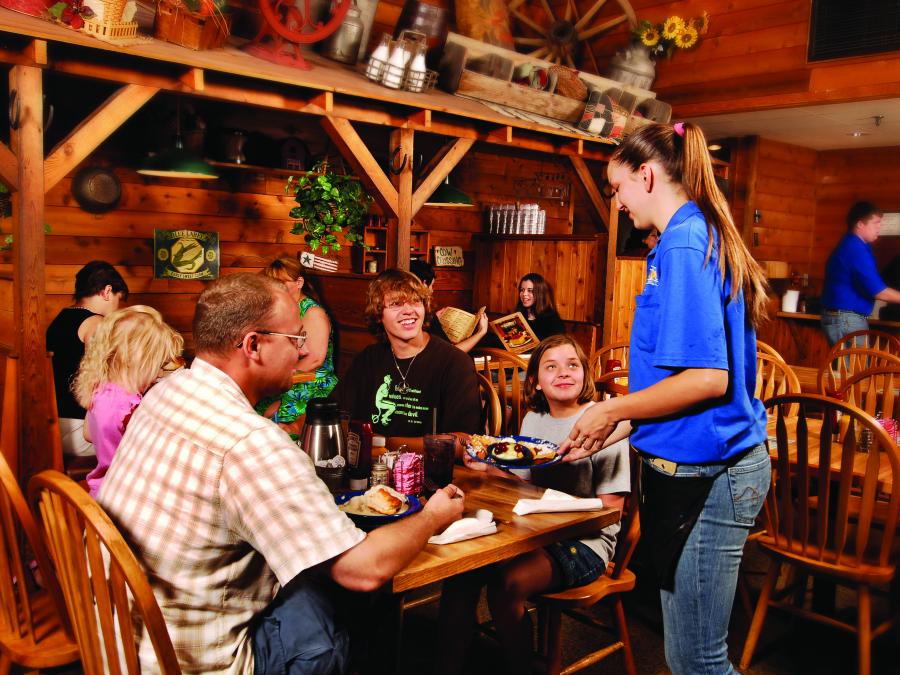 McFarlain's Family Restaurant
Branon's premier groups full-service restaurant features authentic Ozark cuisine for breakfast, lunch and dinner. Featuring one-of-a-kind menu items like Branson's Traffic Jam Pie, fried green tomatoes and McFarlain's famous honey cornbread.
Website: www.bransonimax.com
Ready to find out more about how Branson can help plan your family trip or reunion?
Grand Country Buffet
Branson's best buffet offers hand-crafted omelets, fresh chicken pot pie, famous blueberry cobbler and may other home-cooked favorites. Your group will love its convenient location at the Grand Country Resort right next to shows, shopping and more.
Website: www.grandcountry.com
Family-Friendly Attractions in the Branson Area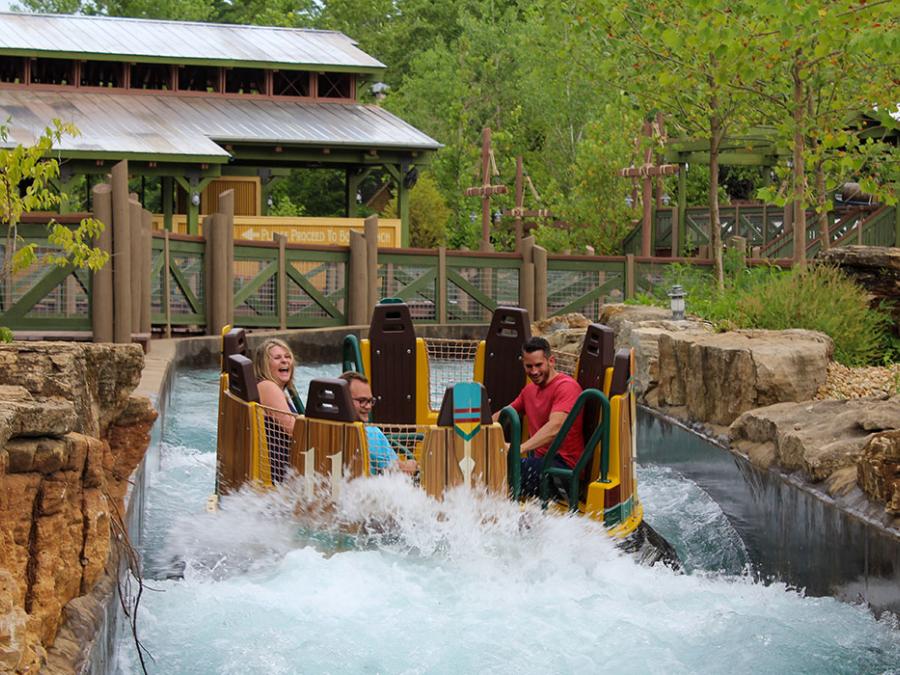 Silver Dollar City
Step back in time at Silver Dollar City, an 1880s theme park in the heart of the Ozark Mountains. Explore The City filled with craftsmen at work, thrilling roller coasters and attractions in the treetops, live shows, and seasonal festivals spring thru Christmas.
Website: www.silverdollarcity.com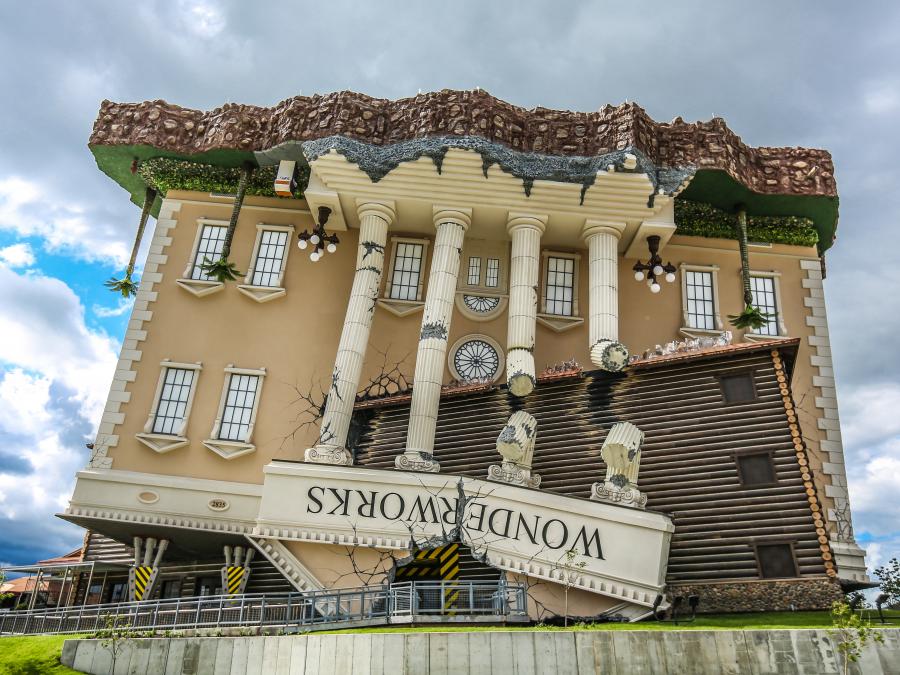 WonderWorks
WonderWorks is an amusement park for the mind with 48,000 square feet of "edu-tainment." The attraction combines education and entertainment with more than 100 hands on exhibits that challenge the mind and spark the imagination. WonderWorks also offers special exhibits on American innovation, Route 66, Branson/Ozark area history & geography, and special exhibits in partnership with Webster's Dictionary and the U.S. Army.
Website: www.wonderworksonline.com
Aquarium at the Boardwalk
Groups can enjoy more than 250 different animal species, an original 5D submarine adventure to the bottom of the sea, a 24-foot high Kelp Forest climbing structure for kids, stingrays, a gorgeous 16-foot view of a coral reef, two mirrored art installations that give the sense of infinite ocean life, lionfish, and more than 7,200 individual sea animals.
Website: www.aquariumattheboardwalk.com
Showboat Branson Belle
The Showboat Branson Belle, America's Most Entertaining Lake Adventure, presents an exciting musical variety show this season, plus specialty cruises. All cruises offer a unique experience aboard the 700-passenger paddle-wheeler as it cruises Table Rock Lake.
Ready to find out more about how Branson can help plan your family trip or reunion?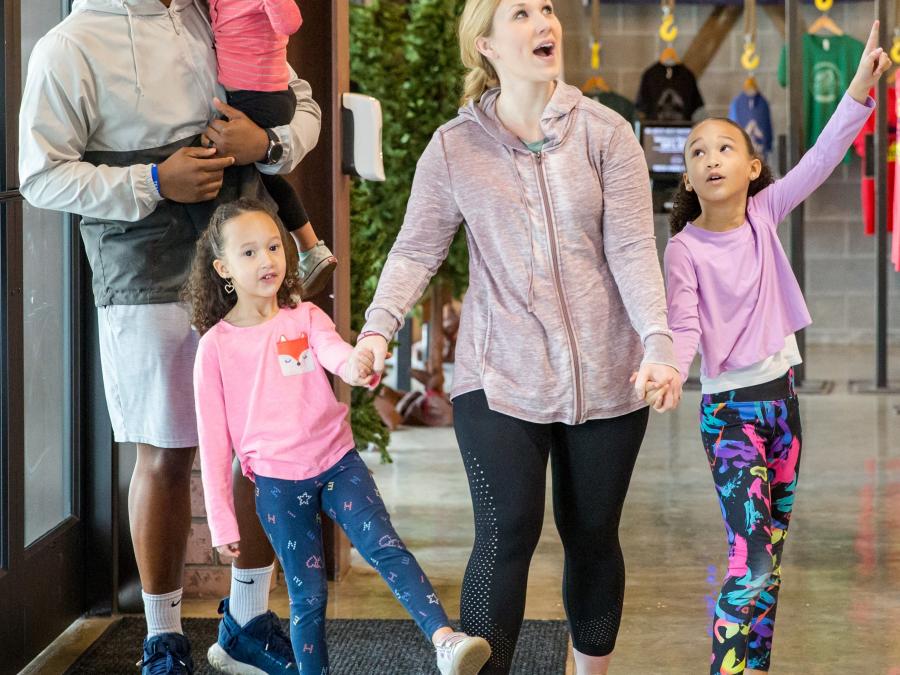 Fritz's Adventure
Fritz's offers 80,000 square feet of explorable, climbable space for all ages. This includes the only indoor TreeTops course in the U.S. The TreeTops course features 32 obstacles, including 11 high-flying ziplines, 6 suspension bridges, and 2 free falls. Other activities include a multi-story ropes course, underground tunnels and a laser room.
Website: www.fritzsadventue.com
Family-Friendly Accommodations in the Branson Area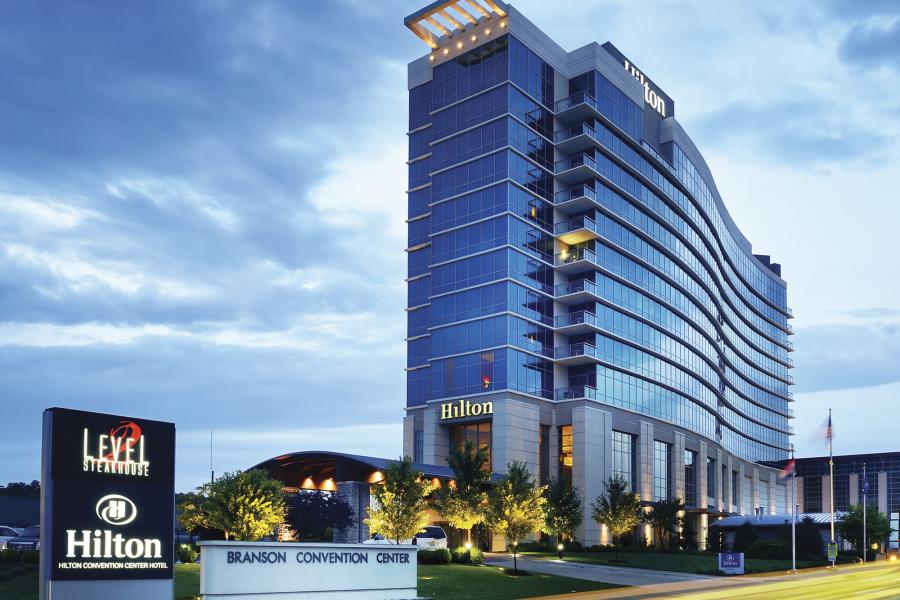 Hilton Branson Convention Center Hotel & Hilton Promenade
Convenience has never been easier with the Hilton Convention Center and Hilton Promenade at Branson Landing. The Hilton Convention Center Hotel is directly connected with our pristine Branson Convention Center and the Hilton Promenade is in the heart of Branson Landing. This entertainment hub features shopping, dining and spectacular fountain shows.
Website: www.hilton.com
Chateau on the Lake Resort & Spa
Overlooking the pristine waters of Table Rock Lake, the resort draws from the natural charm of the Ozark Mountains while providing unparalleled amenities, activities and service. Whether it's a corporate retreat, business meeting, convention or other special event, Chateau on the Lake Resort is the perfect choice.
Website: www.chateauonthelake.com
Westgate Branson Woods Resort
The resort accommodations range from traditional hotel rooms to spacious two-bedroom grand villas. The Woods boasts all the amenities you expect from a full-service resort hotel. Whether you are planning a small meeting, impressive conference, annual retreat, family or military reunion, they are delighted to offer group discounts for ten rooms or more.
Website: www.westgateresorts.com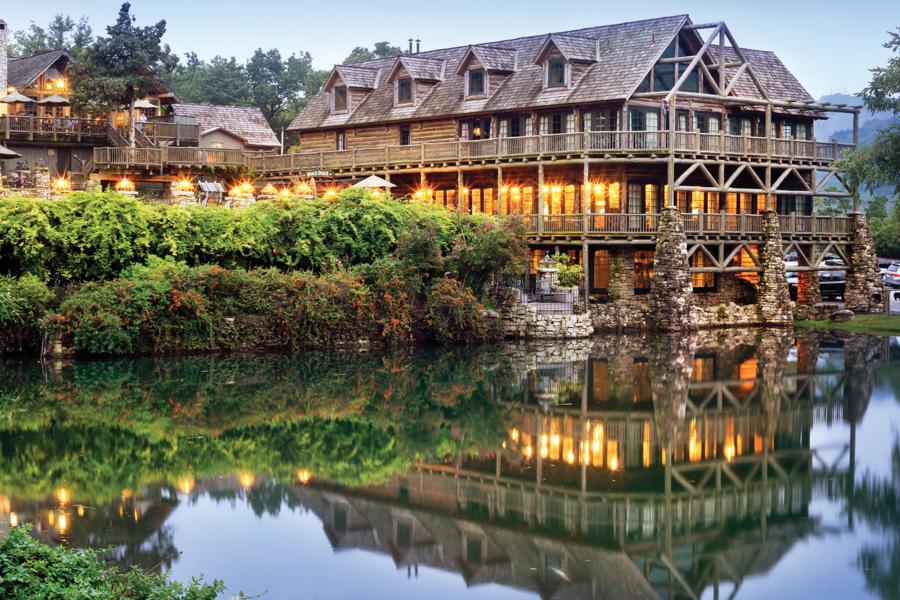 Big Cedar Lodge
The resort features a collection of lodges, cottages and cabins offering the perfect place to relax with family and friends after a day on the lake. Big Cedar is home to numerous world-class restaurants and attractions like a breathtaking spa, championship golf, an expansive shooting facility and a 50,000-square-foot activity center.
Website: www.bigcedar.com
Ready to find out more about how Branson can help plan your family trip or reunion?
Radisson Hotel Branson
The hotel is perfectly located in the heart of the entertainment district next to many theaters, attractions, shopping complexes, restaurants and golf courses. The Radisson Hotel Branson features 472 rooms including 27 suites. With 13 meeting rooms totaling over 16,000 square feet, it can accommodate any event.
Website: www.radissonhotelsamericas.com
Family-Friendly Venues in the Branson Area
Table Rock State Park
The Table Rock State Park is 356.03 acres located in Taney County and Stone County on Table Rock Lake. The park features a modern campground and a full-service marina offering all types of boats, scuba diving and more.The park also offers mountain biking trails and picnic areas.
Website: www.mostateparks.com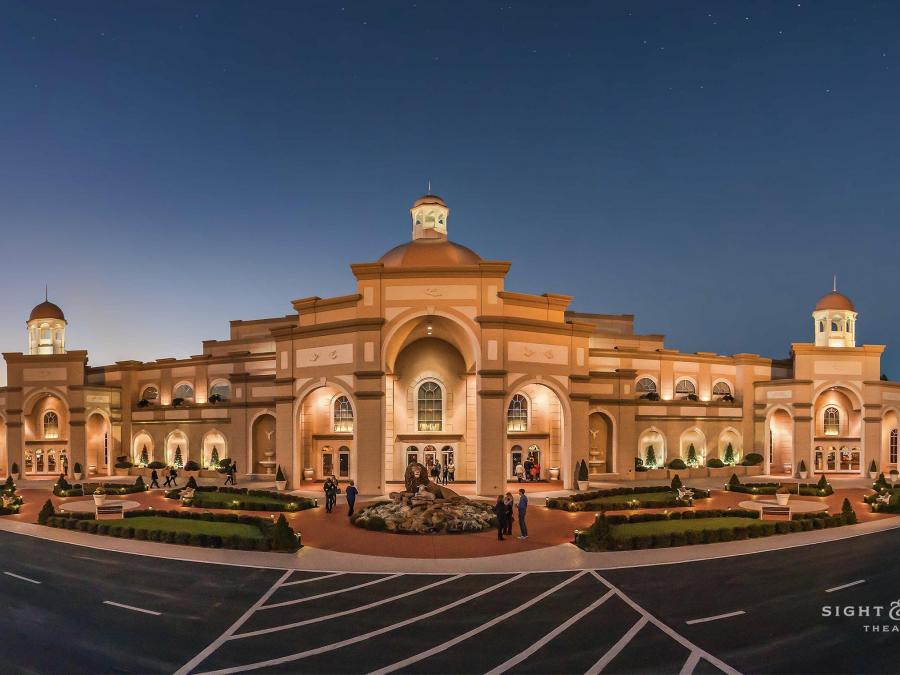 Sight & Sound Theatres
This venue brings the Bible to life. With a 2,000-seat auditorium and 300-foot stage, each production places you in the center of incredible stories. Featuring world-class actors, state-of-the-art technology and live animals, it's an uplifting experience for the entire family.
Website: www.sight-sound.com
Branson Landing
Branson Landing is a beautiful, open-air waterfront entertainment district that is home to over 100 shops, restaurants and attractions. Your family will enjoy Belk, Bass Pro Shops, the Hilton Promenade and a free fire & fountain show.
Website: www.bransonlanding.com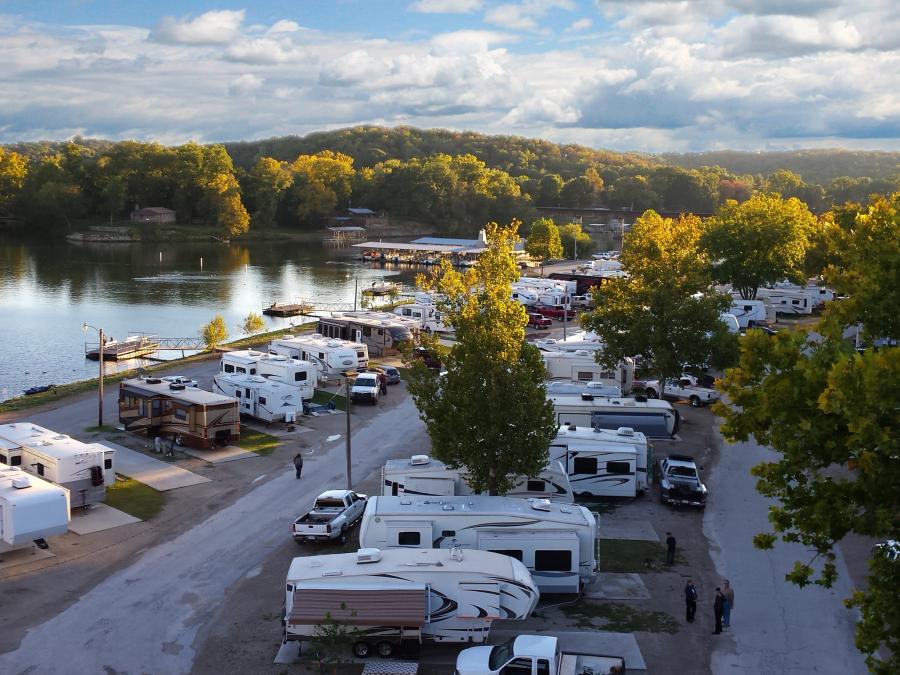 Branson Lakeside RV Park
Located on the beautiful, trout-filled waters of Lake Taneycomo, you can practically drop a fishing line outside your window of your RV. Branson Lakeside is just minutes from all the Branson excitement of world class theaters and shows, famous theme parks and great family restaurants.
Website: bransonlakesidervpark.com
Ready to find out more about how Branson can help plan your family trip or reunion?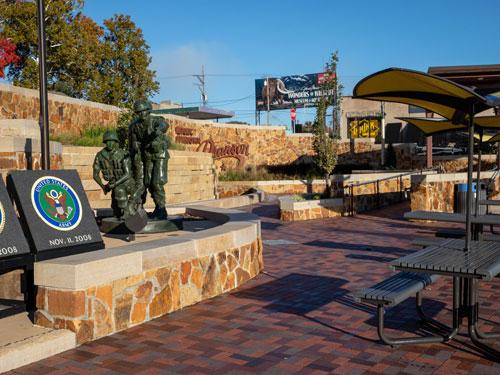 Liberty Plaza
Since 2017, Liberty Plaza has provided Historic Downtown Branson with a beautiful location for events and hangouts. There are multiple picnic tables and a beautiful waterfall feature behind a raised stage. A statue and multiple medallions stand to honor military veterans and their families. Liberty Plaza also features public restrooms, a electric vehicle charging station and a free Sparky the Downtown Trolley stop.
Website: www.explorebranson.com
What are you waiting for?
Let Destination Reunions help you plan the perfect reunion.
Reed Warner
Assistant Director of Leisure Group Sales