Harrison County, IN
Lasting memories and a family-centric community are part of the charm of Corydon, Indiana. Host your family reunion in Southern Indiana and experience the wonder of ancient caverns, zipline adventures and the historic Old Capitol in Corydon.
Request Info
Welcome to Corydon, Indiana – a small town with big family fun.
There's more to scenic Southern Indiana than what meets the eye. Adventure lovers can canoe down Blue River located in the heart of cave country and enjoy a quick rest or a picnic lunch along the public gravel bars and beach areas, and look out for the abundant wildlife including turtles, eagles, otters and more. Half day, full day and even two-day canoeing trips are available for all skill levels and abilities. Below the rolling hills, majestic forests and winding Blue River lies a secretive network of caverns and caves just waiting to be explored. Guided tours take you deep into this natural treasure where you can walk alongside underground streams, investigate captivating cave formations, discover fossils and observe fascinating flora and fauna hundreds of feet below the earth's surface. The tours vary in length and terrain, but most are easy walks the whole family can enjoy. With a constant temperature of 52 degrees, the caves are a perfect outing all year long.
After diving below the earth, families can fly high at Squire Boone Caverns Zipline Adventures as they zipline ride over caverns and treetops. From introductory trips designed to give newbies a taste of ziplining action to whizzing down Indiana's longest zipline, there's an exciting excursion for everyone. If you're a true adventure enthusiast, be sure to check out the Bat Chaser aerial coaster for the thrill of a lifetime. Summit to a 50-foot tower before twisting and turning 603 feet to the ground with the option to free fall. This ride's a Corydon must-do!
One Destination, Unlimited Memories
Indiana's Premier History Destination
If you're looking for a beautiful backdrop for your reunion, it's all here in Corydon, Indiana
The nostalgia is palpable as you walk the storied streets of Corydon. Established in 1808, the town served as Indiana's first state capital. Today, that same historic charm permeates the downtown where most buildings date back to the 1800s and showcase 19th-century Federal-style architecture and Indiana limestone construction. Peek into the past by touring the beloved capitol building and governor's headquarters or immerse yourself in the area's longtime wildlife, natural science, and history with interactive displays at the Harrison County Discovery Center. Here, see a 360-degree projection portraying the only Civil War battle fought on Indiana soil, the Battle of Corydon.
Harrison County offers everything from casual and family-style to fine dining, quick service and sweet treats. Check out locally owned favorites like Beaver Street Brick Oven & Grill, Frederick's Cafe, 1816 Modern Kitchen, Tavolo Italian Bistro and Bill's on the Hill for meals that are sure to leave you satisfied.
Harrison County offers a range of lodging styles – from camping and RV sites in gorgeous forest settings to traditional hotels with full amenities. Consider a cozy bed and breakfast or check out cabin and cottage options.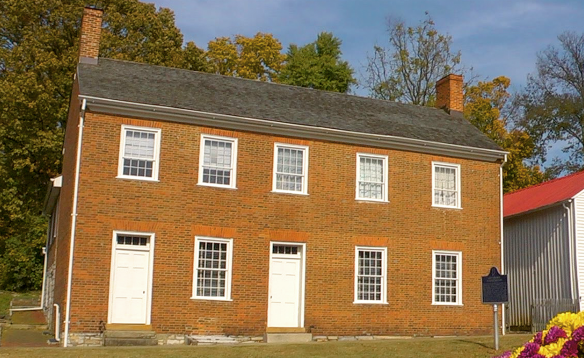 Historic Corydon and Harrison County offer a multitude of places to see. There is definitely something for everyone here. What a wonderful place to visit for a week or just the day.
– Tammy Beechler
Seven hotels offering over 800 rooms and a variety of cabins and campgrounds
Located only 30 minutes from Louisville, KY and 2 hours from Indianapolis, IN
Intricate underground caverns and caves and must see fossils and formations to explore
Newly renovated Caesars Southern Indiana Hotel & Casino
Historic downtown with shopping, wineries and dining
Assistance with hotels, itinerary planning, site visits and merchant discounts
Hotels in Corydon 5
Hotel Rooms in Corydon 339
Hotel rooms countywide – 6
Hotel rooms countywide – 842
Group Perks
Itinerary Planning
Welcome Receptions
Goody bags
Site Visits
Merchant Discounts
Top Attractions
Caesars Southern Indiana
Multiple Cave Systems
4 Wineries
Historic Sites
What are you waiting for?
Let Destination Reunions help you plan the perfect reunion.
[optin-monster-shortcode id="u4wk2rmnkmm3sufsbiay"]
Stacy Pirtle
Director of Sales & Visitor Services