Reunions are all about logistics: where to host, how many to invite and how long to stay are all basic factors you need to account for. It's a small miracle you're able to gather all your loved ones in one place, so why burden yourself once you arrive? At Hilton Cocoa Beach Oceanfront, all those additional worries are carried away on a gentle sea breeze. Located on Central Florida's Atlantic coast and steps away from a pristine white sand beach, Hilton Cocoa Beach Oceanfront offers every possible amenity for your reunion. Newly-renovated guest rooms, spacious meeting areas and a lush tropical atmosphere will bring serenity and luxury to your gathering.
What Activities are Offered at Cocoa Beach?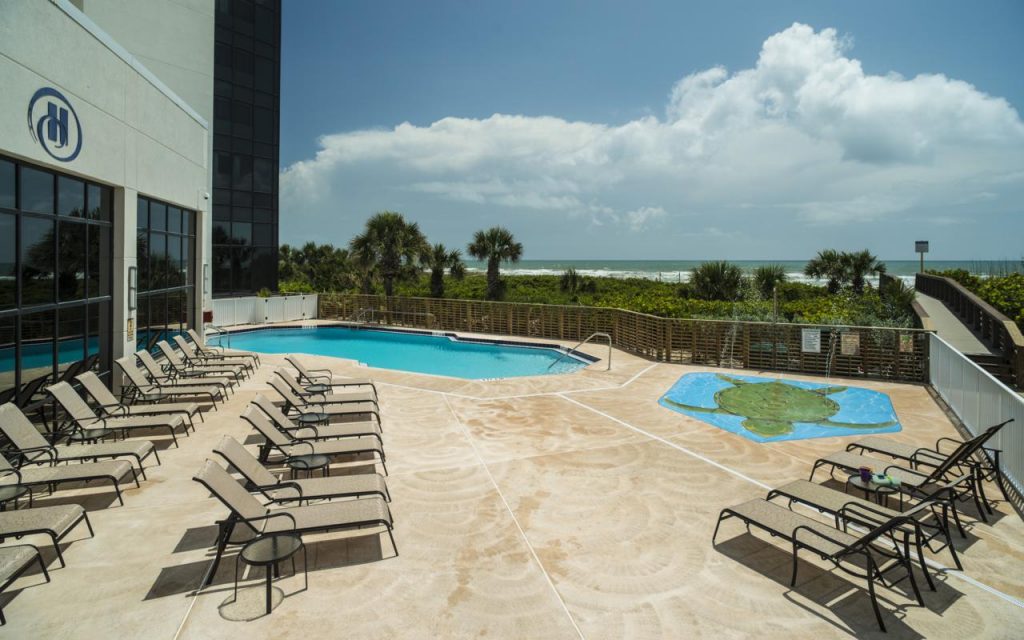 A simple ramp is all that separates your family from the Atlantic Ocean, with a private beach that will delight swimmers, snorkelers and sunbathers. A variety of equipment is available for rent, including kayaks, boogie boards and surfboards, and private surf lessons are offered. Rent a bicycle to explore nearby beach communities and attractions, including the Cocoa Beach Pier. Just three miles from the hotel, this promenade has been in operation for over 50 years and boasts taverns and tiki bars perfect for an adult evening. Nearby attractions include the World Famous Ron Jon Surf Shop, Victory Casino Lines, the Brevard Zoo, Wildlife Tours and Dinosaur Digs.
If Cocoa Beach's year-round sun and sand aren't enough, the Hilton's central location is ideal for daytrips. The resort is 45 minutes from Orlando, Daytona Beach and Port St. Lucie. The resort is 6 miles south of Port Canaveral, a major hub for cruise arrivals and departures if your group wishes to add a leg to the reunion. The port welcomes vessels from Disney Cruises, Royal Caribbean, Norwegian Cruise Lines and Carnival Cruise Lines. Nearby is the Exploration Tower, a seven-story architectural wonder filled with interactive exhibits, several companies that can charter a deep sea fishing excursion and various waterfront restaurants. Groups can learn about the Apollo program at the Kennedy Space Center, watch a rocket launch from Banana Creek Viewing Area and pose next to a Space Shuttle that flew to the International Space Station. Also be sure to experience Heroes & Legends, a hall featuring a Sigma 7 capsule, Redstone rockets and a 4D multisensory theater. Orlando's Walt Disney World and Universal Studios theme parks are famously accommodating to large groups, and you can meet Mickey, ride world-famous roller coasters and ride the Hogwarts Express after only a 90 minute trip.
Dining at Cocoa Beach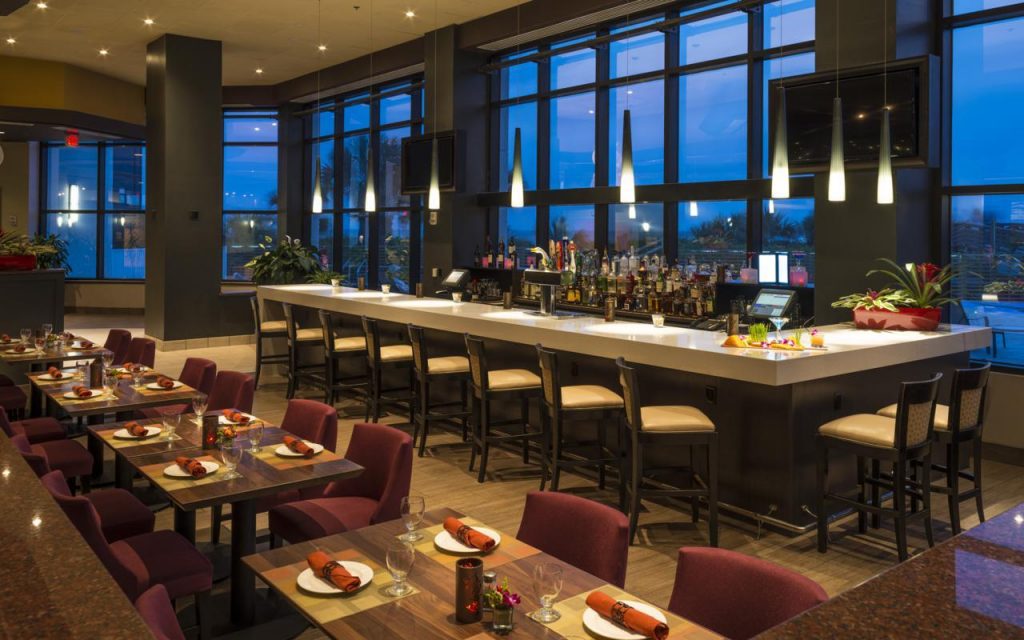 The Hilton Cocoa Beach Oceanfront houses so many restaurants that your group will never need to leave the property. The Salt Restaurant & Lounge offers unobstructed beach views to accompany a variety of fresh seafood options. The bar also offers specialty cocktails for quiet evenings or happy hour festivities. For a more casual atmosphere, groups will love Longboards Tiki Beach Grille. Direct access from the pool deck makes eating and keeping track of family members a cinch, and a diverse menu of tacos, sandwiches and flatbreads will please even the pickiest eater in your party. Live entertainment is offered on weekends. Need a meal in a pinch before an activity? Cool Beans Market offers wraps, sandwiches and a variety of fresh-brewed Starbuck's beverages 24 hours a day. If your group wishes to venture off-property, there are dozens of restaurants nearby that take advantage of Florida's fresh seafood in addition to steak, Italian and Chinese options.
Group Accommodations
Tastefully decorated with nautical motifs and painted in soothing blue tones, the Hilton's 295 guest rooms are the ideal place for a restful evening. Rooms feature either two queen- or one king-sized bed, and all come with a coffee maker, a mini-refrigerator and complimentary HBO. Groups that wish to maximize their space should consider the Junior Suites, which offer extra space and a sofa bed. If you want to rent a private meeting area for your group, there is 10,000 square feet of outdoor oceanfront deck ideal for activity space, and if you want to keep your reunion out of the sun, there is an additional 10,000 square feet of banquet space for receptions. Recently renovated, the spaces provide A/V service, customized meal menus and a variety of table arrangements to best serve your reunion size.
Getting to Cocoa Beach
Transportation logistics are often the most difficult part of planning a reunion. Luckily, Hilton Cocoa Beach Oceanfront is easily accessible. Orlando Melbourne International Airport, located 35 minutes away, accepts regional flights from Atlanta, Charlotte and Naples. The best option for groups traveling cross-country is Orlando International Airport, a major hub for American, United, Frontier, Delta, Southwest and Spirit airlines. Forty five minutes away from Cocoa Beach, the airport is ideal for large parties or groups that wish to spend a travel day in Orlando's amusement parks.
For those who wish to drive, Hilton Cocoa Beach has ample parking. The Florida A1A coastal byway is the central artery for the entire Space Coast and will be your group's main road for dining, recreation and offsite activities. Travelers driving to Cocoa Beach can take I-95, which spans Florida's entire eastern shore, or I-75, which passes through Central Florida and is the gateway to the rest of the continental U.S. No matter if your family is traveling from Maine or Miami, there is a road with easy access to Cocoa Beach.
Whether your reunion is about bonding activities, relaxing on the beach or experiencing all that Central Florida has to offer, Hilton Cocoa Beach Oceanfront can cater to your needs. The resort's family-friendly rental spaces, exceptional customer service and easy access to a variety of activities make it second to none as a reunions destination.