St. Tammany Parish, LA
Shopping, free festivals, swamp tours and more are just what you need when planning a family reunion.  St. Tammany Parish is the place to unwind and enjoy a cozy, small-town atmosphere.
Request Info
This is iconic Louisiana living. Bayous, rivers, sandy beaches, charming 19th century homes and sweet downtown shops.
With its trademark Southern charm, St. Tammany Parish, also known as the Louisiana Northshore, is an all-inclusive family reunion destination with something for everyone. Try blue crab fishing, visit a historic home, or explore the Insta-Gator Ranch and Hatchery, ranked as one of the World's Best Places to See Baby Animals (Gators) by Travel+Leisure.
Family-friendly festivals are abundant on the Louisiana Northshore where reunion groups can enjoy free 4th of July celebrations with live music, food and drink vendors, fireworks, and fun family activities at Mandeville's Light up the Lake, Madisonville Old Fashioned 4th of July Parade and Slidell Heritage Festival. If you plan to be in St. Tammany Parish in August, relish the month-long culinary celebration, Tammany Taste of Summer, where local group-friendly restaurants offer special prix fixe menus and hotels, and attractions offer discounts.
From shopping centers to parks and playgrounds, there are great places for activity and action in St. Tammany Parish.
Families who love the outdoors must visit Lake Pontchartrain and the many waterways of St. Tammany, where you can bring your own kayak or canoe, or rent one from local outfitters like Canoe and Trail Adventures in Covington. Let a professional guide from Cajun Encounters or Dr. Wagner's Honey Island Swamp Tours take your reunion group on a boat tour through the Honey Island Swamp in Slidell, where you're likely to see alligators, wild boar, raccoons, and other wildlife.
If camping and swimming are your adventure style, try Pine Crest RV Park and campground, which has free wi-fi, meeting areas, and 160 developed sites. Want more water in your life? Check out Fontainebleau State Park's group campsites, pavilions, and meeting room space. Fairview-Riverside State Park has a waterfront board walk, playground, and easily accessible camping amenities that are family-friendly too.
For the perfect reunion, the Louisiana Northshore has it all!
"The St. Tammany Parish Tourist & Convention Commission office helped make our family reunion in Mandeville, LA an unforgettable event! Our family reunion planning committee could not have asked for a more gracious and informative group of people. They provided valuable assistance for hotel group rates, information regarding tours, restaurants, historic sites, and even welcome bags for attendees. These resources certainly made the process of organizing such a large event less daunting and afforded us more time to focus on fun and family. I highly recommend contacting them for any event you may host in St. Tammany Parish." 
 – Nedra Blount 
Browse below for some family-friendly additions to your itinerary
Thing to do in St. Tammany Parish, LA on Your Next Family Reunion
Highlights
Lots of outdoor entertaining space, playgrounds and pavilions at Fontainebleau State Park, Fairview-Riverside State Park, Bogue Falaya Park, Camp Salmen Nature Park, and Land-o-Pines Family Campground

The convenience of being at the junction of I-10, I-12, and I-59, within an hour from New Orleans, Baton Rouge and the Mississippi Gulf Coast casinos

National chain hotel properties offering 3,000+ rooms with ample meet and greet space make St. Tammany Parish a fabulous place to get together with family and friends
Family-Friendly Dining Experiences in St. Tammany Parish
Middendorf's (Slidell)
Established in 1934, Middendorf's has been serving up fantastic food, including its legendary house specialty, Thin Fried Catfish, for more than 85 years. Middendorf's also serves such delicious items as crab gumbo, Italian oysters, shrimp, flounder, salmon filet, seafood platter and much more.
Website: middendorfsrestaurant.com
Pat's Rest Awhile (Mandeville)
This casual waterfront seafood restaurant and bar owned by renowned chef Pat Gallagher offers such local favorites as gulf fish amandine, oysters Rockefeller and gumbo alongside such classics as grilled steaks and burgers. Other seafood selections include redfish, tuna and swordfish.
Website: facebook.com/PatsRestAwhile
Annadele's Plantation (Covington)
Dating back nearly two centuries, Annadele's Plantation is a place where time stands still. This serene environment allows you to take a deep breath and relax amid its meticulously maintained grounds and cozy bed and breakfast. There is also a popular New Orleans-style restaurant that draws rave reviews.
Website: annadeles.com/
Hambone (Mandeville)
Southern comfort food with a twist is served in the little, red-roofed cottage in Old Mandeville. Some favorite menu items at Hambone include red beans and rice, po-boys, muffalettas and seafood gumbo.
Website: eathambone.com
Ready to find out more about how St. Tammany Parish can help plan your family trip or reunion?
The Greyhound (Covington)
Torre and David Solazzo serve up a menu inspired by "family meals". This includes a broad scope of flavors featuring wood-fired pizzas, burgers, tapas-style dishes, and a full-service bar. 
Website: https://thegreyhoundcovington.com/
Family-Friendly Attractions in St. Tammany Parish
Lake Pontchartrain
This massive body of water encompasses about 630 square miles and is roughly 40 miles wide. More than a dozen fishing charters operate out of Slidell, taking fishers out for a day with the chance to snare some monster trout, bull reds and triple tail. The St. Tammany Parish Fishing Pier in Slidell and the Sunset Point Fishing Pier in Mandeville also offer great fishing access. Kayak, paddleboard and canoe rentals also will get you in the water where you and your family will have a fabulous outing.
Website: louisiananorthshore.com/things-to-do/outdoors/lake-pontchartrain/
Honey Island Swamp Tours
What you can expect to find in the Honey Island Swamp, on the northeast edge of St. Tammany Parish, is pristine beauty, lush nature in harmony, and abundant wildlife. The Honey Island Swamp encompasses almost 70,000 acres, more than half of which is preserved. You can take a tour boat, or explore the swamp, among the most pristine in the U.S., by kayak with a guide. 
Website: https://www.louisiananorthshore.com/things-to-do/outdoors/swamp-tours/
Global Wildlife Center (Folsom)
The largest totally free-roaming wildlife preserve of its kind, the Global Wildlife Center is home to more than 1,000 exotic, endangered and threatened animals from across the world. This 900-acre preserve houses 12 ponds and a lake and offers safari wagon tours, private tours and educational field trips.
Website: globalwildlife.com
Insta-Gator Ranch and Hatchery (Covington)
Experience the life of Louisiana's most ancient residents: alligators. See these gators in crystal-clear water in the climate-controlled environment of the ranch, home to more than 2,000 gators. A guided tour will give you a first-hand account of the Louisiana gator industry, from hatchling to handbag.
Website: insta-gatorranch.com
Ready to find out more about how St. Tammany Parish can help plan your family trip or reunion?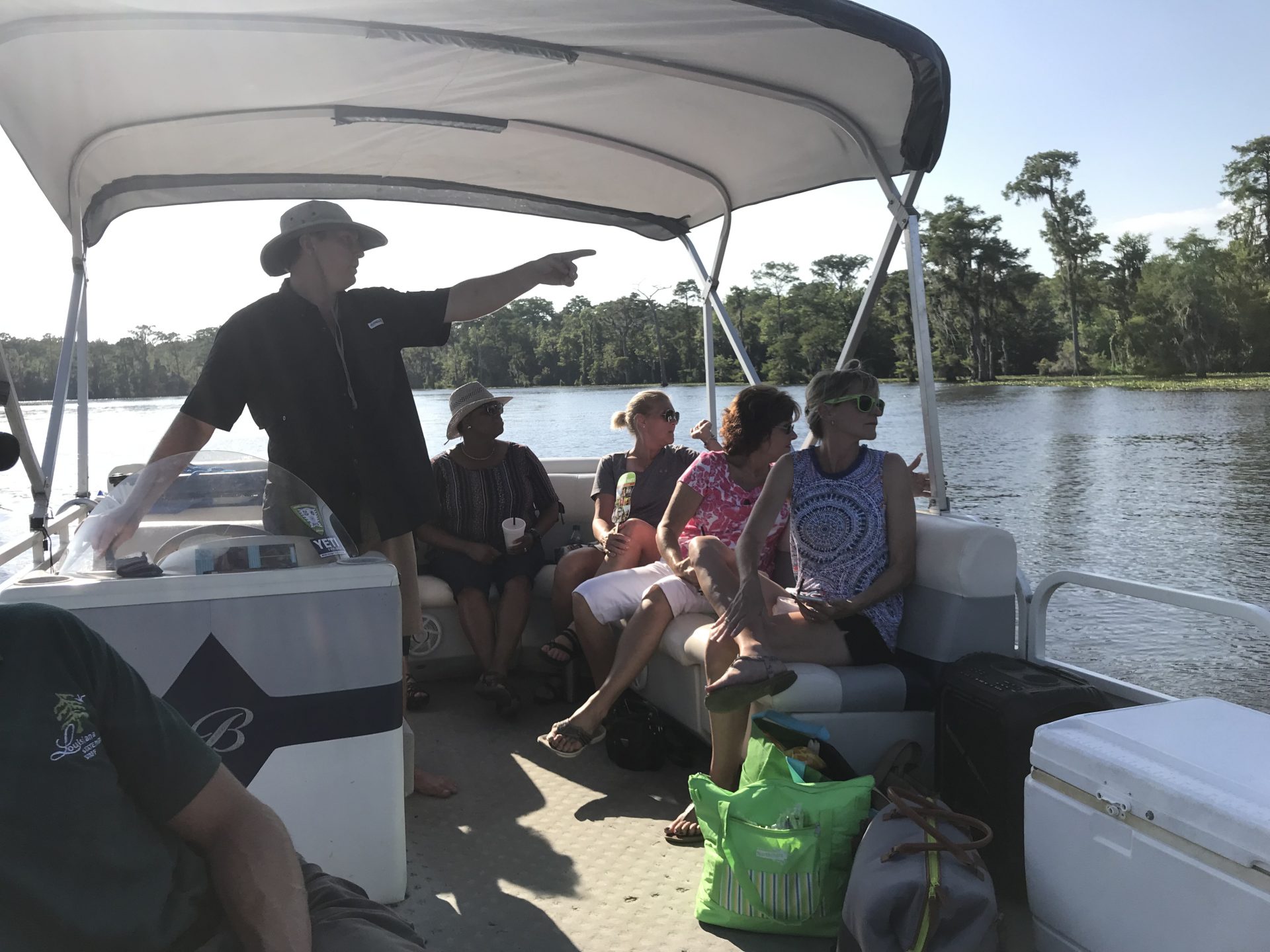 Louisiana Tours and Adventures (Madisonville)
Featuring three and five-hour customized pontoon boat rides on the beautiful Tchefuncte River and Lake Pontchartrain, Louisiana Tours and Adventures is great for families. The boat is a spacious 24 feet and offers ample, comfortable seating for your party (up to six passengers). It also has a large Bluetooth sound system, phone charger, 168-quart ice chest for food and drinks, a swim ladder, water toys and a retractable, covered Bimini top on the back half of the boat.
Website: louisianatoursandadventures.com
Family-Friendly Accommodations in St. Tammany Parish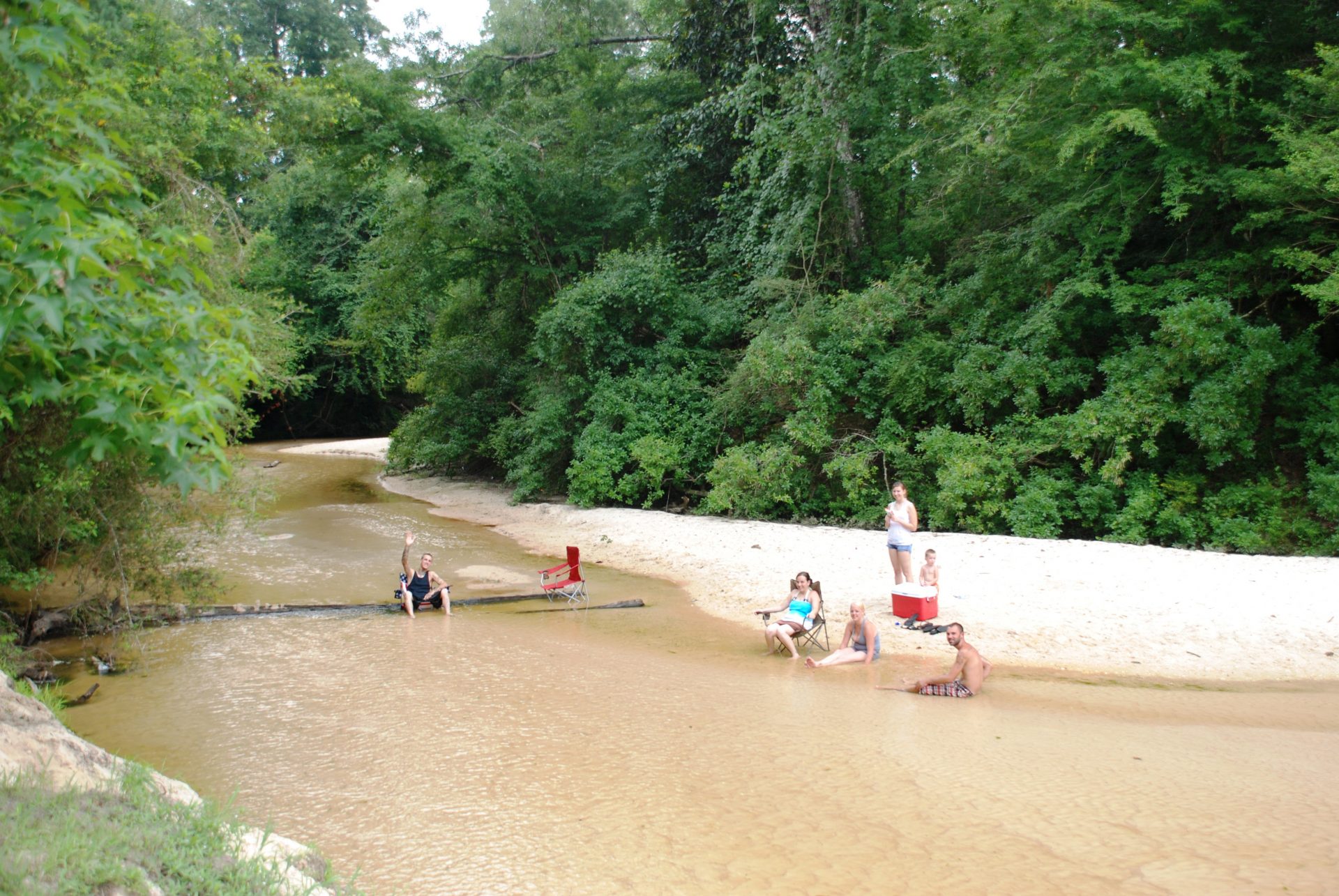 Land-O-Pines Family Campground (Covington)
A perfect locale for family camping and fun, Land-O-Pines offers full hookups, cable, rentals, a pool, a water slide and more. Located near the beautiful Simalusa River, Land-O-pines features beautiful outdoor locales including Raccoon Point and Beach Cove for you and your family to explore.
Website: camplop.com/Home.html
Fairview-Riverside State Park
For the overnight visitor, picturesque Fairview-Riverside State Park houses 81 camping sites, all with electricity and water hookups. Scattered throughout the park beneath a canopy of huge oak trees, guests will find numerous picnic tables, a group pavilion and a playground. A nearby comfort station is also provided. The park also provides a camping area with comfort station access.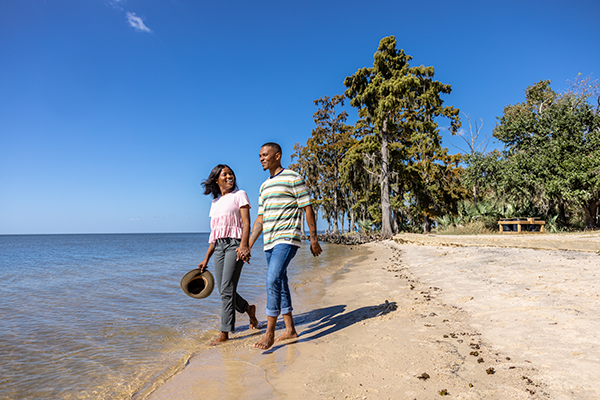 Fontainebleau State Park
This 2,800-acre park located on the shore of Lake Pontchartrain offers cabins, lodges, group camps and campsites for rent. Guests have ample opportunity to fish, hike, kayak or relax and watch a sunset from a turnkey camping experience at Fontainebleau. Visitors can also camp in style with fully-equipped safari-style tents.
Website: lastateparks.com/parks-preserves/fontainebleau-state-park
Abita Springs Hotel (Abita Springs)
Built in a beautifully restored 1890s home, the Abita Springs Hotel offers peaceful and stylish accommodations in the heart of Abita Springs. This hotel combines the luxurious feel of a boutique hotel with the convenience of a neighborhood guesthouse. Five private suites overlook lush hotel grounds, a charming courtyard garden and one of Abita's famed artesian springs.
Website: abitaspringshotel.com
Ready to find out more about how St. Tammany Parish can help plan your family trip or reunion?
Blue Heron Bed and Breakfast (Mandeville)
An award-winning B&B in the historic district of Old Mandeville just five blocks from Lake Pontchartrain, this fully-restored, 100-year-old home features two king-sized suites with private entrances and private porches. Breakfast is fully stocked in the suite each afternoon so guests can wake and dine at their leisure. Guests are within walking distance of the live oak-lined lakefront, award-winning restaurants, gastropubs and more.
Website: blueheronmandevillela.com
Family-Friendly Venues in St. Tammany Parish
Pine Crest RV Park and Campground (Slidell)
Nestled among majestic pines just off the interstate, Pine Crest contains 160 developed paved and pull-through RV sites. It also features free wi-fi, on-site eight-acre lake fishing, all-inclusive sites with electricity, water and sewer, and accommodates large coaches and RVs.
Website: pinecrestrv.com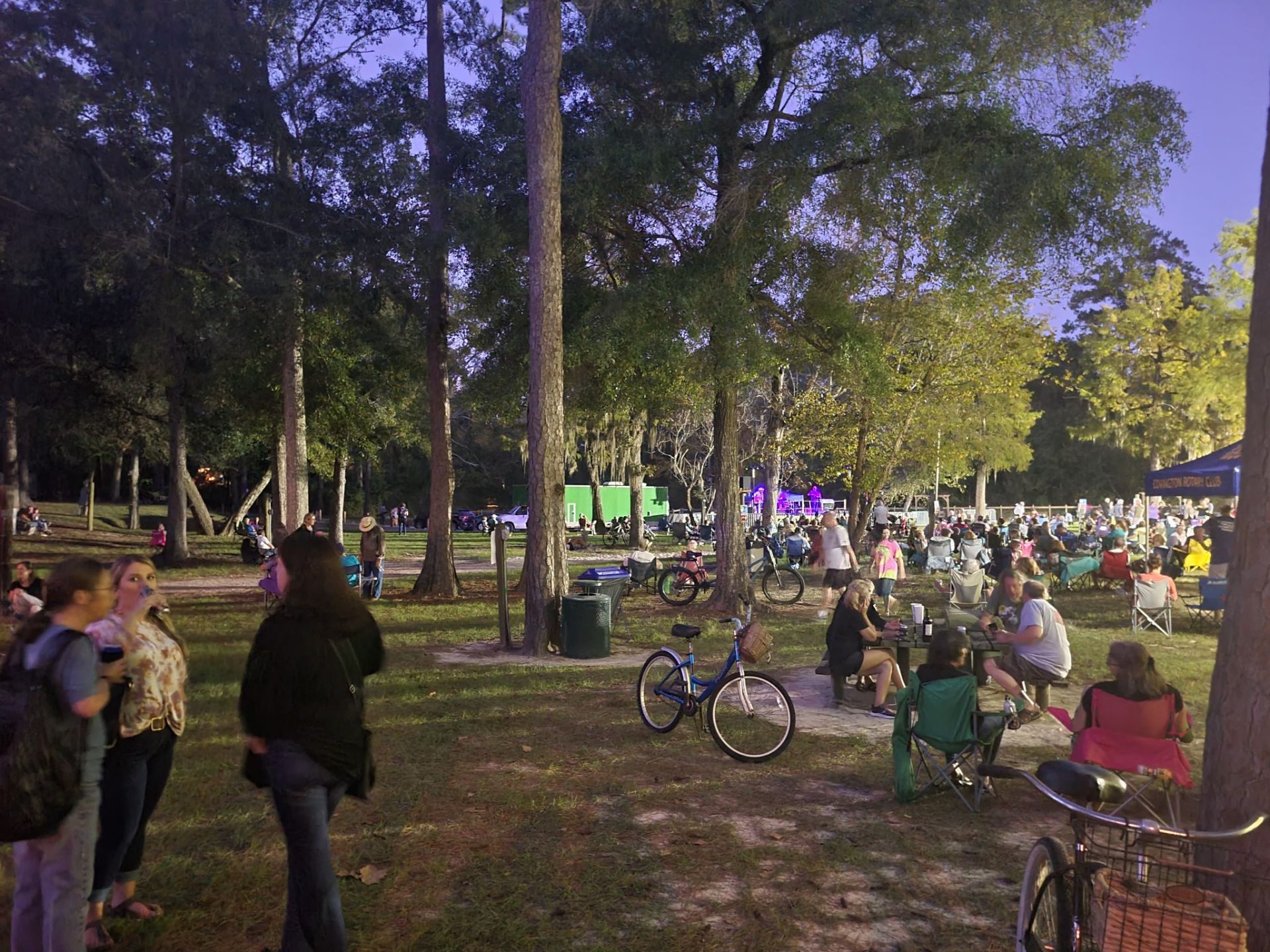 Bogue Falaya Wayside Park (Covington)
The site of many community events, Bogue Falaya Wayside Park features a playground for children and a pavilion available for rent. The Bogue Falaya River threads through the park and there is a new boat launch for kayaking, canoeing and stand-up paddling on the river.
Website: covla.com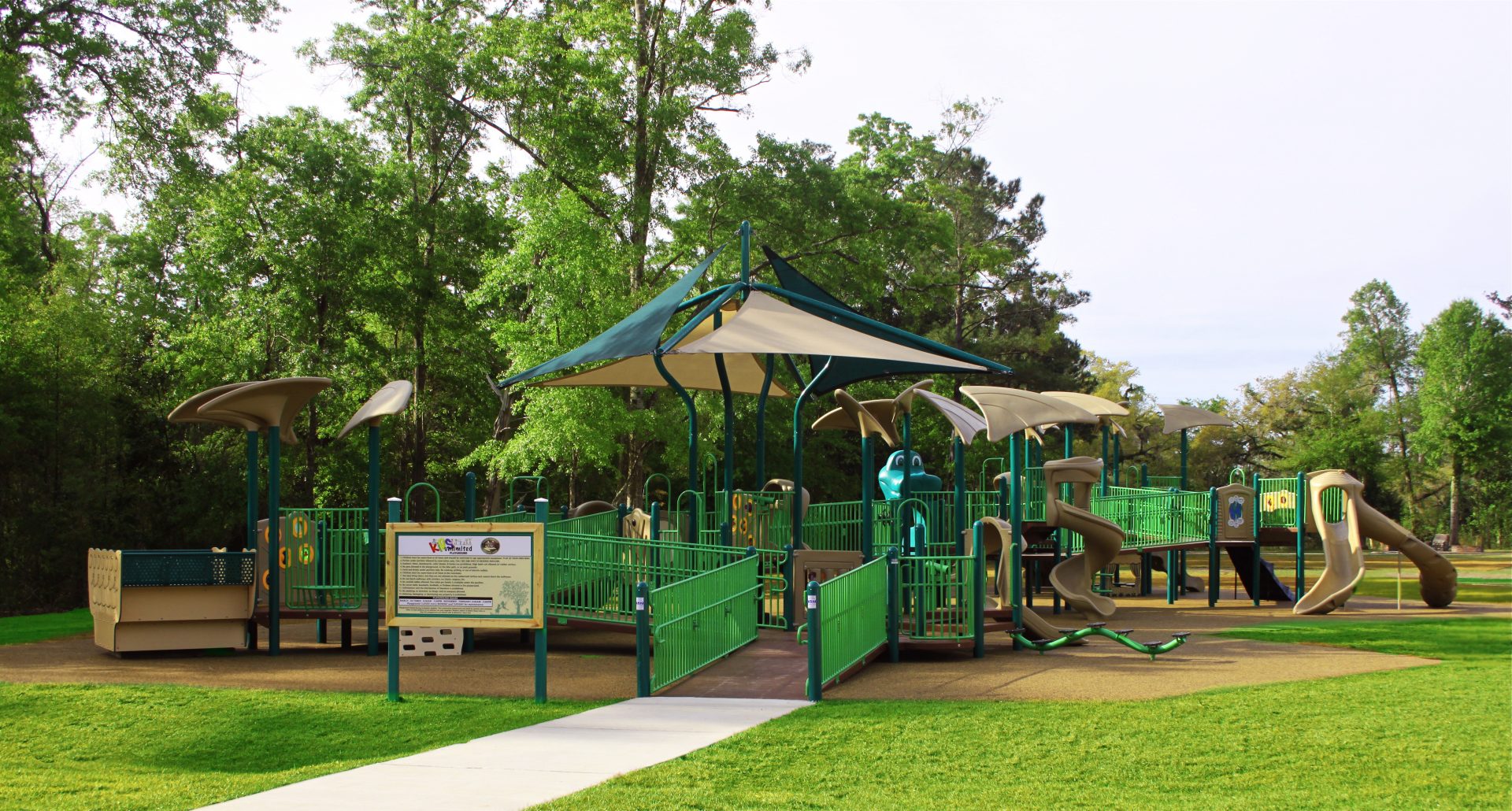 Camp Salmen Nature Park (Slidell)
Within its 130-acre bounds, Camp Salmen Nature Park offers visitors an outdoor observatory rich in natural flora, fauna and birding habitats, as well as a glimpse into its rich history. It is home to multiple hiking trails including the Old Fields Plateau Trail, which contains the largest display of flowering perennial plants in the park, and the Camp Ridge Trail, which contains gardens of indigenous flowering plants and trees.
Website: campsalmennaturepark.org
Cajun Encounters Pavilion (Slidell)
This pavilion can accommodate any private group event. At Cajun Encounters, they dedicate themselves to giving visitors an authentic experience of Louisiana. Cajun Encounters features top-quality city, plantation and swamp tours. They also offer custom group tours and itinerary planning.
Website: cajunencounters.com/cajun-pavilion
Ready to find out more about how St. Tammany Parish can help plan your family trip or reunion?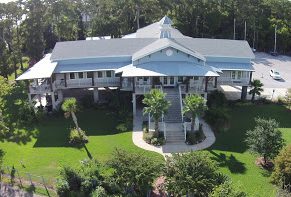 Pontchartrain Yacht Club (Mandeville)
Situated on a three-acre waterfront site adjacent to the Mandeville Harbor and boat launch, Pontchartrain Yacht club is a family friendly sailing and social club. The grounds provide an unobstructed view of Lake Pontchartrain and the launch area enables sailors to be in the open water in less than five minutes. The club hosts many social events including reunions and its inside Regatta Room and front lawn are popular spots for many events.
Website: pontyc.org
What are you waiting for?
Let Destination Reunions help you plan the perfect reunion.
Zondra White Jones
Senior Sales Manager
Phone: 800-634-9443
Email: Zondra@LouisianaNorthshore.com
Website: www.LouisianaNorthshore.com/Reunions