Just half an hour east of Columbus, Licking County is home to one-of-a-kind shops, delicious food and some of Ohio's most stunning natural wonders. This idyllic escape successfully marries the history and timelessness of pioneer-era America with inviting scenery, providing visitors with an unforgettable experience they're unlikely to find anywhere else. Outdoors, indoors, everywhere in-between – no matter where your group is most comfortable, Licking County has the perfect activities, accommodations and restaurants to suit your family's interests and ensure that your reunion is a success.
What can my family do in Licking County?
People began traveling through the area that would one day become Licking County long before Europe ever turned its eye on America, giving this Midwestern gem an enviable dose of history and culture that gives it an edge over nearby getaway spots. A reunion in Licking County lets your family experience this rich history without missing out on vacation classics like waterparks and outdoor adventures.
Infirmary Mound Park: Licking Park District offers over 40 miles of bike paths, hiking trails and beautiful scenery, and Infirmary Mound Park is the crown jewel of it all. Marvel over prehistoric Infirmary Mound, then enjoy a picnic in one of the shelter houses or set out on a horseback ride or mountain bike excursion.
The Trout Club: This stunning public golf course offers 18 state-of-the-art holes, live entertainment and a gorgeous outdoor pool. The Trout Club's grand opening is Memorial Day weekend.
Wineries and Distilleries: If the adults in your group can manage to sneak away for some kid-free time, consider swinging by one of Licking County's local drink hotspots. Whether you're in the mood for the scenic and relaxing experience of Sand Hollow Winery or the heady kick of Mill St. Distillery's handcrafted spirits, Licking County will help you rediscover the delights of the 21+ club.
Weathervane Playhouse: Visiting in the summer? Catch a show at Ohio's longest running summer theater. Whether it's Jekyll and Hyde, Baskerville: A Sherlock Holmes Mystery or The 25th Annual Putnam Spelling Bee, the dedicated cast and crew at Weathervane are sure to delight audiences of all ages.
Dining in Licking County
With so many options to choose from and more eateries opening up every year, grabbing a bite in Licking County has never been easier. Check out Barrel and Boar in downtown Newark for BBQ inspired by the South and Midwest. Start the day right at Early Bird's, a breakfast joint that uses farm-fresh ingredients to deliver a menu that tastes like grandma's cooking. In the mood to get a little classy? Head to downtown Newark and dine at Elements, a vibrant, urban restaurant that serves up locally sourced bites in an elegant atmosphere.
Where should we stay?
Whether your group is big, small or somewhere in between, Licking County is more than ready to accommodate your reunion and can guarantee that everybody will be comfortable, cozy and content. For smaller reunions, consider staying at one of the county's inns. Renowned for their quiet charm, the following inns are prepared to offer your group a peaceful stay, complete with all the standard amenities yet bolstered by a handful of unique features.
Granville Inn: Nestled among rolling hills and towering trees, this charming inn is the star of the New England-style village that surrounds it. The Granville Inn has been in operation since 1924 and has been meticulously maintained, offering your group a variety of luxurious rooms, a grand ballroom for larger events and plenty of dining options.
The Welsh Hills Inn: If your family wants to stay at a bed and breakfast, why not try the best America has to offer? Named 2015's #1 Bed and Breakfast in the United States, the historic Welsh Hills Inn offers guests views of the pretty hills that give it its name and a stay that's simply beyond compare. Onsite activities include massage services, horseback riding, hiking, fishing and spa treatments.
The Buxton Inn: Hosting visitors since 1812, the Buxton marries history with luxury to provide its guests with an unforgettable experience. Stay in one of the inn's original guest rooms, or try out the comfortable, balcony rooms of the converted boarding school to enjoy views of the property's gardens.
Traveling with a bigger group? Licking County has no trouble accommodating large reunions. Consider one of these super-sized locations: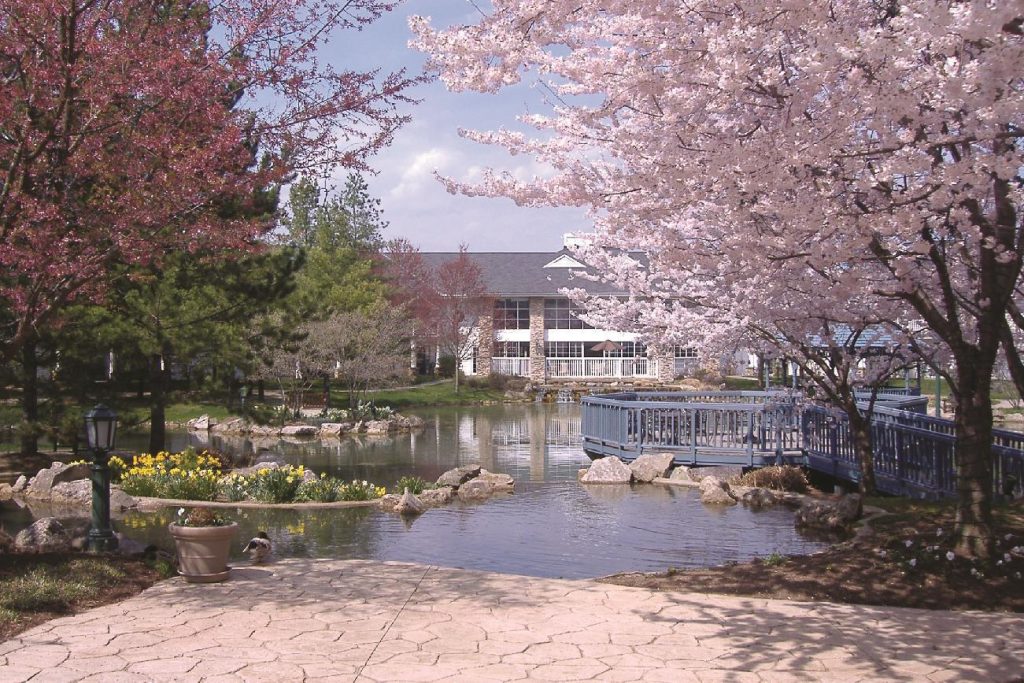 DoubleTree by Hilton Newark: A stay at this hotel starts with fresh, complimentary cookies and only improves from there. With 117 rooms, a heated indoor pool and variety of spacious suites, the DoubleTree is perfect for big groups who aren't looking to break the bank.
Cherry Valley Lodge and Coco Key Waterpark: Here, your family can enjoy an indoor waterpark, beautiful gardens, Jacuzzis and a full-service spa without ever leaving the lodge campus. Cherry Valley, equipped with 200 comfortable guest rooms, guarantees your family will be comfortable and content.
So, how do we get there?
No matter which way your family prefers to travel, getting the gang to Licking County is quick and manageable. Licking County is conveniently located just off I-70 and is just under 30 minutes away from Columbus. Major cities less than six hours from Licking County include Chicago, Pittsburgh, Detroit, Indianapolis and Cleveland. If your family would rather hop on a flight, Port Columbus International Airport is only a half hour away and offers flights through American, Delta, Southwest and United airlines.
Need a little help?
Organizing a family reunion should be a relatively smooth process, but occasionally planners hit bumps in the road. When those bumps arise, Explore Licking County is ready and willing to answer any questions you send their way. Contact them at http://explorelc.org/visitor-info/.
Steeped in history yet evolving every day, Licking County, Ohio is the perfect destination for practically every group. Whether yours is exploring the great outdoors, watching a play or just relaxing in state-of-the-art lodging, a reunion in Licking County is guaranteed to be a success.