Planning your next family reunion? Bring your crowd to its feet with a visit to the College Football Hall of Fame and Chick-fil-A Fan Experience. The 45-yard indoor playing field and state-of-the-art interactive exhibits make the Hall of Fame the perfect place for your group to gather and celebrate amazing moments.
Guests kick off their visit by registering their personalized All-Access Pass, selecting their favorite school (the Hall isn't responsible for inner-family rivalries!) and lighting that school's helmet. Over 700 colleges and universities are represented on a 3-story Helmet Wall presented by Southwest Airlines.
From there, test your skills and maybe challenge someone else's, at the Chick-fil-A Peach Bowl Skill Zone. Kick a field goal through the uprights of a regulation goal post, run the agility gauntlet, catch a diving pass in the end zone and take the quarterback challenge on an indoor playing field.
The fun doesn't stop when you leave the field. The second floor features five unique galleries with more than 40 multimedia and historical exhibits. From a 52-foot interactive media wall delivering personalized team-related content and Fight Song Karaoke, your family will be occupied for hours. Your RFID-enabled All-Access Pass is the key to unlocking all the fun and taking all the experiences home with you to download and share. Family members unable to attend the reunion can see you call a legendary play at the AT&T Call the Play booth or picking your team to win at the ESPN College GameDay Desk. Take a trip to the third floor where the greatest players and coaches are immortalized in the Hall of Fame. The Hall captures the stories of over 1,100 legendary college football players and coaches who broke records and won our hearts, cementing their legacies in a one-of-a-kind experience. The Hall of Fame features permanent, etched-glass "blades" that represent each class inducted into the Hall since 1951. Guests are also treated to a personalized in-depth experience through augmented reality displays that share stats, photos and video highlights from their favorite players and schools.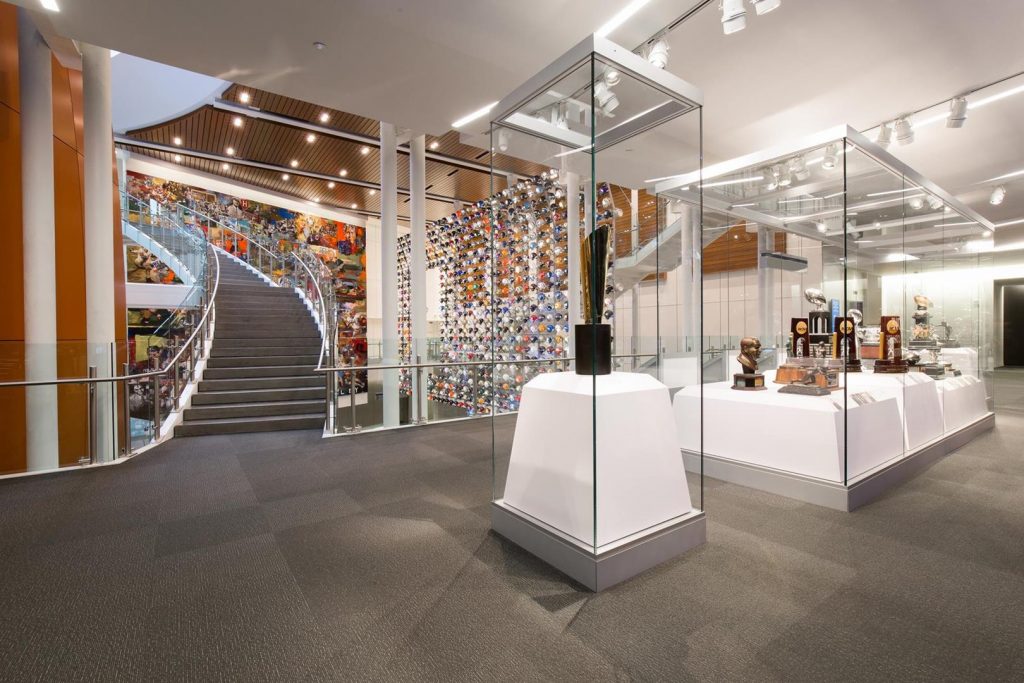 From diehard football fans, to just fans of fun, the College Football Hall of Fame and Chick-fil-A Fan Experience is a can't-miss attraction. Combine it with a private event, numerous catering options and convenient location in downtown Atlanta near Centennial Olympic Park, and the Hall is the ideal group destination.