Smoky Mountains, NC
Gather in Haywood County to visit the North Carolina Smokies. Home to several quaint mountain towns like Maggie Valley, Waynesville, Lake Junaluska, Canton and Clyde, Haywood County features natural attractions like the Great Smoky Mountain National Park and Blue Ridge Parkway with wildlife, hiking and long-range mountain views.
Request Info
Haywood County has a vibrant Appalachian Culture and is picture postcard worthy with long-range views from all five of its mountain towns.
Groups will love spending time in Cataloochee Valley. Surrounded by 6,000-feet peaks, this special section of the Great Smoky Mountain National Park features camping, picnic areas, hiking trails, historic buildings and wildlife. Elks were reintroduced in Cataloochee Valley making it the perfect place to see a herd roaming freely against this picturesque backdrop. The Catalooche Guest Ranch, which opened in 1935, offers cabins at nearly a mile-high along with activities like birdwatching, nature walks and horseback riding along with skiing and snowboarding in the winter.
Haywood County is also home to two great conference retreat centers Lake Junaluska and Lake Logan. In addition to meeting spaces, Lake Junaluska recreational options include a swimming pool, a fitness center, walking trails, playgrounds, tennis courts, an 18-hole golf course, mini golf and a shuffleboard. There is a 200-acre lake on the property where canoe, kayak and paddleboard rentals are available. For a more remote experience amidst nature, Lake Logan has plenty of nature trails along with outdoor activities like canoeing, swimming, volleyball and fishing. If you prefer to stay indoors, Boojum's Cave at Lake Logan has billiards, foosball, ping pong and board games.
No matter which lake you visit, expect to leave with wonderful memories.
Welcome to Haywood County
Five Great Mountain Towns
Whether you stay in Maggie Valley, Waynesville, Lake Junaluska, Canton or Clyde, you'll find plenty of activities and attractions in the picturesque Smoky Mountains of North Carolina
For families wanting to elevate their experience in the Smoky Mountains, Blue Ridge Parkway, spanning a 46 scenic mile drive in Haywood County, offers a magical journey. Promising miles of adventure and discover, along the parkway are a variety of hiking trails like Graveyard Fields, Devils Court House and Waterrock Knob with waterfalls and native flora and fauna to admire.
After a day spent in nature, head to Elevated Mountain Distilling Company, a craft distiller of top-shelf whiskeys and spirits in Maggie Valley for a tour and tasting for your group.  Waynesville is the perfect place for groups to unwind as well. On its bustling Main Street and Frog Level District, you can learn from local artists at a studio, shop for rare antiques, visit a general store or enjoy a farm-to-table dining experience at one of the many local restaurants.
If festivals are important to your group, the Smoky Mountains have got you covered. In the summer, you can listen to music at the Cold Mountain Music Festival, celebrate moonshine at Hillbilly Jam or see countries from around the world perform at the Folkmoot International Festival. In the fall, people flock to Waynesville for the Apple Harvest Festival and Church Street Art & Crafts Festival. Finally, in December, you can attend the Balsam Range Art of Music Festival or Appalachian Christmas at Lake Junaluska.
Along with its spectacular scenery, the Smoky Mountains offer plenty of activities and attractions to suit all group interests.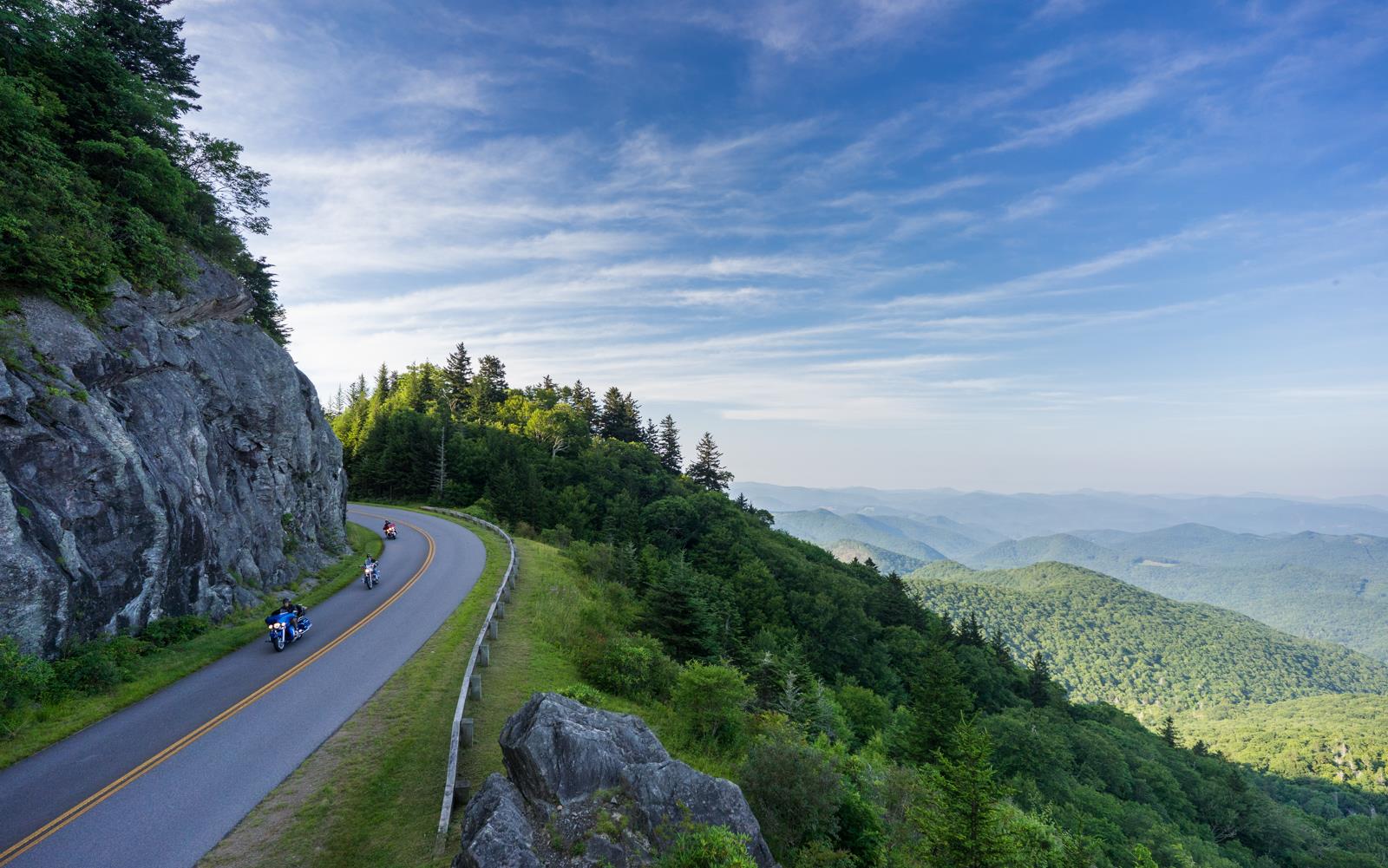 Our group loved exploring the North Carolina Smoky Mountains, especially seeing the elk in Cataloochee Valley.
– Angie Bozeman, Heritage Tours
Forty-six scenic miles of Blue Ridge Parkway
Authentic Appalachian history and culture
Year-round activities including swimming, fishing, hiking and skiing
Easy accessibility from major cities in Georgia, Tennessee, North Carolina and South Carolina
Charming and friendly mountain towns with entertainment, dining, shopping and sightseeing
Lodging Inventory
Total hotels – 35
Total hotel Rooms – 1,621
Cabins / Rentals – 825
Campgrounds / RV Parks – 8
Group Perks
Itinerary Planning
Tour Planner / Visitor Guide
Assistance with Hotels and Attractions
Site Inspection
Hiking Maps
Top Attractions
Great Smoky Mountain National Park
Blue Ridge Parkway
Wheels Through Time Museum
Elevated Mountain Distilling Company
Historic Downtown Waynesville
HART Theatre
Cataloochee Ski Area
Shelton House, Museum of NC Handicrafts
Bear Waters Brewing
Frog Level Brewing
Boojum Brewing
 
What are you waiting for?
Let Destination Reunions help you plan the perfect reunion.
[optin-monster-shortcode id="qac88lrjp57tafk1opym"]
Ben Wilder
Tourism Development Manager