What is Michigan? Depending on who you ask, it's the Motor City, Hockeytown, Motown, the Great Lakes or a place where winter is either subarctic or really cold. But what is Michigan to the reunion planner? That's easy – it's a great place to hold a reunion, especially if you're looking for a beach.
Despite its lack of oceanfront property, Michigan packs 3,288 miles of coastline — the longest freshwater coastline in the U.S. and second only to Alaska in terms of total coastline. In fact, about 41 percent of the state's area is under water. You can thank the Great Lakes for that. The upshot is that you're never very far from some kind of water-based recreation. Add in the revamped Metro Detroit area, old-school beach resort towns, and more campgrounds and rivers than you can shake a pine branch at, and you've got the goods for a great getaway. So why not look at this upper Midwestern state for your next reunion?
Five Places to Hold Your Next Michigan Reunion
When a state has not one but two peninsulas and four of the five Great Lakes, it's not easy to pick just one place. So, let's look at what each region, roughly speaking, has to offer.
Metro Detroit
Detroit may not seem like an automatic top contender for a reunion destination, but the city is in the midst of an impressive revitalization effort. The Detroit Art Museum hosts a selection of great art, including some unique Diego Riviera murals, the city is well-known for its music scene, which includes everything from opera to techno. And there's also an emerging food culture in Detroit, where you can eat anything from sushi to Ethiopian cuisine.  And if you like sports, this city is known to be sports-mad.  Take your pick of professional sporting events, including racing, baseball, basketball, football, and hockey. College sports, particularly football and hockey, draw huge crowds as well.
However, Metro Detroit, as a region, extends much further than the city. It encompasses much of southeastern Michigan and includes some excellent state recreation areas. It's entirely possible to go horseback riding, hiking, fishing, or swimming in one of the area's many state and city parks and then go home to a luxurious hotel afterwards.  And in the winter, ice skating, ice fishing, skiing, snowboarding, snowmobiling, sledding, and snowshoeing take over as locals and guests continue to enjoy the greatness of the outdoors.
East Coast:  Lake Huron
Lake Huron extends along most of Lower Michigan's eastern coastline.  From Mackinaw City in the north to Port Austin in the thumb, the Huron area is famous for its warm, relatively shallow waters and many beaches. Groups looking for quaint, old-school lakeside towns will find them dotted along both coastlines, but the Huron ones tend to be especially popular in the summer, when longs days and warm temperatures combine to make ideal beach weather.
Without a doubt, the crown jewel of Lake Huron's tourism is the Mackinaw City/Mackinac Island duo.  Located at the extreme northern tip of the Lower Peninsula, Mackinaw City is famous for its fudge, fish restaurants, and a lively, family-friendly summer tourism scene.  It's a great place for groups who want to camp, but there are cabins, guest houses, inns, and hotels aplenty for those who enjoy a more cushy stay. Mackinac Island (It's pronounced "Mackinaw", not "Mackinack") is famous as a car-free summer resort, where guests can walk, ride a bike, or take a horse-drawn carriage through a gracious, well-preserved Victorian town.
In the winter time, groups can still enjoy heading "Up North" for skiing or snowboarding at one of the many resorts and lodges in the upper part of the state.  While most of them are inland rather than right on the coast, they still offer lots of fun (and amenities) for reunion groups.
West Coast:  Lake Michigan's Coast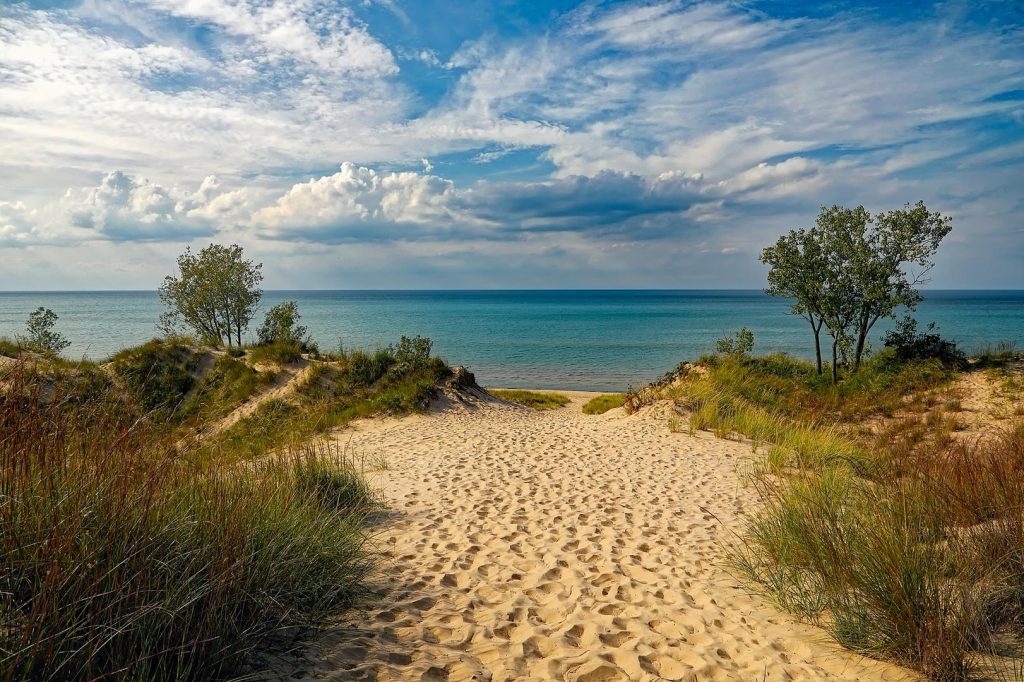 Michigan's western coastline fronts the cold, deep waters of Lake Michigan. Once again, it's an ideal place for summertime fun, with evenings that stay light well past 10 p.m. and innumerable beaches and lakes.  Here is where you'll find communities that cater to groups, including the Dutch-inspired town of Holland (which has its own Tulip Festival), the artsy and welcoming twin cities of Douglas and Saugatuck, or the quintessential beach town of Grand Haven.
Once again, though, the biggest resort area for Lake Michigan is at the northern tip of the state:  Traverse City. Home to the National Cherry Festival (and to one of the Midwest's most productive wine regions), Traverse City and the surrounding towns have been welcoming reunion groups for many years.  There's a film festival in July, a beer festival in November, and even a symphony orchestra. Add in the usual northern Michigan activities of swimming, sailing, beach volleyball, hiking, canoeing — and much more — and you can see why many groups come back to the Traverse City area year after year.
Lake Superior and The U.P.
Once you cross the Mackinac Bridge, you enter Michigan's Upper Peninsula, an area that Michiganders call the U.P.  Sitting between Lakes Huron and Michigan and the mighty Lake Superior, the Upper Peninsula is still largely forested, with small towns and the occasional moderate-sized city appearing.  In feel, it's more akin to Scandinavia than to the Midwest — which is probably because of sizeable Finnish and Swedish immigrations in the last century.
Things move a bit slower in the U.P., but groups with a taste for rugged wilderness will appreciate its natural beauty.  Lake Superior's icy waters dominate the northern part of the peninsula.  It's still an important shipping and logging route, but groups who want to experience the history of the region would do well to head to Copper Harbor, the most northern town in Michigan.  As the name suggests, you'll learn about the history of the area's copper mines.  The town of Houghton draws winter sports enthusiasts, and the U.P's largest city, Marquette, boasts cottages, hotels, and its own international airport.  At the eastern edge of the U.P. is Sault Ste. Marie ("Soo-saint-marie") which borders Canada, contains the Soo Locks, and is near Whitefish Point's Great Lakes shipwreck museum.  Inland, groups can camp, hunt, fish, or go waterfall spotting; Michigan is home to quite a lot of waterfalls in both the Upper and Lower peninsulas, but the most famous, Tahquamenon Falls, is in the U.P.  And you can't leave the U.P. without trying a pasty (pronounced pah-stee), a savory meat and potatoes pie.
It doesn't matter if your group is into luxurious resort stays, glamping, or wilderness camping; whether they prefer swimming or snowmobiling; or whether they're looking for a cityscape or a mountain scape.  You'll find a reunion destination that meets your needs in Michigan.