Enjoy your Hawaiian reunion at these family-friendly resorts
Aloha! A magical and stunning place exists replete with resplendent flora and fauna, calm turquoise waters, tropical marine life, and deeply rooted Hawaiian culture. Traditions here are based around 'Ohana (family), Aloha (love and compassion), and Malama (to care for). These beautiful beliefs manifest in the many extraordinary family-dedicated Hawaiian resorts ready to cater to your family's next epic reunion getaway. What better place to reconnect with loved ones than in Aloha State? 
Aulani, A Disney Resort & Spa
A quintessential name in family fun, Disney created a magical oasis for families with kids of all ages to reconnect with one another exclusively. Disney knocks it out of the park with Aulani, A Disney Resort & Spa. Taking a different approach to family vacation destinations from their well-known amusement park attractions, the resort offers myriad amenities for all ages, including six striking swimming pool areas, a private pristine beach, and nature tours, all while in the company of Mickey Mouse and the gang! 
Delve into island culture with authentic ukulele lessons or experience an exhilarating traditional luau. Kids and adults alike can plunge down winding waterslides, discover a private lagoon with snorkels, relax on a meandering float along the lazy river and take in the tropical paradise from the edge of an infinity pool. The resort also offers a complimentary kids club with a wide range of family-friendly activities. 
 Choose from one, two, and three-bedroom home-like villas at Aulani, A Disney Resort & Spa offering separate rooms, full gourmet kitchens, and washers and dryers. Or, stay in a luxury suite that sleeps up to six family members. They also have standard rooms available in colorful island decor for smaller groups. 
Honua Kai Resort & Spa
Located on the illustrious Kaanapali North Beach on the island of Maui, Honua Kai Resort & Spa truly caters to families by offering free accommodations for children 17 and under! In this all-suite resort hotel, spread out in one, two, or three bedrooms with a private lanai and cook meals in a full gourmet kitchen.
Family members of all ages will have endless water play opportunities at the three-acre aquatic playground featuring five whirlpools, waterfalls, interactive fountains, five hot tubs, and a children's play area. Rent snorkels and other gear for water exploration or discover Maui on a nature or helicopter tour. Imagine taking the kids to see Hawaii's famous volcanoes from the air or rappelling down waterfalls! Take surf lessons or go on a deep dive in a submarine for memories that will undoubtedly last a lifetime. 
Turtle Bay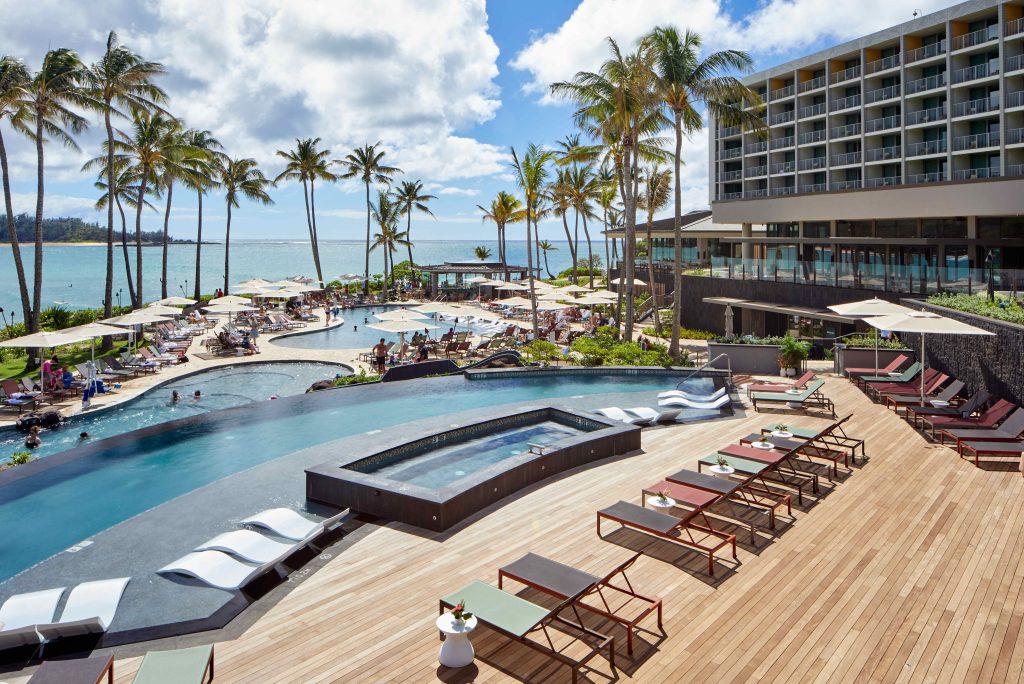 On the dreamy North Shores of O'ahu is the tranquil Turtle Bay resort surrounded by swaying palm trees, bright vegetation, and crystal blue waters. This resort focuses on a return to nature, offering unusual activities for the ultimate one-of-a-kind Hawaiian outdoor experience. 
Take children under six for a hands-on activity at the Pony Express Stables for horseback riding, exclusively offered at Turtle Bay. Take classic surf and SUP lessons or get creative and try your balancing skills at SUP yoga and surfing with dogs with one of Rocky's famous surfing pups! 
Tour the calm waters via kayak for sea turtles in Kawela Bay with trusted and experienced tour guides or create a custom helicopter charter and get a bird's eye glimpse of the awe-inspiring exotic scenery. Families can also enjoy native bird watching and cultural bike tours.
On a clear night, take part in stargazing with the Stargazers of Hawaii and learn about the vast universe full of constellations and planets from an expert astronomer using a high-powered telescope. Immerse in the Hawaiian culture at Paniolo Pāߵina, the new weekly heritage entertainment centered around Hawaii's robust cowboy and ranching history. 
Choose from cozy ocean bungalows, premium ocean view rooms, and standard guest rooms and suites, with plenty of space for the whole family to relax. 
Sheraton Waikiki
In the desirable Waikiki area in the heart of Honolulu, Sheraton Waikiki offers a multitude of Hawaiian adventures, exciting shopping opportunities, five-star restaurants, and family excursions. 
Make memories at the outstanding hotel with amenities like the family-friendly Helumoa Playground Pool featuring waterslides, whirlpools, interactive water fountains, luxury poolside cabanas, and an infinity swimming pool with magnificent views. 
 The Kids Program includes full and half-day pool activities for preschoolers to 12 year olds or drop the little ones off at Poppins Day Care for an adults-only shopping day and pampering at the spa. The whole family can indulge in Hawaii's island culture by taking hula dance lessons, a flower lei making class, or learning a few tunes on the ukulele. 
Accommodations at Sheraton Waikiki range from standard double and king city or ocean view rooms to deluxe, large luxury, and ocean suites perfect for any family.  
The Lodge at Kukui'ula
For a truly out-of-this-world family reunion, head to the island of Kaui and stay at The Lodge at Kukui'ula. This one-of-a-kind family resort boasts three outstanding neighborhoods filled with cozy island-inspired vacation homes on palm tree-lined streets. Choose a villa with one to four bedrooms and amenities like a private pool and outdoor kitchen. Enjoy all The Lodge has to offer, like a hike to the Farm, a 10-acre lush garden landscape ripe for the picking. Pluck fresh herbs, flowers, fruits, and vegetables for a family meal prepared in your outdoor kitchen overlooking glorious sunsets. What better way to bond on a family reunion than over a homemade meal? 
Relax in the expansive connection of swimming pools and hot tubs, play tennis or a round of golf at five-star courses, and taste the fresh island flavors at their two gourmet restaurants. 
Four Seasons Resort Hualalai at Historic Ka'upulehu
The island of Hawaii, colloquially known as the Big Island, touts a luxury hotel draped in Hawaiian authenticity and heritage surrounded by idyllic landscapes. How about swimming with the family in a 1.8-million-gallon aquarium home to some 4,000 tropical fish and marine life species? The recently added Marine Activity Center houses on-site marine biologists who create specially designed activities for resort guests. At the Four Seasons Resort Hualalai at Historic Ka'upulehu, the whole family can do just that and so much more! The Big Island offers an array of once-in-a-lifetime experiences like manta ray diving and whale watching excursions. It's also home to the famed Hawaii Volcanoes National Park, beautiful snow-capped mountains, and black sand beaches.
With seven swimming pools to choose from, including an adults-only pool, a dedicated kids' pool, and the Sea Shell infinity pool, there are endless ways to relax by the water. The resort also has a special Camp Manitou with daily activities for the kiddos. 
Go freediving with the "water woman" in the pristine waters of the Kona-Kohala coast, or visit the local blacksmith and check out handcrafted one-of-a-kind knives for sale. After a full day of adventures, relax in an expansive family villa that sleeps up to 10n guests, or choose from the many types of suites that offer plenty of room for everyone. 
Hilton Hawaiian Village Waikiki Beach Resort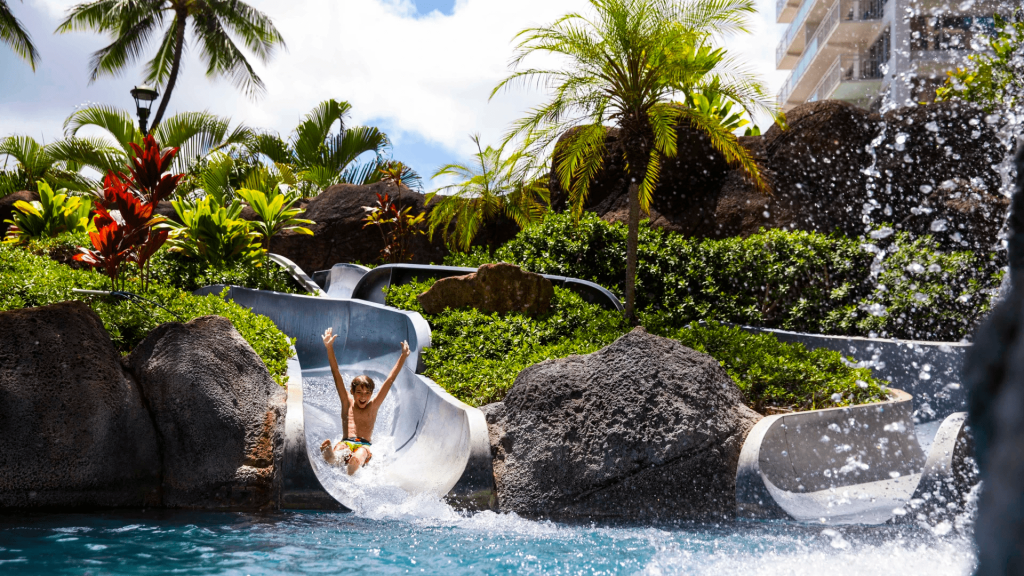 In the highly sought-after Waikiki area, the Hilton Hawaiian Village Waikiki Beach Resort features three wonderfully diverse accommodations to choose from. Bring your family to stay in the Rainbow Tower Beachfront with amazing views and spacious rooms, The Ali'i Beachfront Boutique to be pampered, or the newly renovated Tapa Collection with multiple suite options and all the amenities provided by Hilton.
There are a variety of experiences to be had here, including the festive Waikiki Luau on the Green Lawn with music and dancing and the not-to-be-missed Duke Kahanamoku Beach & Lagoon, an impressive five-acre saltwater lagoon where your family can become marine explorers!
Every Friday night, the sky lights up with a spectacular fireworks display on the beach. Get out on the open waters and sail on a premium catamaran for excursions like Turtle Snorkel Sails, Adventure Cruises, and Sunset Cocktails. Take your adventures to the next level aboard Atlantis Submarines and scope out Hawaii's magnificent underwater world full of artificial reefs, tropical fish, and two wrecks to explore.  
Hawaii's wholesome ideals and congenial vibes create the perfect atmosphere to make indelible memories with precious loved ones. Bond over meals you picked fresh and prepared in your outdoor kitchen overlooking expansive views. Experience newfound appreciation and love for one another in your personal Shangri-la surrounded by tranquility. The Aloha State is a family-friendly paradise waiting to be explored by you and your group for your next family reunion, so start planning today!