Indiana's fourth-largest city boasts a wealth of activities and attractions that will entertain and engage every member of the crew
Northern Indiana abounds with possibilities for family reunion groups, and South Bend-Mishawaka makes a good base of operations with its many family-friendly diversions.
Most people know South Bend (pop. 105,000) as the home of the University of Notre Dame. Walking tours of the beautiful and iconic campus are free to the public; groups of 10 or more must arrange a private tour. 
There are separate tours of the recently renovated, 80,000-seat football stadium, the "house that Rockne built." Knute Rockne's remarkable record of 105 wins and only five losses (from 1918-1930) propelled him to celebrity status and showered national attention on the school and its team, the Fighting Irish. Tour members can take photos on the field and in front of the famed "Play Like a Champion Today" sign.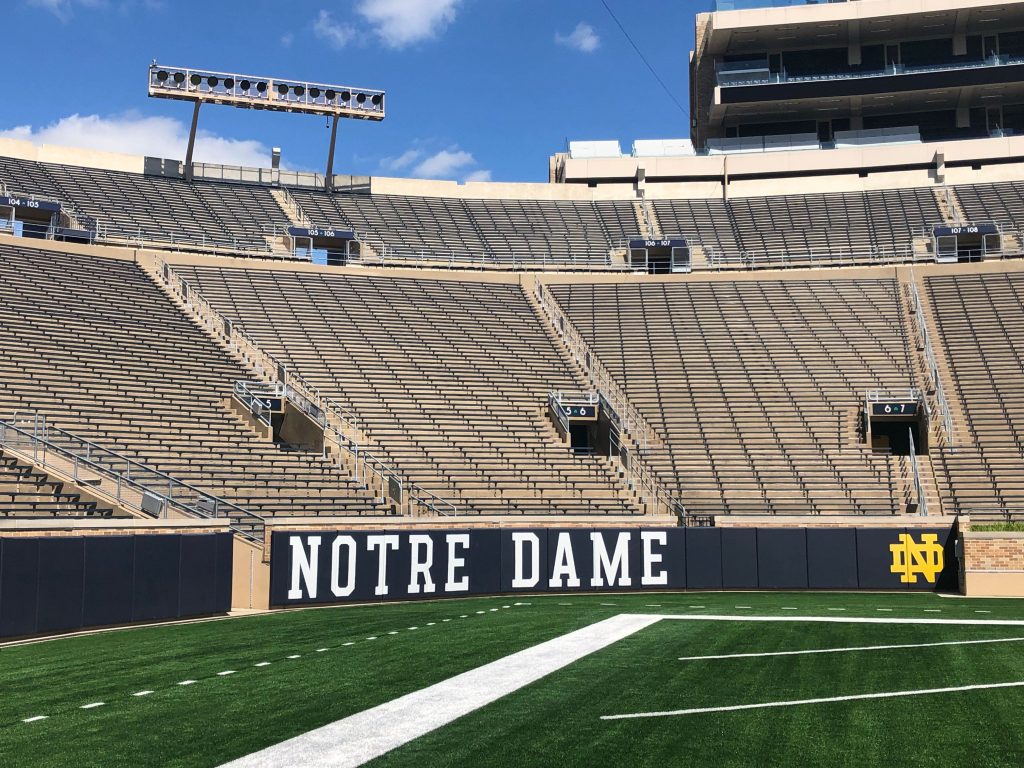 Besides football, Notre Dame basketball and hockey teams have large followings as well. Admission is free to the school's other sporting events, including baseball, lacrosse and soccer.
The university bookstore, next to the visitors center, has every kind of Notre Dame logo gear imaginable, and there's another location at Eddy Street Commons, a buzzing commercial/residential development across from campus.
For professional baseball action from April to early September, the place to be is Four Winds Field, home of the South Bend Cubs, a minor league affiliate of the Chicago Cubs. Families with kids like the ticket price ($12-$17), Fun Zone inflatables, and the between-innings contests and giveaways. The stadium offers eight areas for group outings, including rooftop seating at perches in the adjacent apartment buildings that make up part of the ballpark complex. Groups of 20 or more get South Bend Cubs caps, a game program and scoreboard recognition. Minor league baseball is always a big hit with family groups.
South Bend's Potawatomi Zoo also makes a good family outing. New this year is the Giraffe Conservation Center, where you can feed lettuce to the four male giraffes. In the works is an upgraded lion exhibit, and next year a black bear habitat will be unveiled. The train makes it easy to get around the zoo. Small and manageable, the zoo can be seen in two hours.
Neighboring Potawatomi Park has a playground, splash pad and tree-shaded picnic areas. The greenhouses of Potawatomi Conservatories feature exotic examples of tropical and desert vegetation.
Travelers looking for greenspace in The Bend, the collective name for the adjoining cities of South Bend and Mishawaka, also gravitate to downtown Mishawaka with its attractive parkland and Riverwalk along the St. Joseph River. A new ice-skating ribbon is under construction. Cutting-edge restaurants and prized residential spaces contribute to the flourishing downtown riverfront. The area's largest retail corridor, with seemingly every national chain, is another visitor magnet in Mishawaka (pop. 55,000).
St. Patrick's County Park, part of the St. Joseph County Parks system, is a favorite with kayakers, canoeists, hikers and cross country skiers. Outdoor enthusiasts also flock to Bendix Woods and Ferrettie/Baugo county parks and Spicer Lake Nature Preserve.
Potato Creek State Park, located 13 miles southwest of South Bend-Mishawaka, offers hiking trails ranging from easy to rugged and a lake for swimming, boating and fishing. Its family housekeeping cabins accommodate up to eight people. The campground has tent and trailer sites.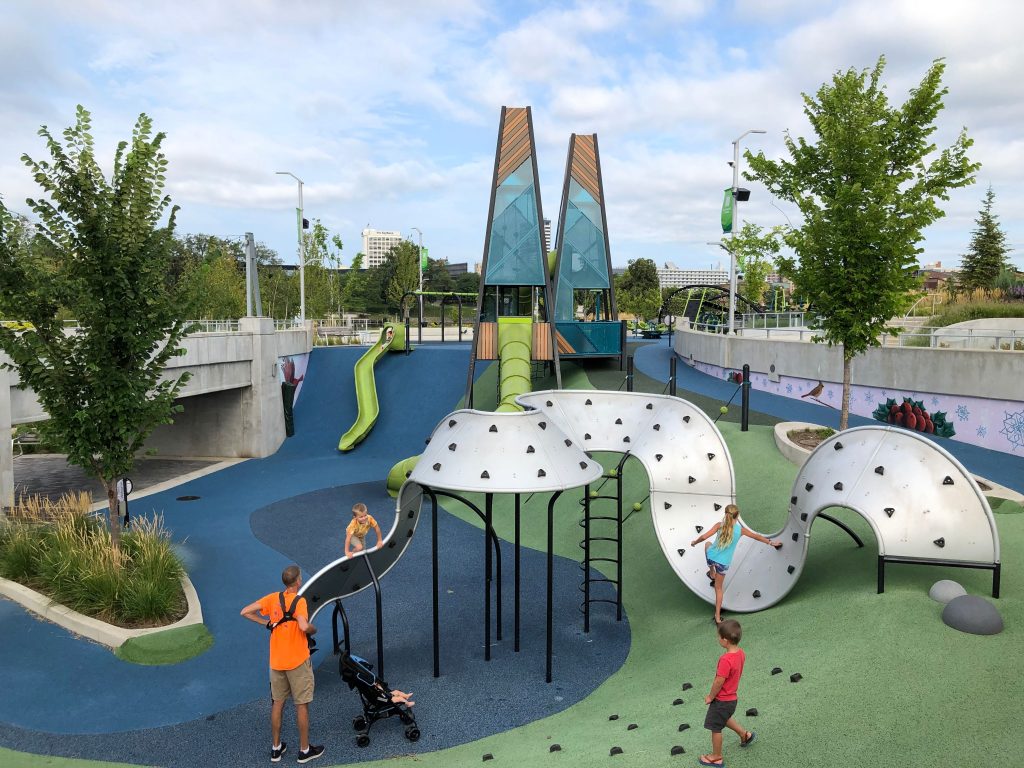 South Bend's state-of-the-art Howard Park attracts families to the East Bank Village neighborhood. Bordering the central business district on the east side of the St. Joseph River, the innovative park offers soft-surface playgrounds, winding walks, event lawns, fire pits, a concession stand and a full-service restaurant, Howard Park Public House. In winter, an ice trail and pond beckon skaters.
Not far away, rafters and kayakers paddle their way through rapids on summer weekends at East Race Waterway, North America's first manmade whitewater rafting course. Its rapids rival those of the Colorado River and can generate waves up to six feet or higher. Paralleling the St. Joseph River, the course is about 2,000 feet long with a total fall of about 12 feet depending on the flow of the river.
One of the East Bank neighborhood's most popular restaurants is The Lauber, which occupies the former J.C. Lauber & Co. sheet metal factory. A great place for artisan pizza, beer, salads and sandwiches, it offers a killer mac 'n' cheese grilled cheese that blends four cheeses between toasted sour dough, to which you can add smoked brisket or fried buffalo chicken breast. Also recommended is the blueberry BBQ pizza, which includes pulled pork and provolone and mozzarella cheeses. Save room for the cookie pizza, a warm butterscotch cookie with walnuts, caramel sauce and vanilla bean ice cream.
For more taste treats, head to the South Bend Farmers Market, where farmers and other vendors sell everything from produce, pies and cheeses to flowers, handicrafts and novelty bird feeders. One of the Midwest's largest and most diverse indoor markets, it has a cafe utilizing vendors' in-season produce. The market is open all year from 7 a.m. to 3 p.m. on Tuesday, Thursday and Saturday, and on Friday from May through October.
Along with a Notre Dame or South Bend Cubs keepsake, perhaps the best souvenir of your trip is a sweet treat from South Bend Chocolate Company. The factory outlet store on Sample Street has a full line of chocolates, popcorn, pretzels, cookies and other goodies, including marked-down seasonal items. Factory tours (hairnets required) include multiple samples and illuminate the whole chocolate-making process, from harvesting cacao beans to packaging the finished product. In 2023, owner Mark Tarner intends to vacate the current factory and open at a new location in South Bend. Plans for the site call for a dinosaur museum where Tarner, a passionate collector of dinosaur fossils, can show off the bones he has acquired on digs in Montana.
History hounds and antique car buffs make their way to the Historic District and the Studebaker National Museum, a shrine to the automaker once based on South Bend. The brand's spirit lives on in other places around town. A street, golf course and school bear the company's name, as does a brewery. A block from the museum, you can dine in style at Tippecanoe Place, a restaurant that occupies the 1889 mansion of Clement Studebaker, who, with his brother Henry in 1852, founded the company that started as a blacksmith shop and went on to become the largest producer of horse-drawn vehicles in the world. They entered the automobile business in 1902 and by 1913 had become America's third-largest car manufacturer. Studebaker closed for good when it shuttered its Hamilton, Ontario plant, which produced a compact line until 1966.
Connected to the Studebaker National Museum is The History Museum, a treasure house of local history. The campus also includes the 1896 Oliver Mansion, perhaps the most opulent Gilded Age home in Indiana.
One gallery in The History Museum focuses on the South Bend Blue Sox, a team that played all 12 seasons in the All-American Girls Professional Baseball League (AAGPBL). The excellent collection of AAGPBL memorabilia tells the story of the women's league that started during World War II and lasted until 1954, a chapter in sports history immortalized in the 1992 movie "A League of Their Own." Directed by Penny Marshall, the film starred Geena Davis, Tom Hanks, Madonna, Lori Petty and Rosie O'Donnell.
For tourism information on The Bend, go to the website of Visit South Bend Mishawaka.
By Randy Mink, Senior Editor
Lead Photo: Four Winds Field, home of the South Bend Cubs minor league baseball team, offers a Fun Zone for kids. The team store (right) occupies a former synagogue that stands inside the ballpark. (Randy Mink Photo).