Make Memories On Family Cruises With Boatloads Of Fun For Everyone
By Nancy Schretter, Contributing Editor
Families are excited about traveling this year to reconnect, celebrate important life events, and spend quality time together. Family group cruises offer something for everyone, and they're a memorable and stress-free way for grandparents, parents, and children to travel together. Multigenerational vacations are one of Cruise Planners' biggest trends this year, and cruise lines are seeing an increase in families booking multigenerational group cruises and family reunion sailings.  
Family group cruises offer an appealing blend of togetherness and freedom. These highly-inclusive getaways are easy to plan and provide excellent vacation value. Cruise itineraries include unforgettable ports of call, and families can bond while enjoying memorable shore excursions and shared experiences.
Ships feature accommodation choices at all budget levels and provide an extensive array of activities and amenities for all ages. Since daily itineraries are flexible, family members can pursue their own individual interests and regroup for meals at the many restaurants onboard. Substantial group discounts and special perks are also available, making multigenerational cruise vacations and family reunions even more affordable.
There's an ideal cruise for every family group. Cruise ships come in all sizes and differ in terms of activities, entertainment, and overall vibe. It's important to consider what you and your crew want to do and select a cruise ship that will satisfy everyone in your clan. A knowledgeable travel advisor can help in your decision-making and booking process. 
Here are some top-notch options to consider for your next family group cruise: 
ATTRACTION-FILLED FLOATING RESORTS 
Big cruise ships are an excellent home base for family groups seeking lots of action and excitement. These high-energy megaships are family-pleasing playgrounds loaded with dozens of restaurants, multiple waterslides, amazing top-deck amusement park attractions, complimentary kids' and teens' programs, and non-stop entertainment. Large cruise ships also offer a wide array of accommodations, from budget-friendly inside cabins to lavish multi-bedroom suites. 
Carnival Cruise Line is a top choice for family vacations and multigenerational reunion cruises. The cruise line's ships sail from 14 different U.S. homeports, making it convenient and cost-effective for family groups to drive to their cruise. Carnival offers excellent group rates, and specialists are available to help with reunion events and details.
Carnival's new campaign theme is "Choose Fun Together," and family groups can share special moments while enjoying the wealth of onboard activities and attractions. Carnival Cruise Line's ships feature massive WaterWorks water parks, fun-filled kids & teen clubs, a huge variety of restaurants and bars, production shows, and non-stop entertainment, plus plenty of adult-focused spaces, including the peaceful Serenity Adult-Only Retreat. Families sailing on Carnival Cruise Line's two newest Fun Ships can satisfy their need for speed while riding BOLT, a thrilling top-deck roller coaster featuring exciting twists, loops, and turns.
Beloved Disney characters, immersive storytelling, cinematic dining adventures, and outstanding family entertainment make Disney Cruise Line a popular option for family group cruises. The cruise line is well-known for creating magical experiences on its ships, with exceptional programs and venues for adults and children of all ages. Disney Cruise Line's ships offer superb rotational dining, character interactions, enchanting Broadway-caliber Disney shows and world-class entertainment, immersive kids' and teens' clubs, and well-designed family-friendly staterooms.
On Disney Wish, the cruise line's newest ship, families can dine at the first "Frozen" and Marvel-themed restaurants at sea, take a wild ride on the unique AquaMouse water coaster and have out-of-this-world experiences in innovative "Star Wars"-themed areas for adults and kids. Connecting staterooms can be arranged for family reunion cruises based on availability. Families can make their Port Canaveral-based group cruises even more memorable by adding a land package at nearby Walt Disney World.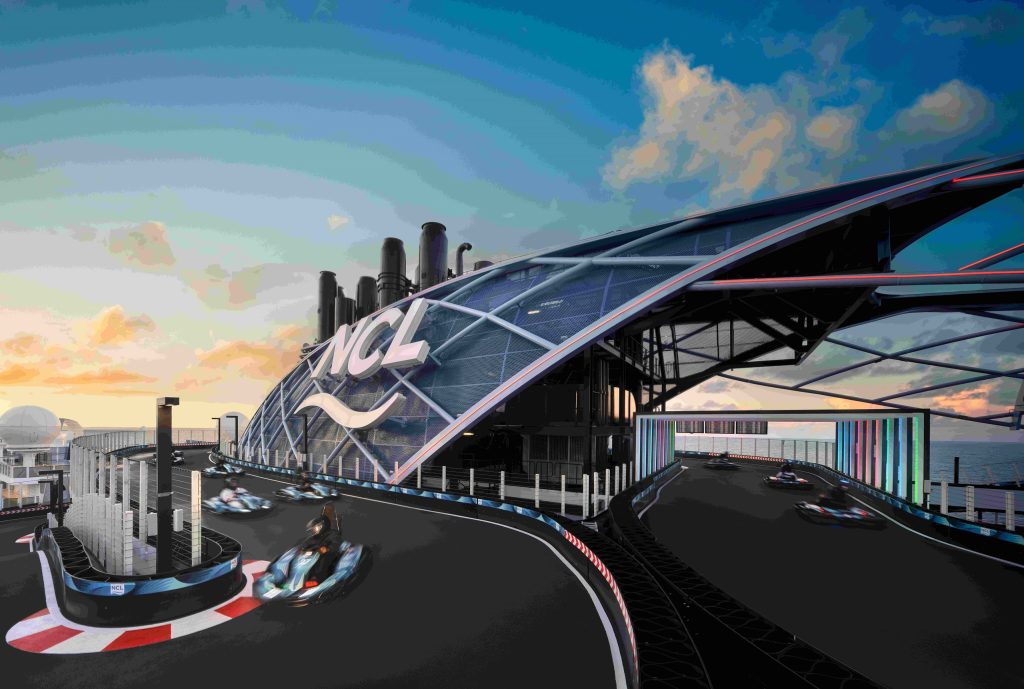 Norwegian Cruise Line caters to family groups with a wide array of restaurants, ThrillPlex activity zones with exciting attractions like go-kart racetracks and open-air laser tag arenas, complimentary youth programs, and award-winning Broadway-style shows and entertainment for all ages. A wide range of accommodations is available, including family staterooms, studios for single guests, and stunning suites in The Haven by Norwegian, an exclusive ship-within-a-ship for relatives seeking a more luxurious cruise experience. The cruise line's latest ship, Norwegian Prima, wows families with more than 20 dining options and the first three-level go-kart race track at sea.
Norwegian Cruise Line's generous affinity groups program makes the cruise line even more attractive for family group cruises. Families booking a minimum of five staterooms can receive discounts and exclusive amenities such as free onboard credit, free specialty dining, and a variety of other options. Every ship has a dedicated group service coordinator to help with special arrangements and events.
Reunion groups can experience plenty of thrills and enjoy epic vacations on Royal Caribbean International voyages. The cruise line's family-friendly fleet is packed with exciting attractions, dazzling entertainment, action-filled kids' and teens' programs, an extraordinary array of accommodations, and dining options to please every palate. Royal Caribbean's new Wonder of the Seas and its upcoming Icon of the Seas are the world's largest cruise ships, and they're designed to deliver the "ultimate family vacation." Fun-filled family cruise itineraries can include Royal Caribbean's private island in the Bahamas, Perfect Day at CocoCay, featuring North America's tallest waterslide at Thrill Water Park and a wealth of other adventures.
Royal Caribbean provides a cruise credit for family group cruises booking eight or more staterooms. Special group dinners and events can be arranged, and an onboard coordinator is available to ensure everything goes smoothly.
TONS OF MULTIGENERATIONAL APPEAL
Family reunion cruises must cater to the diverse interests and preferences of multiple generations. It's key to pick a ship your whole crew will love. Some groups may favor an amenity-rich venue that delivers fun for all ages, minus the action-packed water slides and top-deck attractions. Several cruise lines' ships fit the bill perfectly. Celebrity Cruises is an appealing choice for multigenerational family group cruises. Its amenity-filled ships offer innovative venues and activities with an emphasis on enrichment and entertainment, including Celebrity Cruise's award-winning Camp at Sea program for kids and teens. 
Holland America Line delivers an exceptional cruise experience for multigenerational groups. Ships feature superb restaurants, shows, and top-notch live music venues, culinary and enrichment programs, swimming pools and fun family activities, and the Club HAL youth program for kids and teens. Family-friendly accommodations are available, and newer ships offer staterooms for families of five. Alaska, Canada/New England, and the Caribbean are popular destinations for family group cruises, and more multigenerational families are traveling to Europe for bucket-list voyages.
Families of 16 or more booking at least eight staterooms can take advantage of Holland America Line's outstanding Family Reunion package and group benefits. A group coordinator is also on board who can assist in making special dining arrangements, as well as memorable activities and celebrations.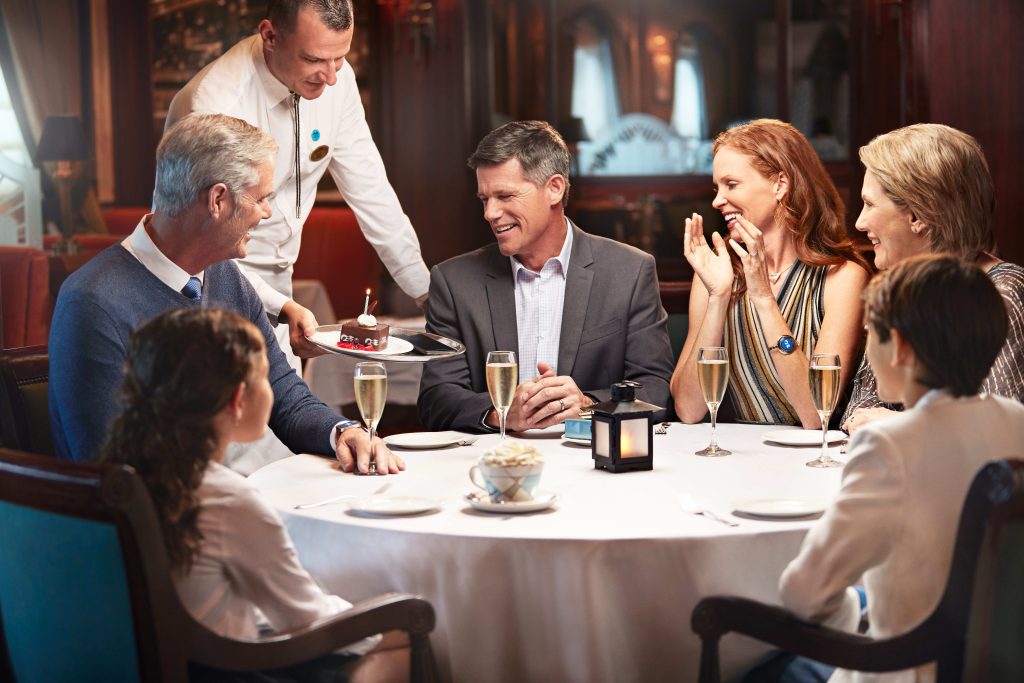 Multigenerational families can reconnect and share memorable moments while sailing with Princess Cruises. Ships feature plenty of adult-focused areas, plus an array of family-friendly staterooms, multiple pools, performances and entertainment, and fun-filled activities the whole family can enjoy together. Princess Cruises' partnership with Discovery shines in its Camp Discovery youth programs and Discovery at SEA enrichment experiences. The cruise line's specialty restaurants are perfect settings for a family group celebration dinners and reunion gatherings.
The Princess Celebration Group Program offers attractive pricing and potential group perks such as onboard spending money and cocktail parties. A dedicated Princess expert is available to help with planning.
SMALL SHIP FAMILY CRUISES
Destination-oriented families seeking to reunite in a more intimate environment should consider small ship group cruises. These enriching voyages bring families together to make lifelong memories in extraordinary locations around the globe. 
With the growing interest in expedition travel, Lindblad Expeditions is seeing more families and multigenerational groups on its fleet of ships ranging in size from 28 to 148 guests. Sought-after family cruise destinations include the Galápagos, Baja California, Alaska, and some Antarctica itineraries. On select sailings, Lindblad Expeditions offers its exclusive National Geographic Explorers program for kids and teens under 18. Family and group discounts are also available. 
River cruises are also increasingly popular with family travelers and multigenerational groups, providing a stress-free way to explore some of the world's most enchanting destinations together. AmaWaterways is experiencing strong multigenerational family demand for its exceptional small-ship river cruise sailings. The line offers a wide variety of included daily excursions to suit family members' diverse needs and interests. Eight AmaWaterways ships feature connecting staterooms perfectly designed for families and multigenerational groups, plus triple and quad accommodations are available on the line's newest ships in Europe. Some ships have swimming pools and hot tubs, and complimentary bikes are available. Families booking a minimum of five staterooms can receive group savings and benefits. 
Uniworld Boutique River Cruises offers outstanding all-inclusive Generations voyages with superb programs, excursions and amenities for families. Nine special Generations sailings are available on multiple itineraries in Europe and Egypt this year, and Uniworld's family-focused sailings are very popular. These well-designed voyages are tailor-made for multigenerational groups, with dedicated onboard Family Hosts onboard to oversee activities and events for kids and teens. Uniworld's Generations cruises provide an ideal blend of culture and fun, delivering memorable experiences families will treasure for years to come. 
Header Photo Courtesy of Princess Cruises