The reasons family reunion planners often choose a cruise are many, including:
Ease of planning and working directly with a travel agent or the cruise line's group planning department
Group discounts and "free" bookings
Varied itineraries and lengths of cruises around the world
The "all-inclusive" nature of cruises
Variety of accommodation options for all budgets (including adjoining cabins)
Unpacking only once
A choice of shore excursions for reunion participants
Group and separate dining in multiple restaurants
Adults- and kids-only offering
The following is an overview of what several cruise lines offer family reunion cruise planners:
Disney Cruise Line
It's only natural that the folks from the Walt Disney Company know how to make family reunions at sea special after so much success on land. A cruise with Disney Cruise Line is definitely a great option for extended and multigenerational family groups.
The line's programming was designed with families in mind, including dedicated spaces and activities for children, tweens, teens, adults and multigenerational families—as well as a variety of cruise lengths and itineraries to suit everyone's tastes and schedules. To accommodate larger families and groups traveling together, many staterooms have connecting doors that adjoin staterooms. Plus, on connecting veranda staterooms, the partition between verandas may be opened to create a larger shared balcony (an offering found more often on modern ships). Along with family-friendly activities and dining, Disney ships also feature adults-only dining and outdoor spaces, as well as an adults-only beach on their private Bahamian island, Castaway Cay.
In the case of family reunions, guests wishing to book staterooms next to one another have the opportunity to select the staterooms they want online and with the help of the Disney Cruise Line reservation team over the phone (based on availability). Of course, pre- and post-cruise visits to Walt Disney World, combined with a cruise out of Port Canaveral (only an hour away), are also very popular with family reunion planners.
Carnival Cruise Line
Family reunions are meant to be fun for all ages, so it's not surprising that the "Fun Ships" of Carnival Cruise Line are also particularly popular with family reunion planners—and reunion attendees. Multigenerational travel that includes children, parents, grandparents, and other relatives and family friends is big business with Carnival and the line says it welcomes 700,000-plus children a year—more than any other cruise line and about double the number of children they welcomed onboard less than 10 years ago.
As with most lines, Carnival has greatly expanded its onboard options to cater to guests of all ages and inclinations. From their exclusive Seuss at Sea program to some of the largest water parks afloat, kids participating in family reunions at sea are simply happy campers. So are the adults, thanks to adults-only retreats, varied entertainment options, lots of dining choices and casinos.
Plus, when reunion planners factor in the good value and all-inclusive nature of a cruise, a seagoing family reunion or multi-generational cruise is a great option compared to land-based venues. Depending on the size of the group, Carnival features group discounts offering one free berth for every eight cabins blocked, plus other group amenities. Opportunities for shared experiences include its family-friendly comedy at the Punchliner Comedy Club presented by George Lopez and the audience-participation favorite Hasbro, The Game Show—with larger-than life adaptations of the brand's iconic games.
Carnival carries about 4.5 million passengers annually—the most in cruising – and that includes all of the aforementioned children and more than a million seniors. The line operates from 17 North American homeports, making it easy to find a convenient point of embarkation.
Carnival Cruise Line's newest, largest and most innovative ship, Carnival Vista, is set to debut in Europe in the spring of 2016. It will be the line's most family-friendly ship to date with innovations such as a suspended cycling experience called SkyRide, the first IMAX theater on a cruise ship, and the new Family Harbor staterooms and suites. After its inaugural European summer and fall season, the Carnival Vista will make its U.S. debut in New York before shifting to Miami and offering Caribbean itineraries year-round starting in November.
Costa Cruises
With diverse offerings in the Caribbean, the Mediterranean and beyond, Costa Cruises is also an ideal choice for family reunions.
"There's something for guests of all ages to do onboard a Costa cruise," says Scott Knutson, vice president of sales and marketing for Costa Cruises North America. "With Costa being a truly international experience, kids are able to make new friends from all over the world and learn about other cultures in a fun way."
The line's onboard activities feature something for everyone, including an extensive children's program in the popular Squok Club, where children between the ages of 3 and 17 enjoy a wide range of offerings day and night, free of charge. Divided into four age groups, the possibilities include treasure hunts, sailor knot lessons, sports tournaments and competitions, pool parties, dancing, balloon art, photography, and evening parties and events. There's also in-port supervision for children ages 3-12, so parents and grandparents can go on shore excursions. Free group babysitting can be arranged after Squok Club closes for the night.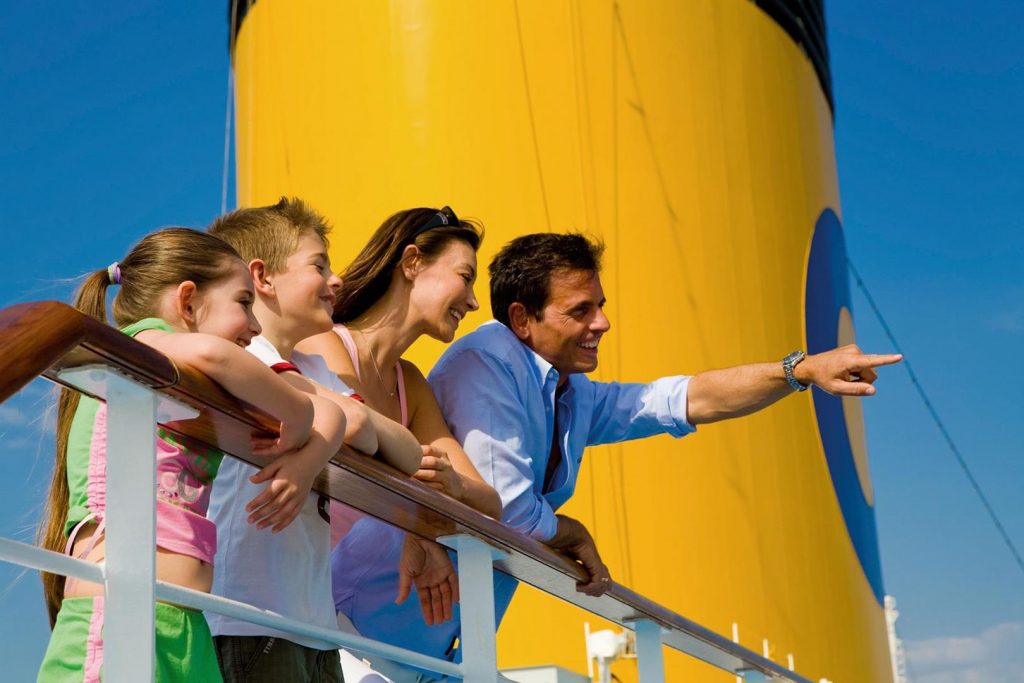 Knutson adds, "For adults, the Samsara Spa provides an idyllic haven for relaxation, and the specialty restaurants are perfect for kid-less romantic dinners. Parents love that they can have some alone time knowing their kids are having a blast at the Squok Club—almost as much as they love Costa's 'Kids Sail Free' deals." Costa runs the deals Knutson references multiple times a year, where children ages 17 and under sail free when accompanied by two adults in the same cabin. The line also features deals offering onboard credits and savings on group bookings, so family reunion participants can take advantage of special perks. Costa's newest ship, Costa Diadema, features special family cabins that sleep five and have two separate bathrooms and extra storage space.
In 2015, Costa introduced its "Captain for a Day" program. Offered onboard Costa Diadema and Costa Fascinosa, the program begins with children donning their captain's stripes and ends with dinner with the master of ship at his personal table in the main dining room. Participants receive a captain's uniform to wear to their captain's training, where they learn about the ship, nautical terms, navigation, signal flags, the weather and the sea.
Knutson says, "With the 'Captain for a Day' program, they'll get an exclusive behind-the-scenes look into the role the master fulfills, learn a few tricks of the trade, and enjoy an experience unlike anything else they've ever done at sea." The new program, offered at three different levels and price points, complements the line's successful "Princess for a Day" offering.
Norwegian Cruise Line
Norwegian Cruise Line also continues to see large numbers of families and reunions—and especially multigenerational groups. Families are the second largest cruising segment, only behind the 55-plus age group. Norwegian's signature Freestyle Cruising gives family reunion groups the freedom and flexibility to create their ideal vacation, while also offering something for each member. Family groups especially like the option of eating on their own schedules at a wide range of restaurants. Programs like Norwegian's kids program, Splash Academy, and its Aqua Parks are huge draws for the younger crowd.
With Norwegian's exclusive ship-within-a-ship complex, The Haven, multigenerational and large family reunion groups can travel together and everyone has the ability to book what suites their taste or budget—but still be included in the family reunion. For example, the line's innovative Studio accommodations offer everything that a solo traveler could be looking for. Studio guests have access to their own private Studio Lounge. Best of all, these accommodations are not just specially designed for solo travelers, but priced for solo travelers as well, allowing them the opportunity to avoid paying a single supplement fee.
By offering a wide variety of amenities and features onboard, from Splash Academy, which caters to various age groups, to a wide variety of dining outlets—up to 28 on Norwegian Escape—and entertainment options for kids and kids at heart, the best feature of a Norwegian cruise is that reunion participants can design their own dream family vacation. Norwegian Escape also features the line's first dedicated nursery at sea, with supervised childcare for young cruisers ages six months to two years old.
Norwegian's most popular family itineraries are the Caribbean, Bermuda, Alaska and Europe. Its Groups Department can assist reunion organizers and guests traveling in large groups with everything from booking activities, private parties and group shore excursions to getting staterooms close to one another. Reunion groups of 14 or more are assigned a dedicated contact prior to sailing to assist with coordinating all arrangements for the group and also have a contact onboard to ensure all family reunion activities are well taken care of.
MSC Cruises
With Italian-leaning MSC, group rates start with eight staterooms with 16 adults (anyone 21 and over). There is also another package that the line offers that includes 10 staterooms, 20 paying adults (21 and over), but children 18 and over pay the adult price. As with any booking, it may be important for the reunion planner to know the age for every person within the group, in that it can affect pricing—especially when someone is in the military or their children are 12 and under.
When sailing with a larger group on MSC, reunion participants have access to certain benefits. For example, the line offers large groups free meeting spaces where they can host a birthday party or other special occasion or a private cocktail party—including a beer-wine-soda package. Reunion planners can also arrange their own theme party (like a cooking class or salsa lesson). As with many lines, MSC also does photo packages for large groups.
For the adults in the reunion group, the kid-free MSC Yacht Club is perfect, as is the MSC Aurea Spa. In addition, the TopSail Lounge offers a tranquil space with whirlpools, lounge chairs and bar service for grown-up relaxation.
Paul Gauguin Cruises
Thanks to the size of their ships, Paul Gauguin Cruises has had several family groups who have chartered the M/S Paul Gauguin for a family reunion, as well as reunion groups on other sailings. "Chartering a small ship is a great option for family reunions and provides an incredible way to experience enchanting destinations exclusively together," says Donna Kurtz, director of charter & incentive sales. "Every aspect of the voyage can be customized, from dining and entertainment to shore excursions, group functions and activities."
The line's "Ambassadors of the Environment" family program is particularly popular with multigenerational reunions, as they choose from a suite of onboard activities and daily excursions that reveal the natural wonders and rich culture of Polynesia by land and sea.
European River Cruises
According to Ralph Grizzle, founder and editor of River Cruise Advisor, Europe's many rivers offer another great option for family reunion cruises. He says, "I've river cruised with my family many times and it's a great way to spend quality time. The ships are small enough where we don't need walkie-talkies like you sometimes see on the mega-liners."
Grizzle says many of his family trips have been on AmaWaterways. "In fact, they have a new partnership with Disney for the summer of 2016, and—based on what I've heard—probably in future years, too. Plus, AmaWaterways has a few ships with adjoining staterooms, which can be nice if you're traveling with young kids."
He also recommends Viking, Scenic and Uniworld, to name a few. "If I had a larger group, I'd take a serious look at CroisiEurope's barges, which can be chartered and sail through some of the most enchanting regions of France."
Given all of these options, it's easy to see why family reunion groups are shouting, "Bon Voyage!"
By Lynn Seldon