These are reunion activities to plan ahead and organize for reunion day. If yours is a large reunion or you have many activities planned and if your reunion will last several days, consider creating a reunion itinerary. Some groups make it a fancy memento.
Sample Weekend Reunion Itinerary
Friday: Registration – Reception
Noon – 9:00 p.m. Registration
7:00 p.m. Opening Reception/Meet and Greet
The first activity sets the tone for your reunion. Make it festive. Involve everyone. Use icebreakers to introduce, reintroduce or integrate; include a treasure hunt, reunion trivia or bingo. Consider round robin introductions where everyone tells something about him/herself, something special or unique that's happened since the last reunion, a milestone, success or triumph.
Saturday: Activities, Tours, Lunch, Banquet
8:30 a.m. Breakfast
Second round of introductions for late comers. Consider the power of storytelling. Ask a storyteller/griot to convey the group's history, an era or special anecdotes and remembrances.
10:00 a.m. Activities Begin
There should be activities for everyone. Teams can be made up by generation or mixed generations of people from scattered places so playing together creates a special bond. Leave no room for doubt if your reunion day is wet—have back-up weather activities in case of inclement weather.
12:00 p.m. Lunch
Make it an event—cater, potluck, covered dish, pizza party, trail lunch, tailgate party, beach picnic. A picnic gets everyone outdoors and is an opportunity for kids to let off steam and expend lots of energy. Select a site with amenities suitable for your group, reserve site well in advance and check local regulations.
1:00 – 5:00 p.m. Tours
Make your group history come alive. Visit a family homestead or farm, tour a battlefield where elders or ancestors fought. See schools that elders attended, monuments, memorials, plaques that honor ancestors or members of your reunion group. Tour significant churches, cemeteries. Drive by grandma's house, show off a favorite museum, gallery, park or zoo. Accompany all tours with personalized stories and be sure you are asking for group rates from vendors.
7:00 p.m. Banquet and Dancing
Your big night to shine! Consider holding an auction, raffle or talent contest to show off your members' talents.
Sunday: Memorial/Worship Service, Activities
8:30 a.m. Breakfast
10:00 a.m. Worship or Memorial Service
Remembrances are an important focus for most reunions. These are opportunities to respect and honor ancestors, classmates or fallen comrades and to celebrate special relationships. Services can be held at the host's church/synagogue/mosque, at the reunion site with host's clergyperson, a special outdoor place or site important to your reunion group, a cemetery or hotel meeting room.
If you are attending a worship service in a church, ask the person presiding to recognize your group. Offer to participate in the service by reading or serving at the altar. Use the service to make special dedications, donations or recognition. If your reunion has an anthem or special song, ask to sing it.
A memorial service may be simple or complex. The ceremony may include a bagpiper, band, honor guard, guidon bearers or a simple wreath-laying with a prayer. Consider an evening candlelight service. Most importantly, honor memories of family, friends or comradeship. Plan a dignified remembrance, retrace your reunion's events and activities, choose songs or read excerpts from letters, diaries or histories.
12:00 p.m.
Picnic, potluck or catered lunch with games and activities. 2:00 p.m. Reunion wrap, hugs and kisses till next time!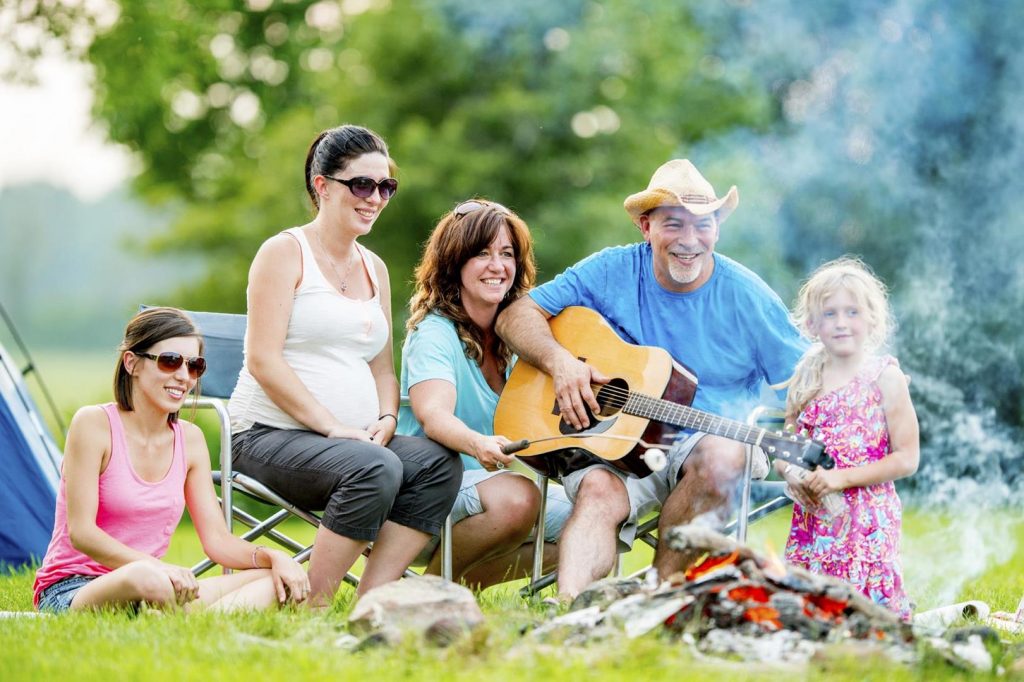 Continuous Activities
Keep conversations going with these continuous activities. Place them in a reception area, common hallway or hospitality room.
1. Photo collection – Display a collection of photos from everyone. Collect, sort, label and mount pictures of ancestors, history, triumphs, successes and victories. Establish a mystery photo area to display pictures you can't identify – ask everyone to help. This is also a convenient display area for reunion memorabilia, heirlooms, artifacts, your family tree and a time capsule.
2. Video loops – Continuous loop videos, computer slide show, movies or DVDs of subjects of mutual interest – old family vacation movies, past reunions, special events (mini-reunions, weddings, graduations, baptisms). Schedule showings for rainy weather or evenings, or as background in a hospitality room or reception.
3. Audio/video biography – With seemingly everyone carrying a smartphone these days, including grandma and granddaughter, consider an Oral or Video Reunion History. Capture candid conversations, shoot short videos and encourage reunion members to email conversations or post videos to a YouTube channel created specifically for the reunion. Encourage everyone to be interviewers, photographers and videographers.
4. Feature home-grown talent – Encourage members to showcase special talents; classical trio for a reception; soloists for after-dinner entertainment; skits, dancing, a comedian or karaoke.
5. Your reunion theater – Ask a talented group member or hire an actor to portray a "founding parent," group leader or legend. Ask members to write, script and perform family history events. Great activity for kids and young adults.
6. Speakers – Ask an elder or genealogist to speak about family or group history, genealogy; hire motivational speaker.
7. Storytelling – Encourage parents, grandparents and other favorite relatives to tell stories or contact the National Association of Storytellers.
8. Movies – Show old-time silent films and ask someone to narrate. Select favorites from then and now. Have an intergenerational talk about movies – with people who've witnessed the history of film.
9. Workshops – Workshops about family health history, investing and money management, scrapbooking, parenting, political action. Ask members who are experts or invite experts.
10. Lessons – Ask members to share their expertise at cooking, baking, golf, rollerblading, kite flying, fishing.
11. Quiz show – Pick a favorite quiz show and re-enact it with members as contestants. Make questions about your group.
12. Predict the future – Ask a psychic, tarot card or palm reader to entertain with predictions of a fabulous reunion.
13. Magic show – Use home-grown or hire local talent.
14. Mystery night – Hire a theater troupe to perform or ask members to stage a reunion mystery.
15. Life achievement celebration – Honor rites of passage and achievements: graduates, newlyweds, new babies, promotions, retirements. These can be incorporated into memorial or religious services.
16.Teach dances – Hire or draft someone to teach new steps: line or swing dancing, macarena, hip hop. Get everyone involved. Have the young teach older members the latest dance steps and older members teach the waltz, swing, bunny hop or Charleston.
17. Disc jockey – Be sure he/she has a wide variety of music from swing to today's top hits.
18. Break out in song – Form a reunion musical group or choir to rehearse at the reunion and perform at a function or in church on Sunday.