Follow these smart tips for preserving special moments of your big event
A family reunion can be an absolute whirlwind of catching up with relatives you haven't seen in years while sharing funny stories and heartfelt memories. We relish the laughter, tears, hugs and surprises…then poof—the reunion is over and it's time for everyone to go their separate ways.
It's funny how family reunions are months, even years, in the making, then come to an end far more quickly than we would like. The memories then fade away as we sink back into our daily routines of soccer practice, laundry and picking the kids up at the bus stop. Fortunately, there are easy ways to hold onto the good times for years to come. From collecting life stories to creating social media groups to sharing photos during and after the family reunion, there's a lot that you can do to preserve the memories of a family gathering.
1. Tap a Roving Reporter
Every family reunion needs an organizer who is patient and persistent, able to delegate tasks and ensure that attendees have all the who, what, when and where that they need for the reunion. Some even have spreadsheets to keep track of who's coming, who's booked hotel rooms and who still needs to share their shirt sizes for the reunion T-shirt.
As much as a reunion needs a good event organizer, a family reunion could also use a lead person to document the events with photos and videos, even interviews conducted with attendees to collect life stories and funny memories. This "roving reporter" may have one of the most important roles at the reunion.
Set up a blog for the family reunion using a free service, like Blogger or WordPress.com, where this reporter can share photos, videos and short text entries for anyone to check out. School-age children and teens attending the reunion may even enjoy serving as a junior reporter, getting the scoop on reunion events.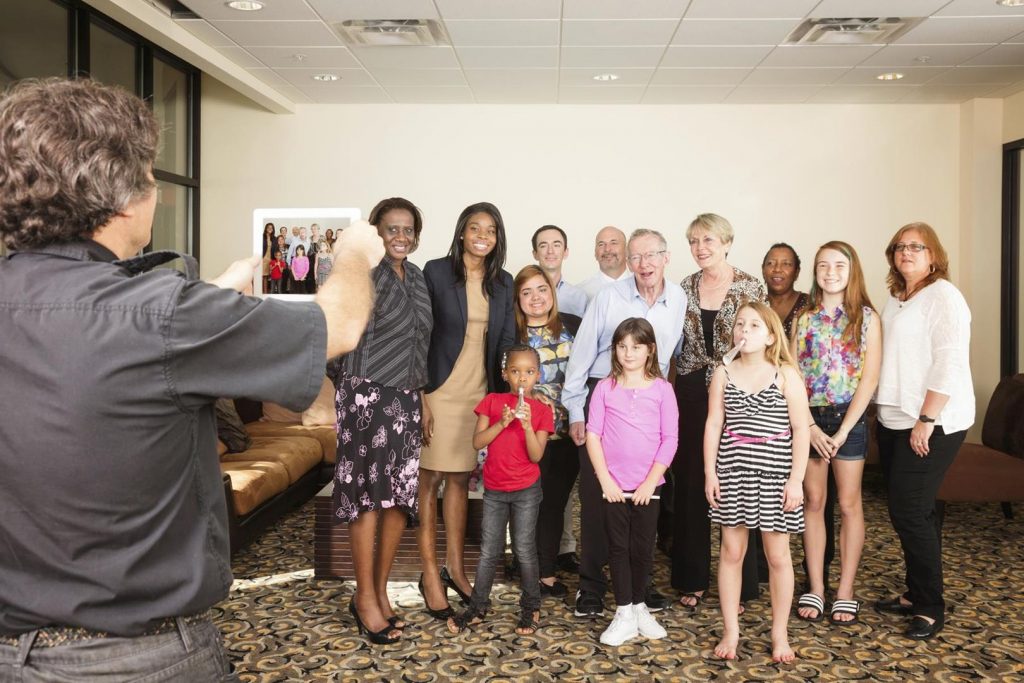 2. Share and Share Alike
With the proliferation of social media, it's become easier than ever to both organize reunions and share family stories and photos. Many create private Facebook groups, which can make coordinating with family members a breeze or at least far simpler than sifting through reply-all emails on group distribution lists.
"We have a private Facebook group for our reunions, which happen every five years," said Nicole Wiltrout, a mother of two from Indianapolis. "People share photos from the reunions, but also of new babies born and graduations. My cousin recently shared a photo of our grandfather who died 15 years ago. It was a wonderful picture of him and many of us had never seen it before. It unexpectedly made my day."
Another idea is to create a reunion hashtag on Instagram, like #hillreunion16. This way, everyone can post their own photos and easily scroll through reunion photos all in one place both during and after the reunion.
3. Strike a Pose
Consider hiring a photographer that specializes in vacation photos, like one from Localgrapher or Flytographer. These companies have networks of photographers all over the world whose primary goal is to capture special moments, both candid and posed, from family vacations and reunions.
Not only will a good photographer be able to take flattering photos, but it's a great way to help ensure that everyone is in the photo. No need to bring a tripod and set a camera timer. There's also no need to hunt down a random stranger to take a group photo. Since this person is not invested in the photo, he or she may not take as much care to line up everyone properly or ensure that the kids are looking at the camera.
"I like to take pictures when on vacation, but only maybe a handful have the entire family in them," said Rebecca Darling, a mother of three and a family travel writer at R We There Yet Mom. "I worked with Flytographer when my kids and I were in New York last summer. Every time I look at these photos, I am flooded with memories from this trip. It's better than any memento or souvenir I could have brought home."
4. Don't Forget the Props
Another idea is to rent a photo booth for a family reunion. Make sure to provide fun props, like fake mustaches, big sunglasses and goofy hats. Many photo booth vendors offer props, but it can be fun to bring some of your own, especially if there is significance to your own family, like cowboy hats.
Encourage family members to ham it up and snap some fun pics in the photo booth at the reunion. Make sure the photo strips that print out are customized with the event name and date on them. Attendees should also be able to email photos taken in the booth to themselves that they can share on Instagram or within a private Facebook group for the reunion for everyone to see.
If most of your reunion events will take place outside, create a DIY photo booth by hanging an open frame from a tree branch that attendees can pose behind, because really, no get-together is complete without a photo booth. If you like, add a colorful backdrop, and don't forget the props. Also, be sure to create some kind of signage to set up at the reunion pointing attendees in the direction of the photo booth.
5. Take Great Group Photos
If you decide to take your own group photos, Jennifer Bacher, contributor to popular photography blog, Click it Up a Notch, has some tips. She's been tapped as the designated photographer at family reunions and knows what it takes to take a good group photo (as well as a bad one).
"Unfortunately, with large groups, attention spans dwindle if you are not prepared with a quick pose in mind," said Bacher. "With my huge family, the objective is simply to get a shot where everyone is seen and is looking in the direction of the camera. Save your more creative shots for smaller groupings."
Here are Bacher's three best tips for taking photos of large groups:
Shoot outdoors in the early evening and in the shade. This will help keep attendees from squinting in the sun. It's also a good way to avoid shadows on faces, which often occur when the sun is overhead. Evening sun is warm and very flattering.
Have everyone wear solid colors. Not everyone needs to wear the same color, though many groups opt to do so, but it's a good way to help draw the attention to faces, not what each person is wearing. Avoid big logos, bold patterns and T-shirts with words or quotes.
Group people by families or couples. It's a good idea to group people in a photo by family if only to help attendees remember who is with whom after the reunion. This is also helpful to those who weren't able to attend the reunion and want to see the families that were able to make it. Bacher also suggests not taking photos with heads on the horizon line. This will keep the background from being a distraction. Put taller people in the back, chins up to avoid double chins and ask that adults hold squirmy toddlers to ensure they don't run off in the middle of the photo shoot.
Beyond posed group shots, consider a few fun pose ideas for family reunions. One idea concocted by Stuart McIntyre, a photographer with Photo Nottingham, was to have individual attendees pose inside a three-by-three box, which he then pieced together into a larger image of four boxes by four boxes (think of the look of "Hollywood Squares" or "The Brady Bunch," both of which are three boxes by three boxes).
6. Create Photo Albums and Artwork
Designate a point person to collect digital photos, even simply photos taken on a smartphone, from attendees to compile into a hard cover photo album. Photo services, like Snapfish and Shutterfly, offer loads of designs and layouts, even embellishments, like digital stickers and images, to add in to make the pages pop.
Another great option is Blurb, which allows you to compile your photos into a high-quality coffee table book. You can add photos, quotes, digital images, anything you like. Even better, most photo services frequently offer high-value coupon codes to save money on photo albums. When the book is finished, simply send out the link for attendees to order copies on their own.
Sometimes, the best way to preserve memories from family reunions is simply printing out the photos you've taken. Frame them or turn them into photo artwork, like photo calendars and photo canvas prints, which make great wall art.
"We frame loads of photos once we are home," said Keryn Means, a mother of two and a travel writer at Walking on Travels. "I also make a photo album whenever we go on extended family trips so everyone can remember the time we spent together."
By Erin Gifford