Our Top Five Illinois Reunion Destinations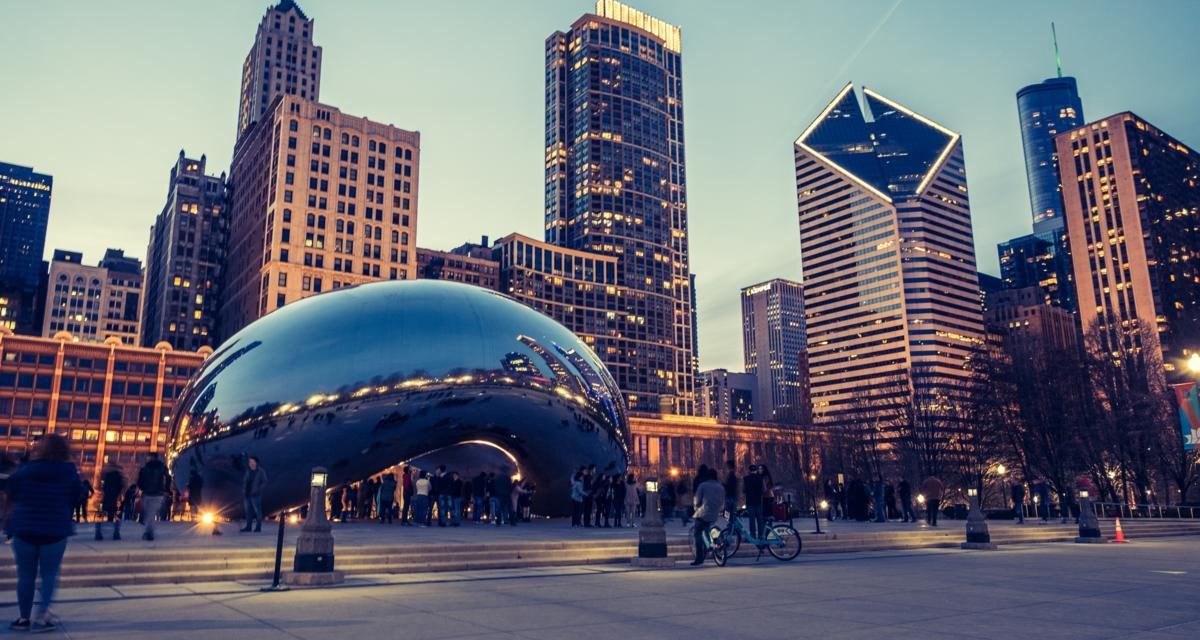 When you're planning a reunion, especially a destination reunion, stop and consider what Illinois can offer.  Like many states in the Midwest, Illinois has two identities: it's hardworking, and it's part of the vast, water-rich Great Lakes region. This means that Illinois has even more to offer reunion planners:  in just a few hours, you can go from the bustling multi-cultural sensory explosions of Chicago to the tranquil charm of Galena or the wild beauty of the Shawnee National Forest.
Five Great Places to Host Your Illinois Reunion
If your group has the Midwest in mind, check out these excellent Illinois destinations:
Chicago
Say Illinois and most people automatically think "Chicago."  Whether or not that's fair to the other great destinations in the state, it's certainly true that your group can find just about anything in the Windy City.  Like sports?  There's a Chicago team in every major league.  Into music?  Chicago's blues, soul, jazz and hip-hop are renowned, and the city also has world-class classical and opera venues.  Got yourself a group of foodies?  Aside from iconic eats Chinatown, you'll find delicious examples of Mexican, Vietnamese, Polish, fusion and just about any other cuisine you care to try.
And when it's time to get out and move around, Chicago's greenspace is more than ample.  There are over 8,300 acres of open space spread over 580 parks.  Add in 26 miles of lakefront, 51 pools and 26 beaches, and your group is sure to find the right outdoor reunion space.  As for indoor reunion space, hotels and lodging options, you can take your pick from opulent, historic, budget-friendly, family-friendly and the totally unexpected (like Hotel EMC2, brimming with references to art, science and historical influencers – plus robots!).
Galena
From the bustle of Chicago, take a trip across the state (and through time) to Galena.  Perched on the banks of the Galena River, not far from the Mississippi, this relatively small city has a famous historical district that commemorates the town's multi-layered history. In its nearly 200-year storyline, Galena has been home to the country's first mineral boom, the largest steamboat hub in the Mississippi Valley, eight Civil War generals and President Ulysses S. Grant.
Mining and steamboating have long since gone, but Galena's notable hospitality remains.  A selection of top-flight hotels and experienced helpers make planning a reunion in Galena easy.  Outdoors, the lush scenery will inspire guests to relax, hike down one of the area's many nature trails, or perhaps play a round or two of golf on one of 10 golf courses.  Other popular activities include visiting a vineyard or distillery, enjoying some antiquing or art-hunting in the town's galleries, and taking a cooking class.
Lake County
Midway between Chicago and Milwaukee, and flush against the Wisconsin-Illinois state line, Lake County is a great place for family and leisure groups to reunite, especially if fishing, boating or water sports are on the agenda. For families, the beaches of Lake Michigan are a summertime draw, while Six Flags Great America theme park offers roller coasters, other thrill rides and a water park. In cooler weather, a spate of museums and other activities and attractions keep families entertained.
For water-loving groups, aptly-named Lake County has 170 lakes and rivers, plus miles of Great Lakes shoreline.  If golf is your thing, there are a whopping 46 courses in the county, including several that host major pro tournaments.  And if your group wants a dose of art and music, they can find everything from Broadway shows to Billboard-topping acts here.  A favorite is the summer-long Ravinia Festival, the oldest music festival in America.  It hosts performances from all genres in exquisite open-air settings.
Springfield
Springfield is Illinois' capital city and has a wealth of things to keep history fans interested.  First and foremost, there is a collection of sites related to Abraham Lincoln – the Lincoln Home National Historic Site, Lincoln's Tomb and the Abraham Lincoln Presidential Library and Museum are all located in Springfield.  If American presidential history is really important to your group, a three-day tour starting in Springfield covers portions of the lives of five presidents.
History is far from the only draw in Springfield, however.  There are live music performances, theme parks, rides, winery and brewery tours, and much more.  Beautiful city parks provide open spaces for outdoor gatherings, while hiking trails and golf courses dot the surrounding areas. And when it's time to eat, foodies will want to sample Springfield's famous take on chili at a Dew Chilli Parlor and the popular (if little known to outsiders) horseshoe sandwich – a hearty combination of thick-sliced bread, meat, fries and cheese sauce.
Shawnee National Forest
At the southern tip of Illinois, between the Ohio and Mississippi rivers, is a hidden gem – Shawnee National Forest.  This quarter-of-a-million-acre natural wonder might not be as well-known as Yellowstone or the Great Smoky Mountains, but it is every bit as worthy a reunion destination.  There are seven wilderness areas within the park, along with plenty of photo-ready backdrops and hikes.  Most impressive is the Little Grand Canyon, a 200-foot gorge carved out of sandstone that opens into the Mississippi.
Of course, a location between two major waterways has some other advantages.  This area has a rich and well-documented history, complete with museums and forts.  If outdoor activities are high on your reunion activity list, you can go zip lining, rock climbing, horseback riding, fishing or boating.  Drive into the numerous towns and you'll find plenty of shopping and exploring to be done.  There are also wine trails to visit, quaint inns and hotels to rest at, campgrounds to relax in and golf courses to conquer.
North, south, east, or west – you're sure to find a great destination in Illinois for your next reunion.