With its stunning 85-mile long shoreline, the Crystal Coast along North Carolina's Southern Outer Banks is perfect for families who love the sun, sand and sea.
The Crystal Coast affords a stunning 85-mile long shoreline along North Carolina's Southern Outer Banks that makes for the perfect reunion destination for families who love the sun, sand and sea. The Crystal Coast is comprised of four core communities, Beaufort, Atlantic Beach, Emerald Isle and Morehead City. In addition to the numerous parks and islands on the Crystal Coast, each of these communities has its own unique flavor and offers fun-filled family experiences year-round. From outdoor activities like fishing, swimming, boating and kayaking to shopping, sporting events, seasonal festivals and live shows, the Crystal Coast has something that caters to all ages and interests. Plan your family reunion to the Crystal Coast on North Carolina's Southern Outer Banks and uncover a treasure trove of things to see and do.
Beaufort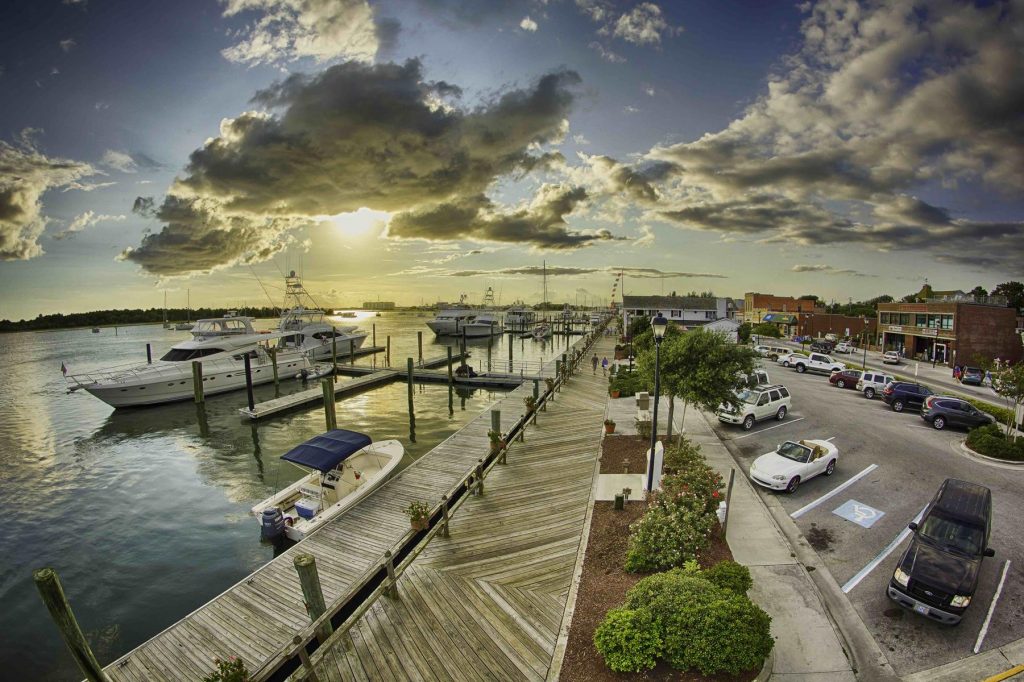 Offering unique experiences for the whole family to enjoy, Beaufort was voted "America's Favorite Town" by Travel + Leisure. Trace the history of this quaint beach town at Beaufort Historic District where you can see properties like the Gibbs House built in 1851, the two-story Jacob Henry House, and the Old Burying Ground, all of which are listed on the National Register of Historic Places. Discover the rich maritime heritage of Beaufort, which dates back 300 years at the North Carolina Maritime Museum where there are exhibits on shells, boats, marine life and shipwrecks. Stroll down Front Street where you can drop into an artisan studio or shop for curios at the boutiques here. Enjoy dining and entertainment with scenic water views at Beaufort Docks Marina. Make the most of the water-centric activities that families can enjoy together in Beaufort. If you can be tempted away from the beaches, take a fishing excursion, enjoy a private charter sailing experience and cruise along the Rachel Carson Reserve where you can see ponies, pelicans, sea turtles, dolphins and other marine and wildlife. Not to be missed while in Beaufort is taking a water taxi or ferry to Shackleford Banks to see the Shackleford Banks wild horses, a much sought-after attraction.
Atlantic Beach
Come see for yourself why Atlantic Beach has the distinction of being one of the "Best Beaches" in the country according to Coastal Living Magazine. The ultimate beach destination, there are abundant family-friendly things to see and do in addition to its beautiful sandy shores. Explore the historic Fort Macon State Park where the Battle of Macon was fought in 1862. Along with seeing the restored Fort Macon, enjoy activities like nature walks, surf fishing, ranger guided tours and swimming in a protected area. The Atlantic Beach Town Park is a great place for fun and games with a play area for children, miniature golfing, a skatepark and a splashpad. Go fishing on one the piers in Atlantic Beach and go scootering on the beach. Feast on a hearty authentic Italian meal or some freshly caught seafood specialties at local restaurants. Atlantic Beach also hosts several events year-round including sporting tournaments and seasonal festivals for the whole family to enjoy.
Emerald Isle
Emerald Isle is a popular beachfront destination with incredible views of the Atlantic Ocean and Bogue Inlet. Families can enjoy the outdoors at the 41-acre Emerald Isle Woods Park with walking trails, natural birding trails and boardwalk access to Bogue Sound. There is also a floating deck, picnic pavilion, grills and a disc golf course. Emerald Isle is a hotspot for watersports where families can enjoy activities like parasailing, scuba diving, paddle boarding and surfing. For fast-paced thrills, go go-karting at Fun World Motorsports or splash about at the Salty Pirate Waterpark with rides and slides. Families with foodies will be in for a real treat in Emerald Isle where local delis, seafood shacks and casual dining restaurants serve up a delicious menu.
Morehead City
The largest community of the Crystal Coast, Morehead City, has a treasure trove of experiences for all ages. If you are a family that likes watching live sporting events, Morehead City is home to the Morehead City Marlins, a collegiate summer baseball league along with local soccer and basketball leagues. A fun way to explore the coast is by water. The Morehead City Ferry services Sand Dollar Island and offers catamaran sunset and dolphin-spotting tours. Outdoor enthusiasts will enjoy birdwatching at the Calico Creek Boardwalk and spectacular water views from Conchs Point. For a peek into all things cultural and historical in Morehead Bay, the History Place houses exhibits and artifacts along with displays by local artists. Morehead City has three marinas, Morehead City Docks, Portside Marina, and Morehead City Yacht Basin where families can shop for souvenirs and dine on local seafood.
Whether it's sunbathing on the pristine beaches, kite-surfing, a nature walk, delicious food or taking in its rich history, the Crystal Coast offers something for every member of the family.  With so much to offer, it's no wonder that the Southern Outer Banks is known as "North Carolina's Gem!"