Greater Akron/Summit County, OH
Historically known as a hub for innovation, Greater Akron stands out as the perfect Midwest locale for hosting your next reunion.
Request Info
Every season, any day…is the perfect time to visit Greater Akron
When in Akron, Ohio spend some quality time exploring its cultural scene. At the Akron Art Museum, view impressive collections, including a stunning display of modern art. Also, check out Akron Glass Works and see glassblowers create colorful works. In the evening, catch a performance at the Akron Civic Theatre.
Everyone will enjoy the nationally recognized Akron Zoo, with more than 700 animals from around the globe. Hop aboard the Cuyahoga Valley Scenic Railroad, which offers special packages throughout the year, including the popular North Pole Adventure train during the holidays. Choose a dining car or simply take a seat by the window and enjoy breathtaking scenery, impressive bridges and quaint houses while traveling through the heart of Ohio's only national park—Cuyahoga Valley National Park.
Does wine, cheese and chocolate sound like a winning combination to your reunion group? Popular local stops include Sarah's Vineyard, The Winery at Wolf Creek and Nauti Vine. For some more culinary adventures, groups can participate in the Summit Brew Path, visit Fannie May Candies and shop for tasty treats at Grandpa's Cheese Barn.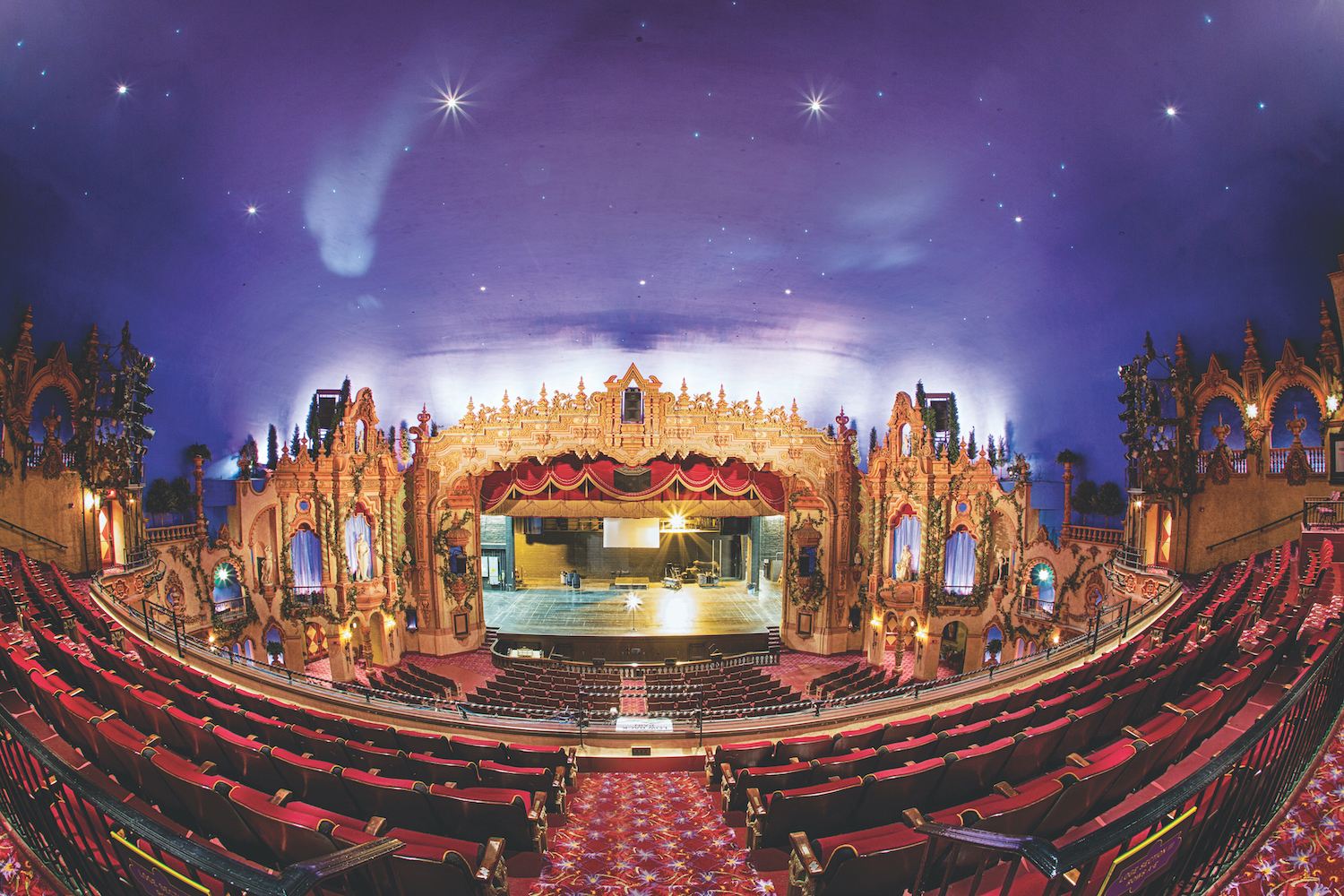 Set your sights on fun, adventure and relaxation as you discover, explore and experience Greater Akron
Sharing delicious meals is a true reunion tradition. Akron has no shortage of great eats. At MGM Northfield Park, dining isn't the only thing on the menu. There is also a casino, shows and entertainment galore.
Explore the outdoors at Summit Metro Parks, a network of 16 parks spanning 14,000 acres and 150 miles of trails that have been developed to ensure you experience the best of nature Greater Akron has to offer. Kayak on the Portage Lakes or Ohio and Erie Canal on tours offered by Muddyfoot Kayak Tours and play a round of golf on the 18-hole J.E. Good Park. 
Looking for some unique shopping finds? Stroll through Greater Akron and patronize the 25 businesses that make up the New Again Akron trail for beautiful antiques and repurposed clothing and vintage jewelry.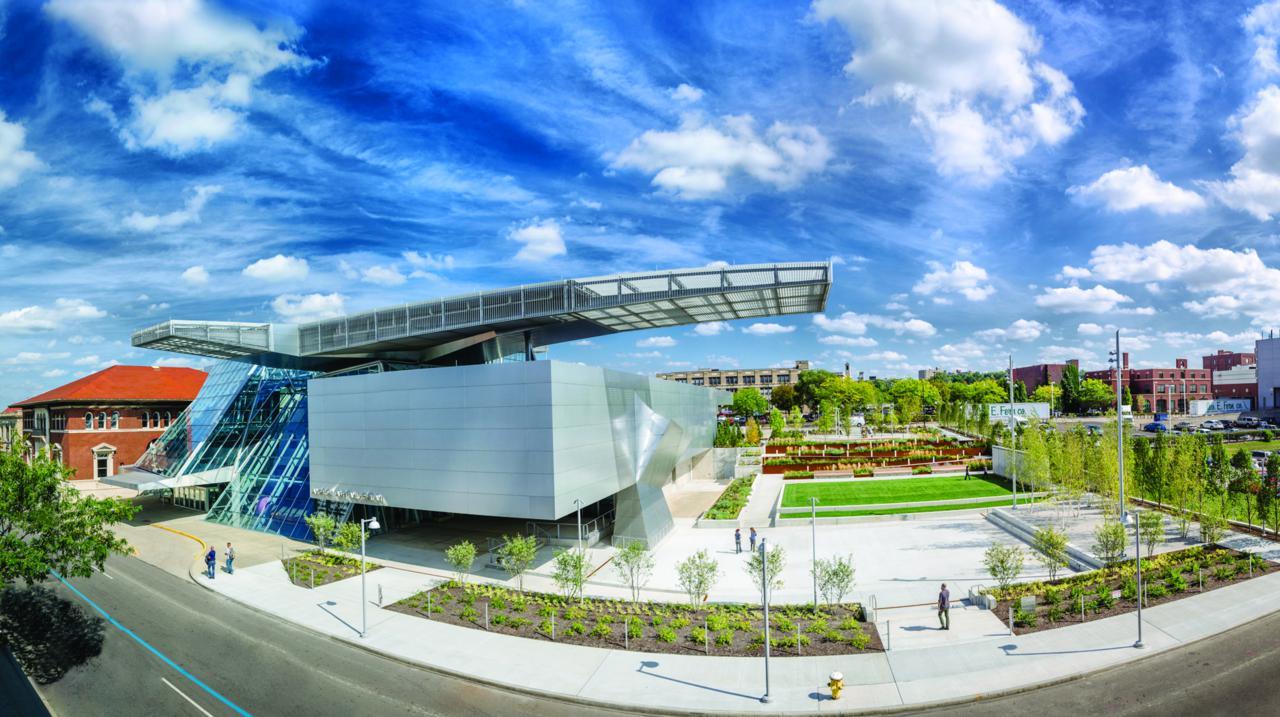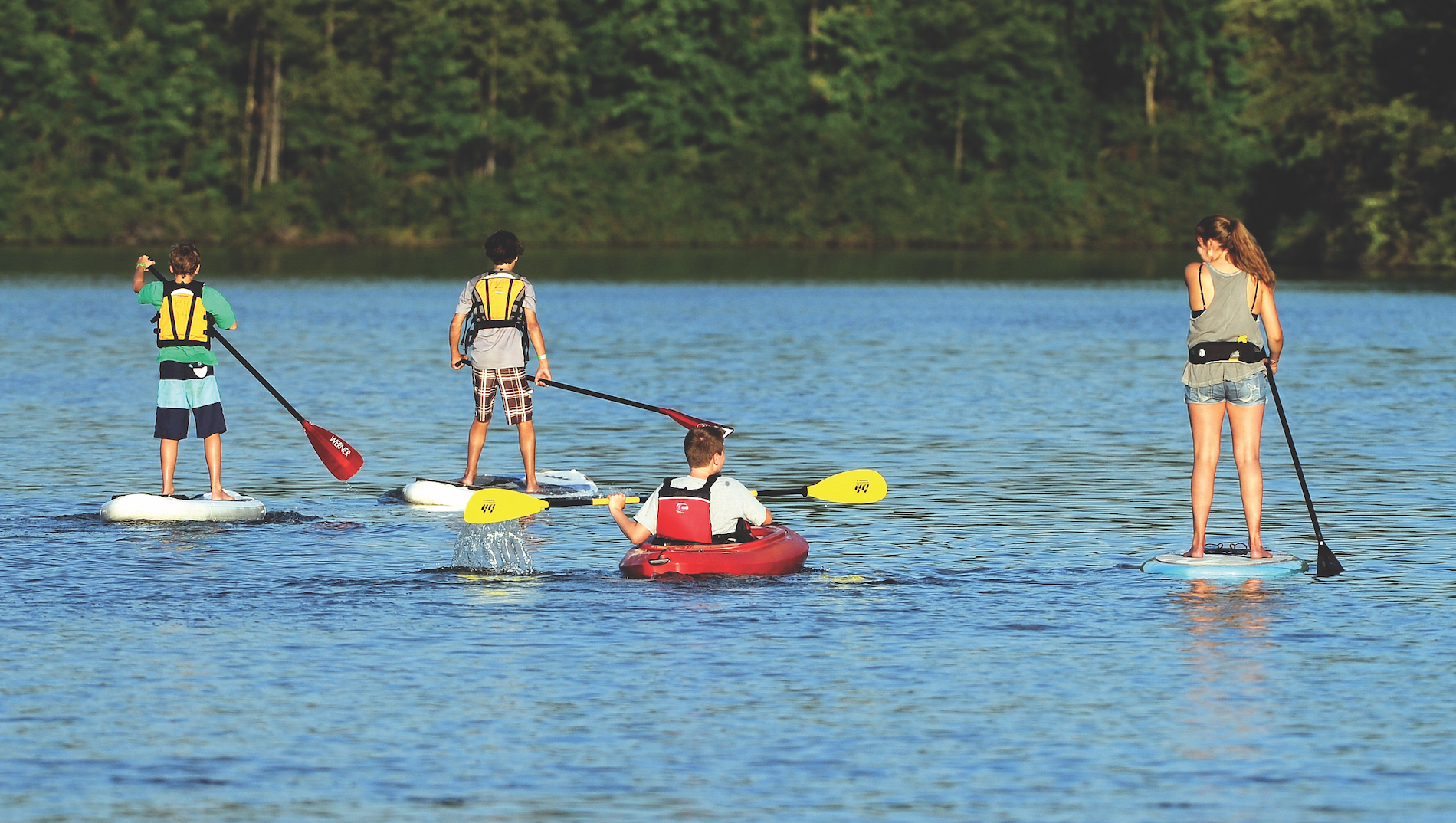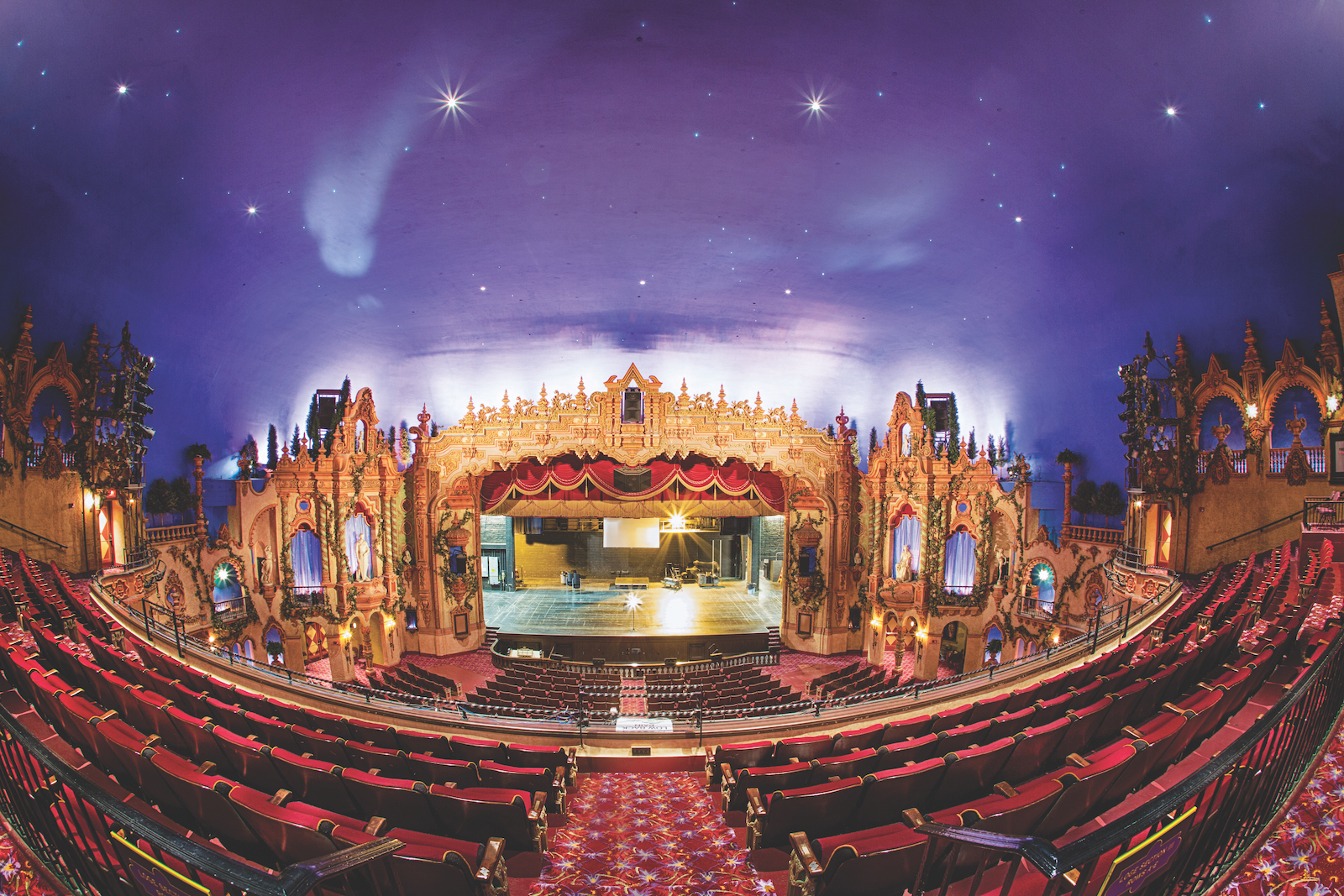 "The Akron/Summit Convention & Visitors Bureau was wonderful. You were knowledgeable, helpful, and gracious. Your representative made sure we had all we needed. You can't improve perfection! You are the best!"
– Linda Green, Green Family Reunion
Browse below for some family-friendly additions to your itinerary
Why Reunite in Greater Akron, OH
Highlights
Akron offers a wealth of fine arts and entertainment for
all ages

Scenic location along the Ohio and Erie Canalway

Well-connected and easily accessible location between Cleveland and Canton

Great food scene with local cafés and 24 craft breweries

Exciting outdoor activities and indoor fun all through the year

Fun shopping in Greater Akron
Family-Friendly Dining Experiences in the Greater Akron Area
Grandpa's Cheese Barn
Cheese takes center stage in this family-owned store. Their collection of 120 cheeses features local varieties produced by small Amish farms and local Holmes County cheese makers, as well as imported fanciful cheeses hailing from Scotland, Ireland, Finland, Holland and other countries.
Website: www.grandpascheesebarn.com
Summit Brew Path
Nearly two-dozen craft breweries in the greater Akron Area showcase a variety of beer creations for all palates.
Website: www.summitbrewpath.com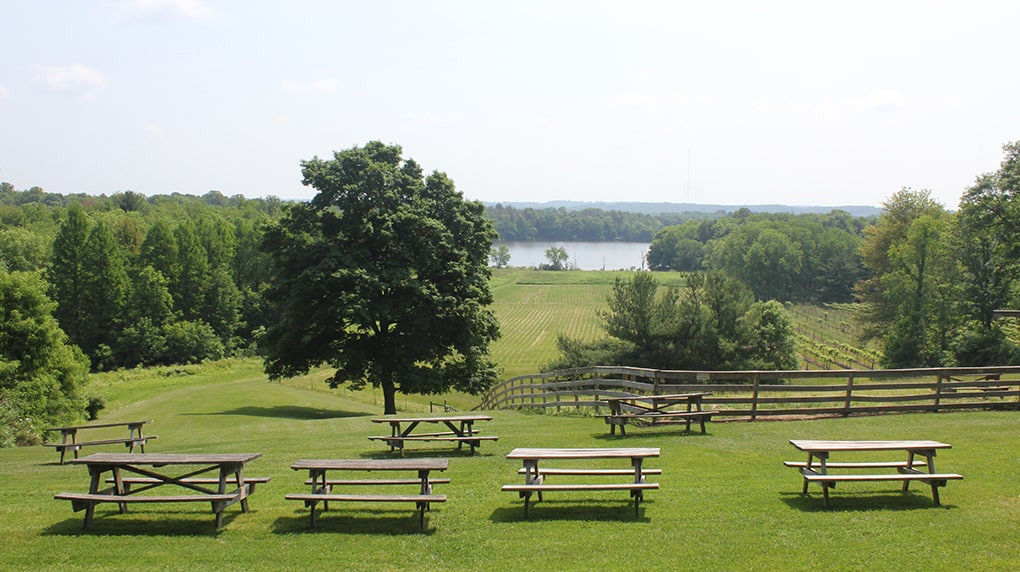 The Winery at Wolf Creek
This family-owned winery offers wine tastings, cooking classes, tours, and other events. Ohio's countryside is the perfect backdrop for an afternoon of tasting wine, either outside or while strolling the picturesque vineyards.
Website: wineryatwolfcreek.com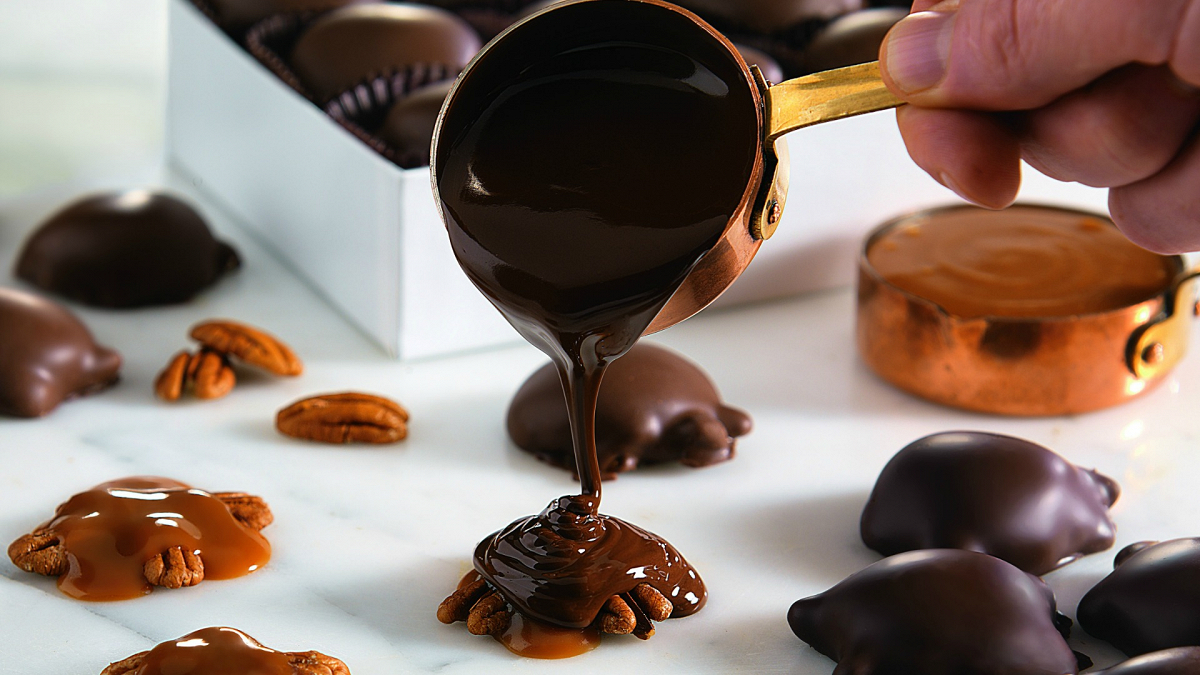 Fanny Mae Chocolate Factory
See how gourmet chocolates are made and try the famous Peanut Butter Buckeyes. Tours end in the retail store where you can purchase delicious gifts.
Website: www.fanniemay.com
Ready to find out more about how Greater Akron can help plan your family trip or reunion?
Family-Friendly Attractions in the Greater Akron Area
Cuyahoga Valley National Park 
Ride the rails through Cuyahoga Valley National Park aboard one of the oldest and most scenic tourist excursion railways in the U.S. Board at the Akron Northside Station, Peninsula Depot or Rockside Station in Independence. Learn about the area's history from the "Voices of the Valley" audio tour during a regular round trip.
Website: www.cvsr.org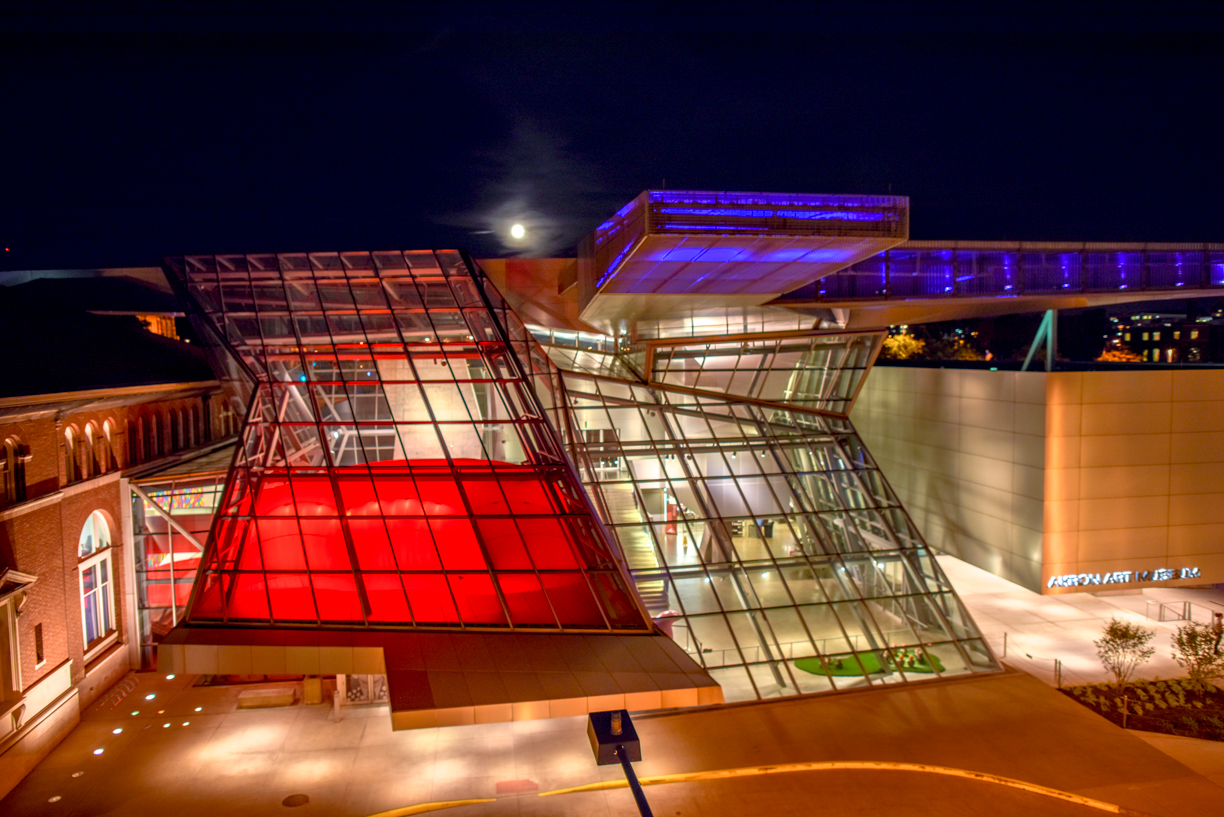 Akron Art Museum 
Located downtown, the Akron Art Museum showcases regional, national and international art created since 1850. Particular areas of strength include contemporary painting and sculpture and 20th century photography.
Website: www.akronartmuseum.org
Akron Zoo
The Akron Zoo has achieved both AZA and World Conservation Zoo accreditation — a distinction given to only 10 percent of the nation's zoos. Penguins, Galapagos turtles, jaguars, Sumatran tigers and more exotic creatures await.
Website: www.akronzoo.org
Akron Civic Theatre
Long recognized among the community's cultural landmarks, the Akron Civic Theatre has a rich and spectacular history. It has provided the community with a venue for quality entertainment and live performances for more than seventy years. The venue is one of only five remaining atmospheric theatres in the U.S.
Website: www.akroncivic.com
Ready to find out more about how Greater Akron can help plan your family trip or reunion?
Sarah's Vineyard
This pre-Civil War farmhouse hosts a sustainable winery operation and art gallery. Spend some time tasting wines and simple food pairings in the tasting room, loft, garden, deck with fire-pit, or the outdoor pavilion opening this summer.
Website: www.sarahsvineyardwinery.com
Family-Friendly Accommodations in the Greater Akron Area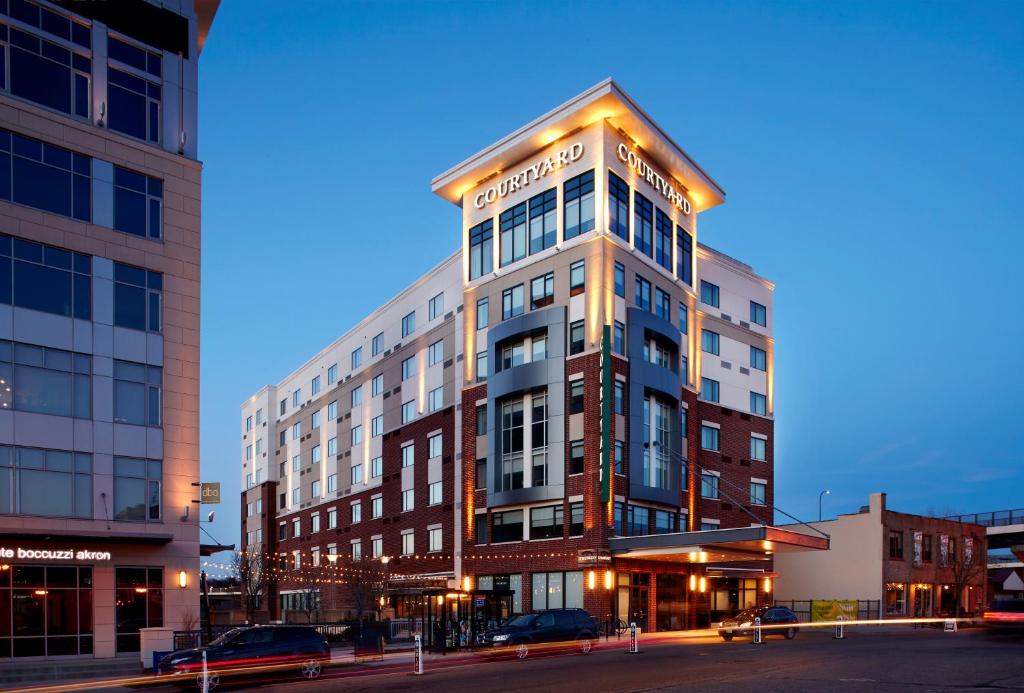 Courtyard by Marriott Downtown Akron
Starbucks and bistro, microwave, mini fridge, indoor pool, fitness center, complimentary Wi-Fi and valet parking.
Website: www.marriott.com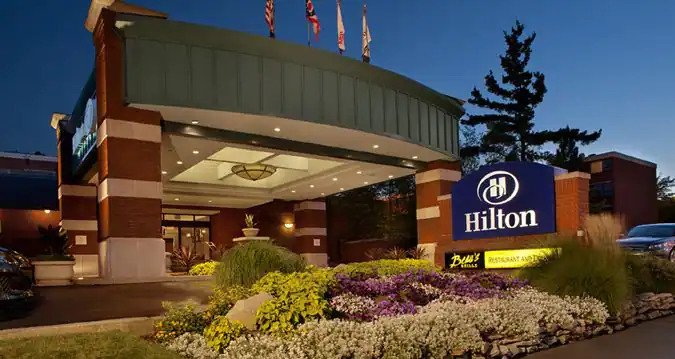 Hilton Akron Fairlawn Hotel & Suites
Beau's Grille, lounge, indoor/outdoor pools, in-room coffee makers, irons, ironing boards, hair dryers, Precor fitness center and free parking.
Website: www.hilton.com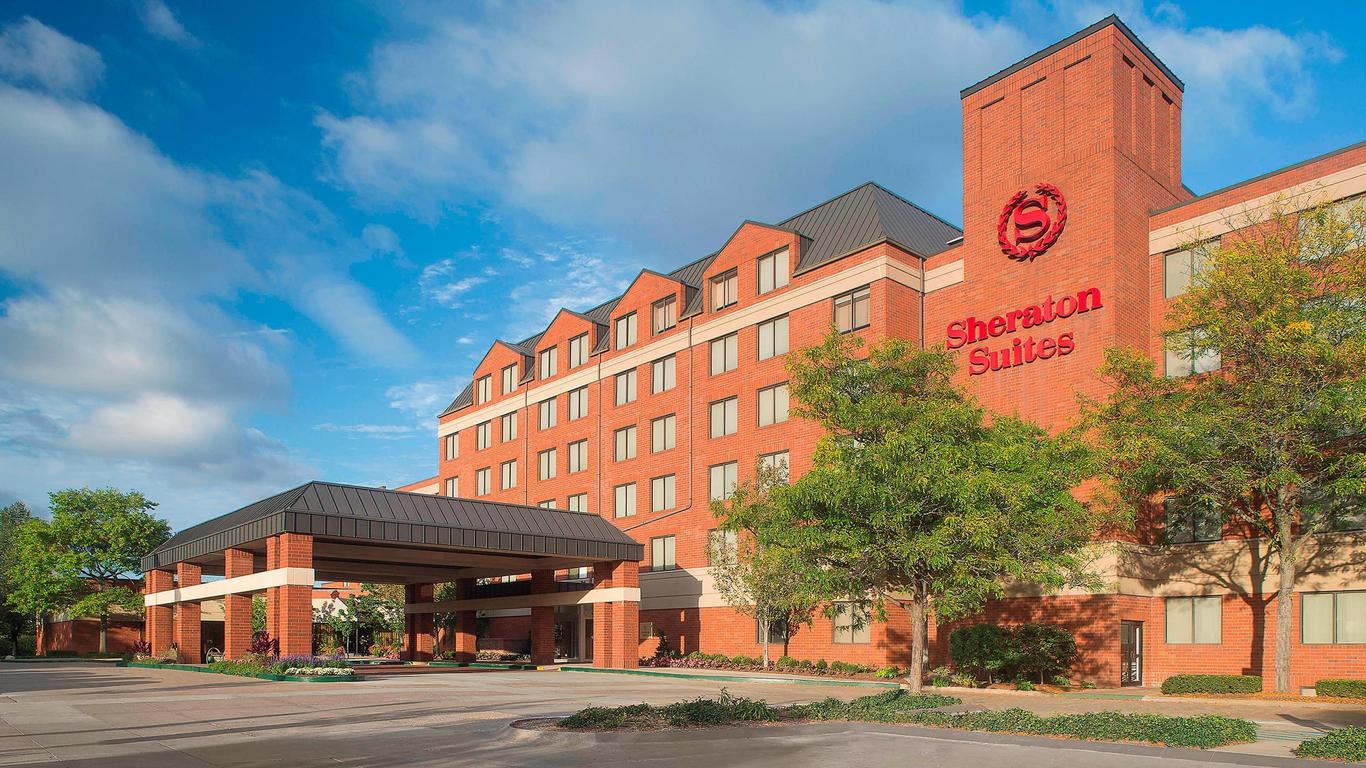 Sheraton Suites Akron Cuyahoga Falls
Beau's on the River, lounge, indoor pool, whirlpool, bar, view of river, free parking, business center, nearby family entertainment, shopping, skiing and riverboat rides (June-September); private dressing areas and marble bathrooms.
Website: www.marriott.com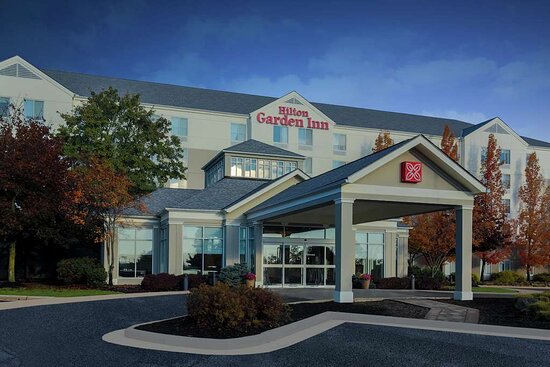 Hilton Garden Inn Twinsburg
Complimentary airport shuttle, complimentary highspeed Internet access, indoor pool, fitness center, business center, complimentary parking and USA Today.
Website: www.hilton.com
Ready to find out more about how Greater Akron can help plan your family trip or reunion?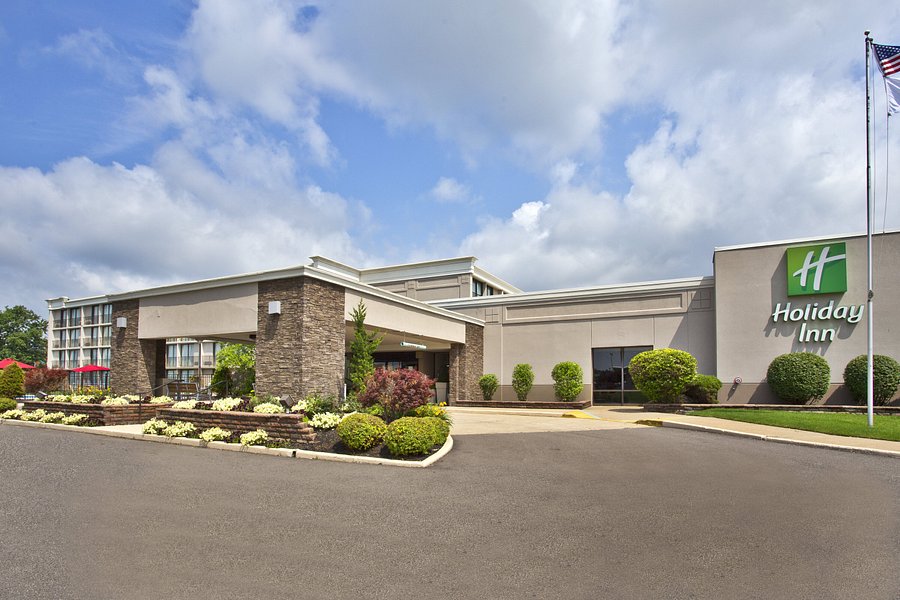 Holiday Inn Akron West Fairlawn
Two restaurants, banquet facilities, lounge, outdoor pool, exercise room, free parking, laundry room, wireless high-speed Internet, in-room coffee, irons, hair dryers, nearby shopping, sports and entertainment.
Website: www.ihg.com
Family-Friendly Venues in the Greater Akron Area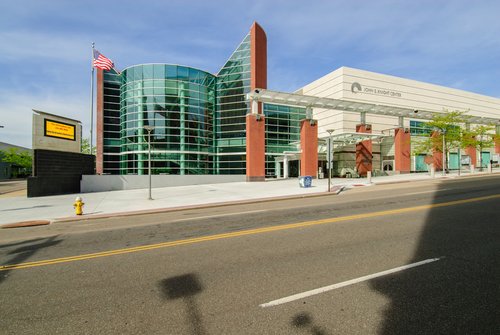 John S. Knight Center
The area's premier convention center features a 29,000 square foot exhibition hall with 12,000 square feet of adjacent ballroom space; 12,600 square feet of additional meeting space; a magnificent lobby highlighted by the distinctive 3,000 square foot glass rotunda and spiral staircase; and the new rooftop patio: The View.
Website: www.johnknightcenter.org
Quaker Station at the University of Akron
Also called University Catering and now owned by the University of Akron, the former train station boasts beautiful old brick with original wood timbers inside. There are 2 pre-function rooms, a smaller buffet or ceremony room and an enormous hall that can seat 1000.
Website: www.uakron.edu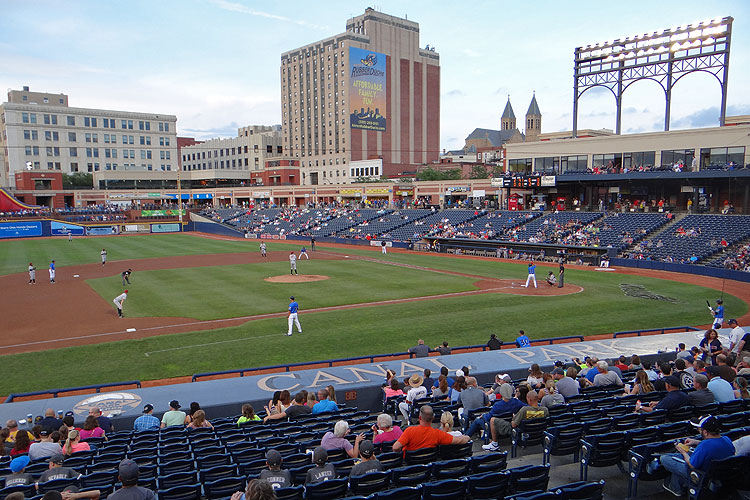 Canal Park Stadium
Akron RubberDucks baseball is Akron's home of affordable, family fun! The Cleveland Guardians AA affiliate play in beautiful in downtown's 7,630-seat Canal Park, which has the largest HD video board in AA baseball.
Website: www.milb.com
Gateway Event and Conference Center
The Gateway Event & Conference Center services the central hub of the Akron & Canton. They are located in the CAK International Business Park on the grounds of the Akron Canton Airport. This allows for easy access to both the highway and airport flights. They are close to a wide variety of hotels and restaurants to fit any type of budget.
Website: www.gatewayohio.com
Ready to find out more about how Greater Akron can help plan your family trip or reunion?
Conservancy for Cuyahoga Valley National Park
Allow the calm beauty of nature to surround you when you host your next event in Cuyahoga Valley National Park. Choose from several beautiful and historic buildings that provide cozy rusticity and modern amenities to keep you connected. These extraordinary spaces are perfect for weddings, family reunions, conferences and other events.
Website: www.conservancyforevnp.org
What are you waiting for?
Let Destination Reunions help you plan the perfect reunion.