Choosing a farm for a family reunion destination is the perfect setting to bring everyone closer. Between warm bed and breakfasts, charming farmers markets, and huddles around the fire pit, there are plenty of memories to be made at farm stay locations all over the country. Here are some of our picks for the top farm stays for planning your family reunion:
Los Poblanos, Albuquerque, NM
Located in the Rio Grande River Valley sits Los Poblanos, a historic inn and organic working farm designed by the "Father of Santa Fe Style," architect John Gaw Meem.
While staying here, you'll be surrounded by the makings of a relaxing environment — lavender fields, cottonwood trees, and blooming gardens. This property holds the historic La Quinta building, which includes an elegant ballroom, parquet walnut floors, hand-carved ceilings, decorative Spanish tile, monumental fireplaces, and WPA artwork of pastoral farming scenes.
Los Poblanos also holds 45 guest rooms, perfect for larger families. The property is a family-run business dedicated to preserving its history. Unique experiences at Los Poblanos include eating freshly prepared dishes using locally sourced ingredients from their field-to-form menus and joining farmers in the lavender fields.
Liberty Hill Farm & Inn, Rochester, VT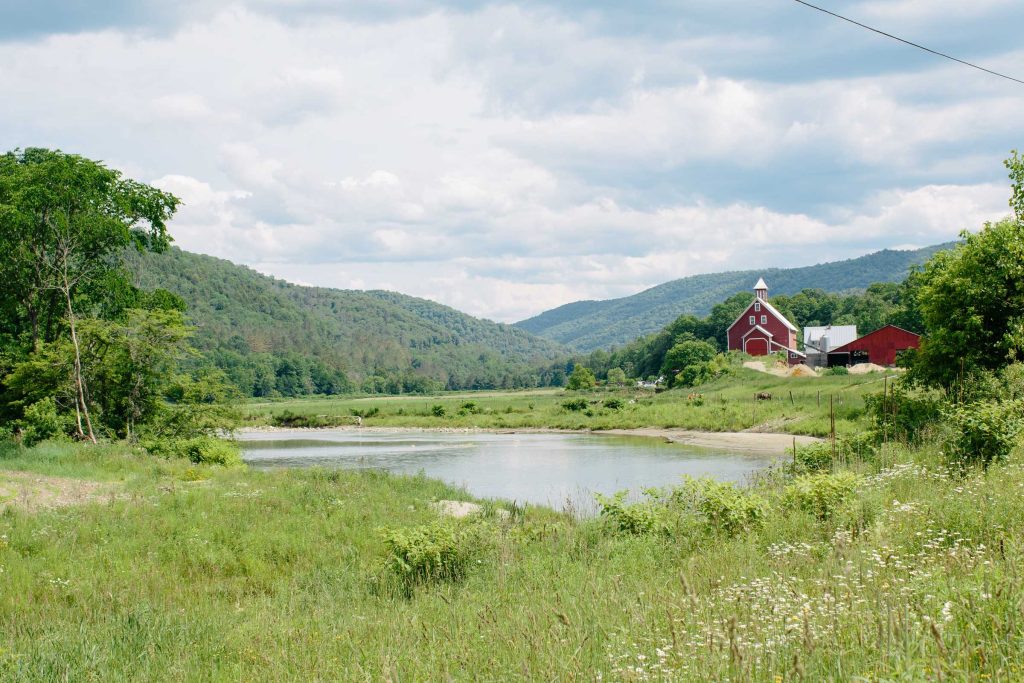 Liberty Hill Farm & Inn is a gem that sits on the edge of the Green Mountain National Forest and has been open to locals and visitors since 1984.
Supporting sustainable life choices and land conservancy, families can experience farm life first-hand from milking cows, mountain biking, and swimming to berry picking, stargazing, and cuddling cute farm kittens. Nothing says family like a home-cooked meal and you can enjoy the farm-to-table menu that includes delicious treats like maple muffins, cheddar gougères with smoked salmon, chicken potpie, and more. Bob and Beth are the couple who run the farm stay, and their son David helps keep this humble spot warm and welcoming for guests, especially families.
Fort Lewis Lodge & Farm, Millboro, VA
Fort Lewis is a 3,300-acre lodge and farm surrounded by the picturesque Blue Ridge mountains.
Families have countless activities on location to choose from including swimming, tubing, kayaking, fishing, hiking, and biking. There are also plenty of other games like ping pong, cornhole toss, pool, and 9-hole disc golf along with indoor games for the whole family to enjoy. The 19th century Lewis Mill Restaurant is a cozy venue where seasonally inspired, family-style breakfast and dinner are served. Both meals are included in the stay. With a new menu every day, the kitchen uses fresh farm-grown vegetables and ingredients to whip up the tastiest entrées and desserts.
Wildcatter Ranch & Resort, Graham, TX
The Wildcatter Ranch & Resort offers families a unique escape from city life. With a rich origin story dating back to 1851, it's no surprise that the rooms here have a historical theme.
Located in the heart of the beautiful North Texas Hill Country, a family reunion promises a one-of-a-kind experience with upscale western accommodations, guided activities with local Texas cowboys, and more. Look forward to horseback riding, farm tours on a jeep, archery, clay shooting, and more. The ranch features 41 guest rooms located across the 1,500-acre ranch. The on-site Wildcatter Steakhouse serves up delicious hand-cut Mesquite grilled steaks and plenty of local favorites. The nature and history surrounding the Wildcatter Ranch & Resort make this farm stay an ideal choice for family reunions.
Blackberry Farm, Walland, TN
Blackberry Farm is a 4,200-acre farm situated in the Great Smoky Mountains. Regardless of the season, Blackberry Farm offers countless activities and adventures that will appeal to all family members.
Pamper your mind, body, and soul at the Wellhouse where wellness treatments will help you relax or for something more fast-paced, enjoy Orvis-endorsed fly fishing while surrounded by the pristine tranquility of Hesse Creek. Other fun activities like hiking, horseback riding, wake surfing, and cycling allow families to spend quality time together amidst nature.
This farm brings together a rare collection of artisans — the chef, the master gardener, the baker, the cheesemaker, the forager, the butcher, the preservationist, the restaurant manager, and the sommelier — who together, blend their unique talents to fulfill your gourmet desires.
Luxury Llama Cottage, Atlanta, GA
The Luxury Llama Cottage is a rustic yet modern farm stay. It sits right across from the Atlanta Alpaca Treehouse in the Bamboo Forest and is conveniently located just 20 minutes from downtown Atlanta and near hip eateries and bars of East Atlanta Village.
The Luxury Llama Cottage is a gorgeously restored three-bedroom historic brick cottage with an open floor plan, granite kitchen, classic furnishings, and all the comforts of home. Perfect for families, enjoy the herb garden, hear roosters crow on the urban farm and see the llamas and alpacas roaming the grounds from the cottage windows. More than a farm stay for families, the property is also home to rescue animals like alpacas, llamas, chickens, cats, and dogs. Don't miss out on the Alpaca Experience tour of this magical oasis and Llama Yoga with the resident stars and yoga instructors.
Milkweed Inn, Wetmore, MI
The Milkweed Inn is located within the Hiawatha National Forest in the Upper Peninsula of Michigan. This farm stay is lesser known but a worthy option for families looking to get away and enjoy the quiet. This quaint inn is wonderful for smaller families looking to foster closeness. The property can accommodate up to 10 guests between three in-cabin rooms, one airstream, and one wall tent.
Owned and operated by Iliana and Anna Reagan, Iliana is an accomplished chef while Anna is a sommelier. Milkweed Inn is a great place to hang out with family completely off the grid, have deep conversations, star-gaze, eat, drink, relax, fly-fish, kayak, hike, and laugh loudly.