Better Meal Planning for Family Reunion
Food is a focal point and memorable feature of all reunions. Meals range from potluck picnics to formal banquets, and each one requires careful planning whether the organizer is the cook, everybody chips in or it's a catered affair. Reunion events where guests eat and drink might include a welcome reception, breakfast meeting, working lunch, luncheon for spouses, memorial brunch, coffee/refreshment breaks, dinner dance and awards banquet, and, of course, a picnic.
General considerations for meal planning
Mealtime must accommodate all generations. While teenagers might not be excited about getting up early for breakfast, a full day's worth of activities awaits. At the same time, dinners might be later than seniors expect. If there are several generations, decide whether adults and children should sit together or separately. Consider special diets for health or religious reasons and handicap access and ease – closest to the restroom, end spot for wheelchairs, highchairs and boosters.
For some groups, cooking is the activity. If this is the case with yours, there should be a head cook, "chef" or designated person-in-charge who decides menus, delegates assignments, gathers ingredients and keeps preparation on time and on track. If you have a lot of good cooks vying for kitchen supremacy, alternate these assignments. The bustle and camaraderie of a large group cooking together can add to the fun, plus you can assign non-cooks to kitchen patrol. Location options are plentiful including a private home, church, synagogue, mosque, restaurant, hotel banquet room, park, or special venue like museum, sports event, botanical garden or zoo.
How to pay for food
If the reunion lasts for several days, everyone can pay as they go, or you can include all or some meals in the price of the reunion. If you're including meals, price items carefully before you announce your reunion cost.
Unless you have a benefactor, pass all charges on to your members. If food is part of cost, it is easiest if guests pay when they send in reservations. Announce in advance that last-minute, non-paying guests may not be accommodated.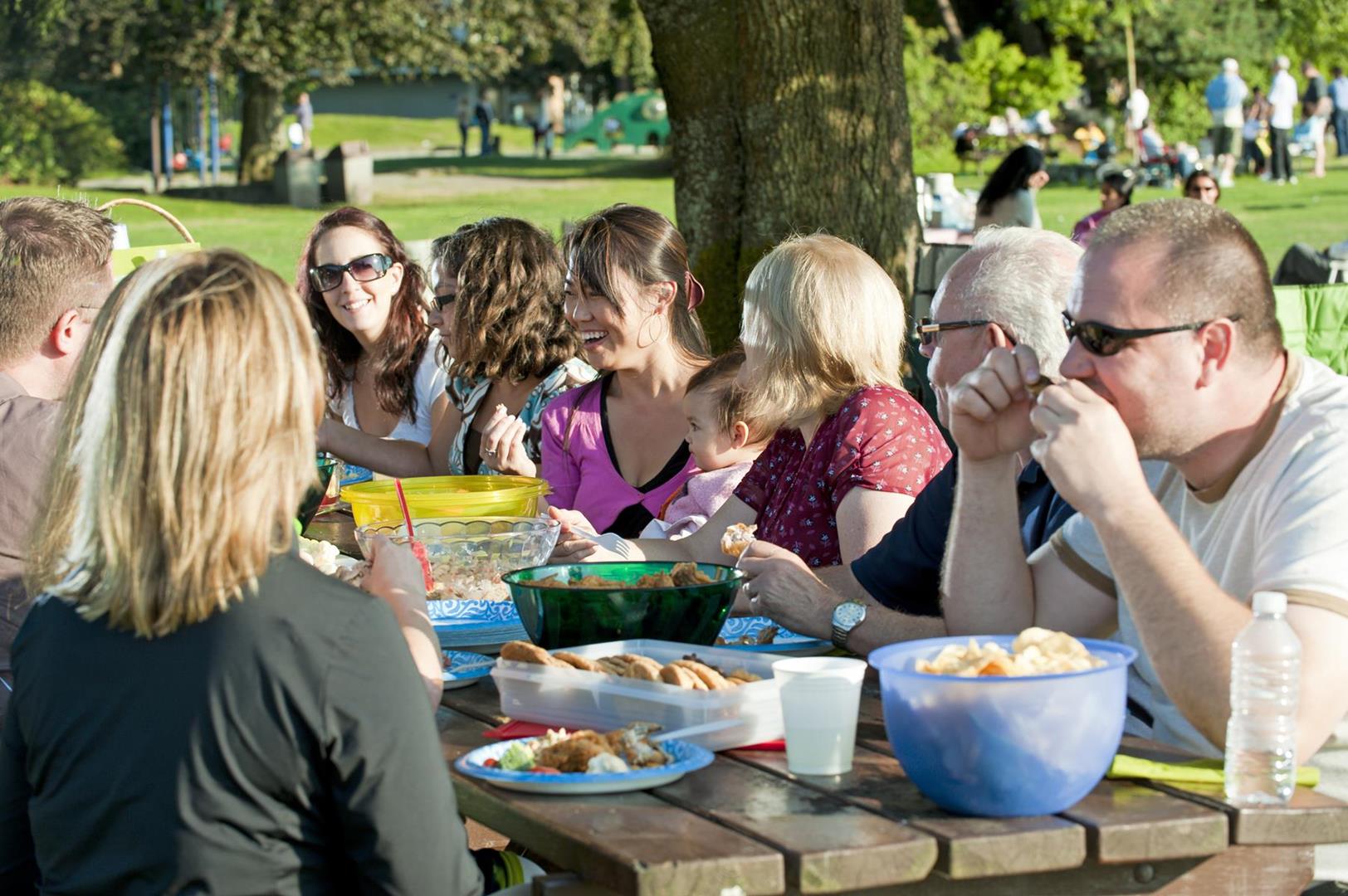 Include all the following when calculating meal costs:
Cost per plate x number expected = $ __________
Rentals (tent, dishes, flatware, tables, chairs) $ __________
Decorations $ __________
Set up $ __________
Taxes $ __________
Gratuities $ __________
Insurance $ __________
Total $ __________
To determine individual costs, divide total by number expected. Planning a reunion banquet Choose and sample the menu beforehand to avoid surprises. Many establishments offer a choice of entrees on-site; if guests must choose a main dish ahead of time, include this information in registration packets.
Is yours a…
Banquet only
Awards banquet
Dinner/dance
Buffet style
Sit-down (Ask about the waiter-to-table
ratio, which affects service speed.)
Hors d'oeuvres only
Dessert only
Establish preferred seating options for formal meals. Choices are random seating, head/speaker table, place cards (identify families or subgroups by color or border design), or assigned by subgroup: squadron, school year, generation.
Set a definitive schedule for the banquet including gathering time before food is served, service and meal time, precise speaker schedule (helps if someone goes over allotted time) and entertainment time. You'll also need to determine your type of bar set-up. You can go with an open bar where all drinks are added to a master account, billed either on consumption or a per-head fee, choose a cash option where everyone pays their own way or provide a set number of drink tickets per person.
Catering considerations
Caterers can help with many details in addition to food. Most can recommend places and provide supplies and rentals. If you hire a caterer, determine first and foremost if they can serve the facility you are utilizing. Some venues have a short list of preferred caterers. Ask if they will deliver, set up, serve, include flatware, dishes, tablecloths and centerpieces. Also, who's in charge of the clean-up and properly distributing leftovers? The caterer will need to know how many people will be served including a breakdown of the number of adults and children.
Will the meal be accompanied by a formal program, presentation, music or dancing? If so, the cadence of what is served and when will be affected.
Let the hotel do the cooking
Good communication with the hotel's catering and beverage manager and staff ensures their devotion to your reunion. They can save you from costly mistakes and make you a winner. Costs, menu choice, number of courses and service type (buffet, sit-down) are all important.
Here are 7 tips to keep your hotel meal functions on target and under budget.
Communicate early with catering and beverage managers. They know current trends – what works and what doesn't.
Inform them about your group and its budget. It also helps if you know members' likes and dislikes.
Ask about any alcohol regulations, bar charges, type of alcohol being served (top shelf, well).
Can you supply your own liquor, beer and wine ? If so, is there a corkage fee?
Each food and beverage function requires a count guarantee, typically 48 hrs. before the event.
If you have a reunion theme, there should be a corresponding menu with decorations, music, beverage set-up.
Determine seating arrangements.
To pull off a perfect potluck picnic, you'll need to…
Explore and choose a site
Contact governing authority (city, county, state) for permit
Make deposit and final payment on time!
Popular sites have waiting lists
A go-to person in charge
In case of inclement weather, a shelter or an alternative site
A menu – ensure all food groups and group favorites are included
Members who volunteer or are assigned to bring food, beverages
Encourage cooks to bring special favorites.
Ask them to bring copies of recipes, then organize a recipe exchange if you're not already doing a reunion cookbook.
Volunteers for set-up, service, serve as security if needed and clean-up
Ways to keep food and beverages hot or cold
Ice, water
Paper goods: plates, napkins, cups, plastic flatware and glasses
Tablecovers
Rentals – tables, chairs, tent, porta toilets
Tables and benches
Grills or fire pits
Recreation: swimming, tennis, softball, volleyball, fishing, boating, hiking, golf, horseshoes, playground for kids
Ample parking and restrooms
Running water